Santa Teresa in Costa Rica is such a place where you'll likely want to stay much longer than you initially thought. The laid-back vibe, stunning beaches, and charming hotspots are definitely to blame for that. Santa Teresa is located in the south of Nicoya, a peninsula that's unique as it's a Blue Zone. These are rare regions where people live noticeably healthier and longer lives compared to other places around the world. Many travelers come to Santa Teresa for surfing, but even if you don't surf, it's a delightful destination. You'll find numerous great restaurants, cute shops, and lively nightlife spots offering something fun to do every day of the week. If you're curious about what there is to do, scroll down quickly and read all the tips for Santa Teresa!
How to Get to Santa Teresa?
Most people travel from Monteverde or San José to Santa Teresa. Below, you'll find information on how to travel to Santa Teresa from these destinations.
From Monteverde to Santa Teresa
By local bus: In Monteverde, take the bus to Puntarenas. This bus ride takes about 2.5 hours. From Puntarenas, take a taxi to the port (2.5 km; 1.5 miles) and board the ferry to Paquera. The ferry departs multiple times a day, and you can buy a ticket on-site. In Paquera, take the bus to Cobano, where you can then switch to the bus to Santa Teresa. If you miss the connection, taking a taxi to Santa Teresa is best.
By minivan: This journey takes about 4 to 5 hours by minivan. You'll be picked up from your hotel in Monteverde and dropped off at your hotel in Santa Teresa. Check the current departure times and reserve a spot on the bus in advance.
By rental car: This is a drive of approximately 4 to 5 hours. It's best to take the northern route so you don't have to take the car on the ferry.
From San José to Santa Teresa
By local bus: The cheapest way is to travel by local bus. In San José, take the bus to Puntarenas and then a taxi to the port (2.5 km; 1.5 miles). From there, board the ferry to Paquera and in Paquera, take the bus to Cobano. You can then switch to the bus to Santa Teresa. If you miss the connection, it's best to take a taxi to Santa Teresa.
By minivan: If you want a hassle-free journey, you can book this minivan. The transfers between the bus and the ferry will be well-coordinated, and you'll arrive in Santa Teresa after about 6 hours of travel.
By rental car: Drive from San José to Puntarenas in two hours. From Puntarenas, take the ferry to Paquera. You'll bring your car onto the ferry, and from Paquera, it's another one hour and 20 minutes of driving to Santa Teresa. If you're traveling by rental car, it's advisable to reserve the ferry a few days in advance. You can do this here with a credit card. Under Tipo de Vehiculo, select Vehículo Liviano when you have a passenger car.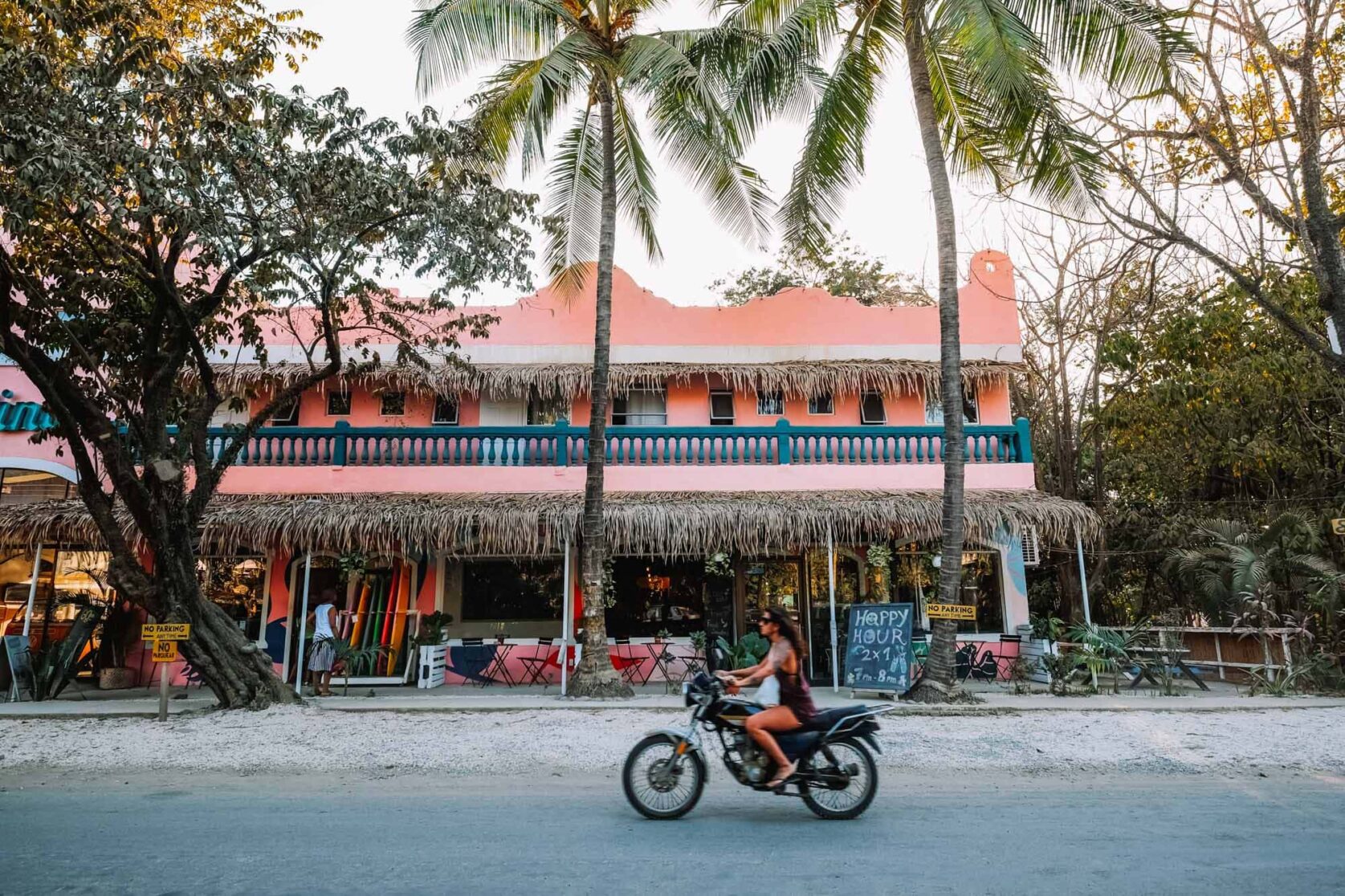 What to Do in Santa Teresa?
Santa Teresa is the perfect destination to unwind for a few days during your journey through Costa Rica. We've been there multiple times and have searched for the best hotspots, beaches, and activities. Here are the things to do that you shouldn't miss in Santa Teresa.
Ultimate Relaxation at Banana Beach Bar
If you want to enjoy cocktails, smoothies, great food, a lively atmosphere, and reggae music, then settle in at Banana Beach Bar. It's a laid-back bar right on the beach among the palm trees. Perfect for watching the magical sunset at the end of the afternoon with your feet in the sand. Pura Vida!
Surfing or Taking Surf Lessons in Santa Teresa
Santa Teresa is one of the best places for surfing in Costa Rica. During the rainy season between May and November, the waves are big and suitable for experienced surfers. In the dry season between December and April, the waves are less intense, making it perfect for beginner and intermediate surfers. Playa Hermosa offers the best waves for beginners, and there are always surf instructors available. Playa Santa Teresa is also a good spot for surfing.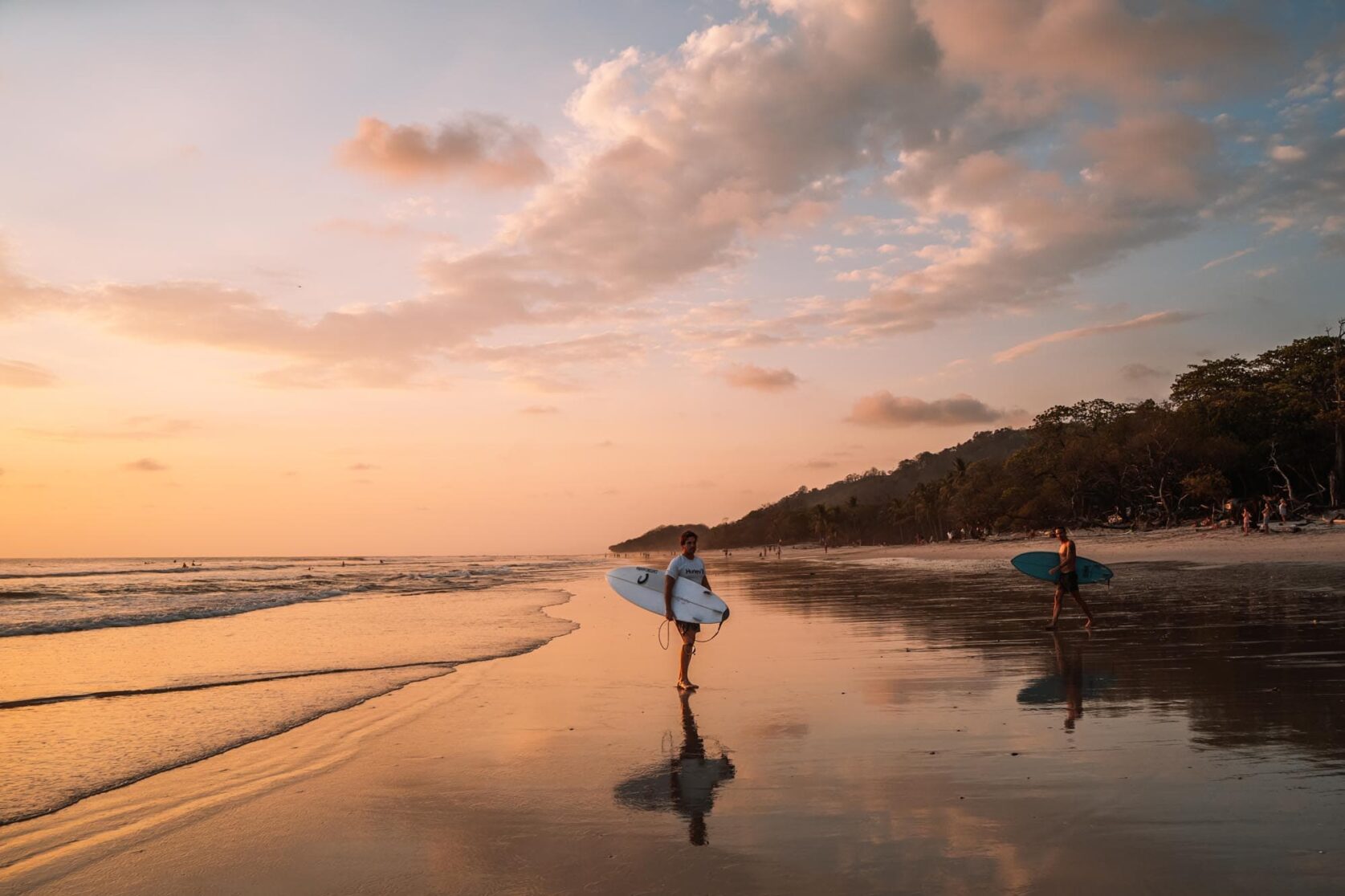 Horseback Riding in Santa Teresa
Horseback riding is one of the most enjoyable activities in Santa Teresa. Through Horizonte, you can book a tour that takes you horseback riding across the expansive Manzanillo Beach, through the countryside, and across rivers. It's especially memorable to go horseback riding during sunrise or sunset. Often, tides are taken into account so that the beach is wide enough for galloping along the shore. Horizonte is run by Michelle, who has a great love for her horses. You don't need prior horseback riding experience.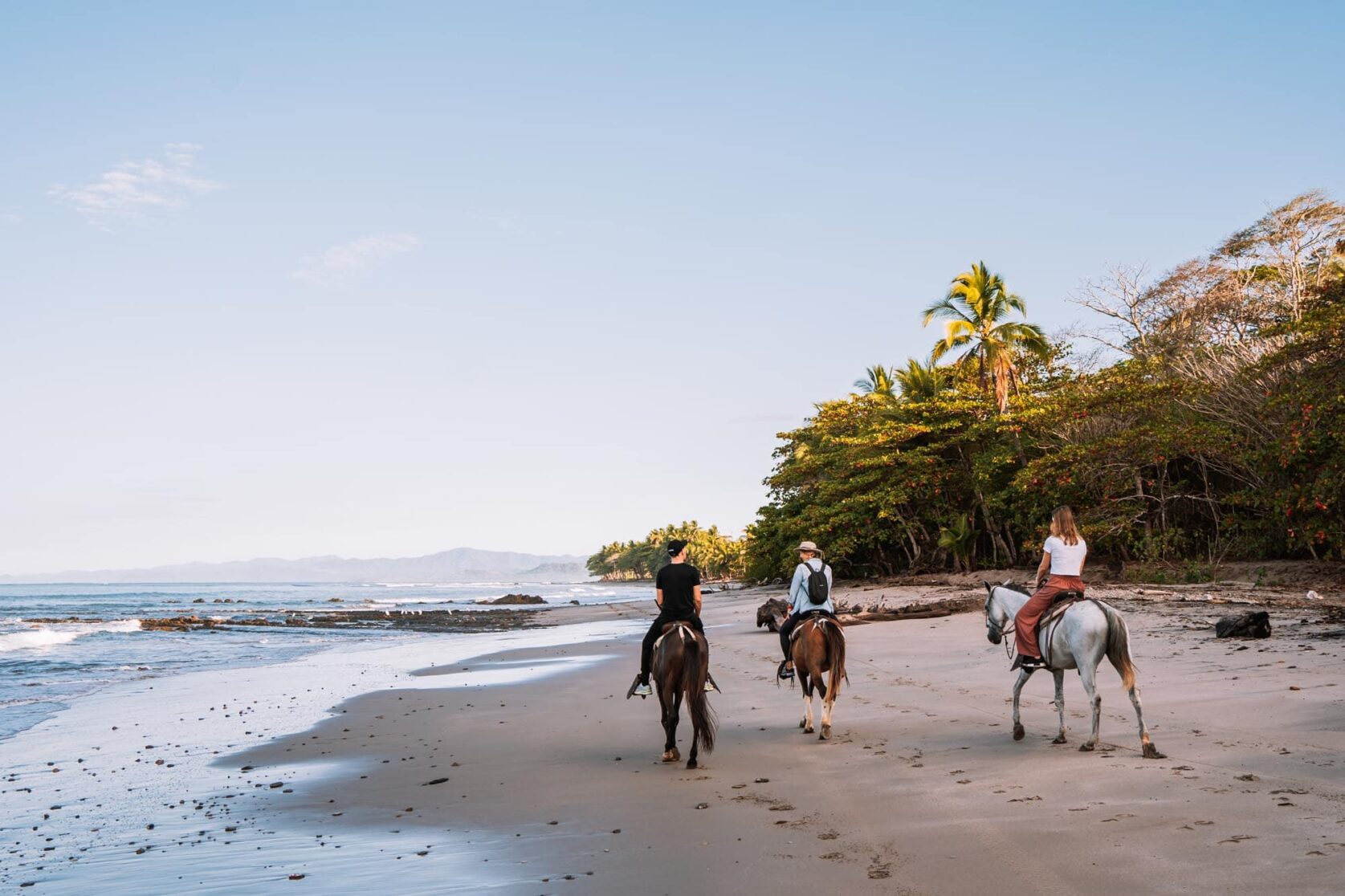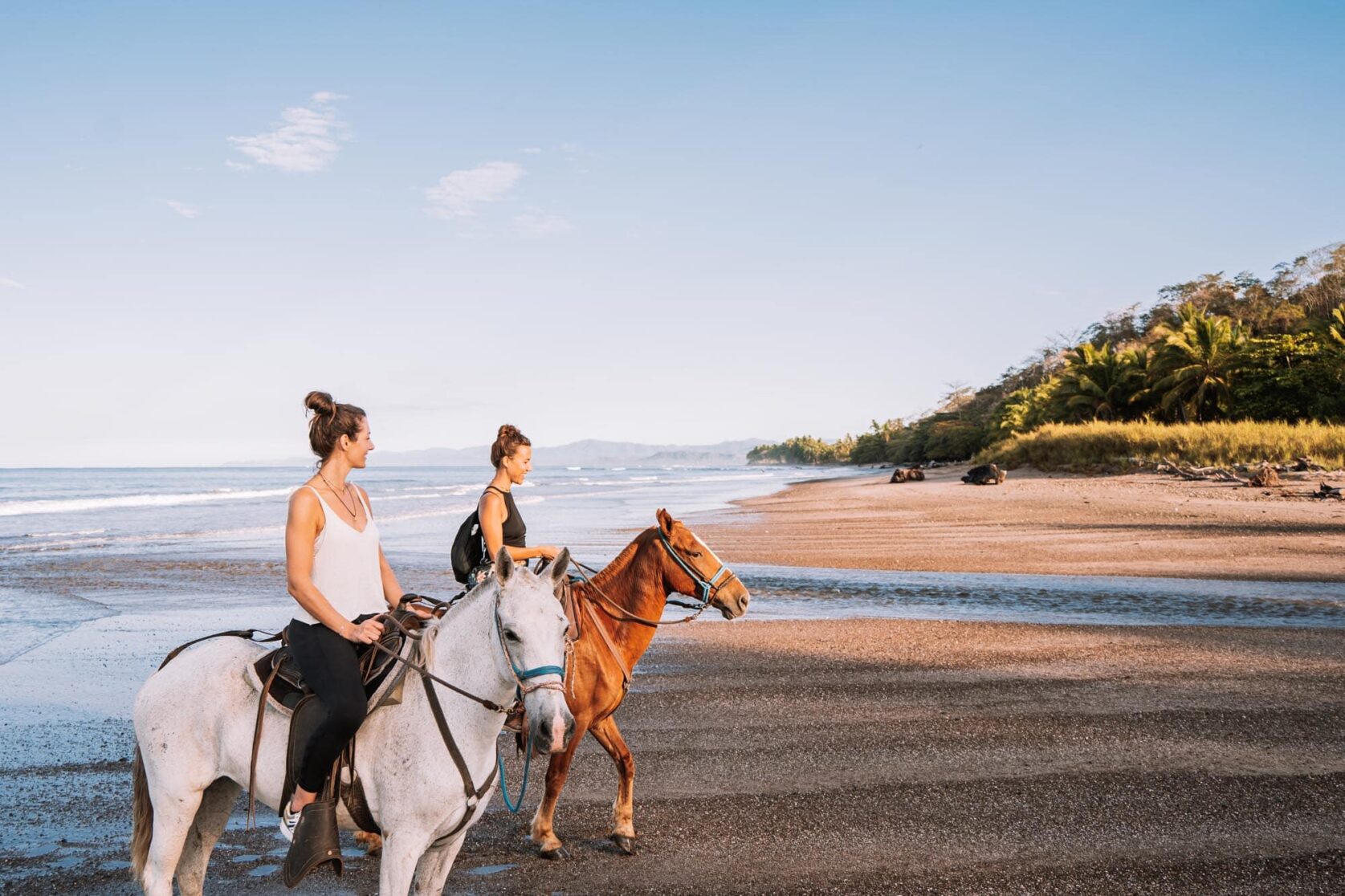 Yoga in Santa Teresa
Santa Teresa is the perfect destination to find tranquility during your travels, and yoga is a highly popular activity here. Selina Santa Teresa South offers yoga classes on their yoga deck and on the beach. However, a beach yoga class around sunset might be less relaxing due to the crowd. In my opinion, you'd better opt for a yoga class at Horizon. They have a beautiful panoramic yoga deck with an amazing view of the ocean. Check out their Instagram for their yoga class schedule.
Swimming at Vista de Olas
Vista de Olas is a wonderful place to relax for an afternoon and watch the sunset. Located on a higher elevation, Vista de Olas offers a stunning view of Playa Santa Teresa. From the infinity pool, you can enjoy a beautiful sunset, and as the sky fills with warm colors, you'll see beach bonfires being lit. Vista de Olas is a hotel, and non-guests can pay $30 upfront for food and drinks. Afterward, you're allowed to use the pool. If you order two to three drinks and a main course, you'll spend around the minimum $30 requirement. Of course, you can also choose to stay at Vista de Olas to enjoy the view and the pool every day.


Shopping at Charming Boutique Stores
Santa Teresa isn't necessarily a shopper's paradise, but there are a few charming boutique stores scattered around. You can find unique jewelry, typical surf clothing, and beautiful interior accessories. Most of the shops are located near Playa Carmen, but there are also some cool shops along the road from Playa Carmen to Playa Santa Teresa.
Parties and Enjoying Live Music in Santa Teresa
Every evening, you can find some entertainment in Santa Teresa. There's live music at Kika on Thursday nights, and Banana Beach Bar often hosts parties on the weekends. It's a good idea to ask at your hotel or inquire with a local to find out what's happening, as the events can vary from season to season.
Take a Dip in the Mal Pais Tide Pools
Sometimes, nature creates picturesque landscapes. The Mal Pais Tide Pools are natural pools that fill with seawater during high tide and provide a lovely spot to soak in during low tide. The pools are crystal clear and warm up quickly in the sun. Check here (up to one week in advance) to find out the timing of high and low tides. You'll find these pools near the small fishing village of Mal Pais, a few miles from Santa Teresa. To get there, navigate to this location, and then walk to the beach. Follow the rocks on the left side of the beach, and you'll come across the Mal Pais Tide Pools.
Tip: Be mindful of sea urchins and crabs that might have entered the pools with the seawater.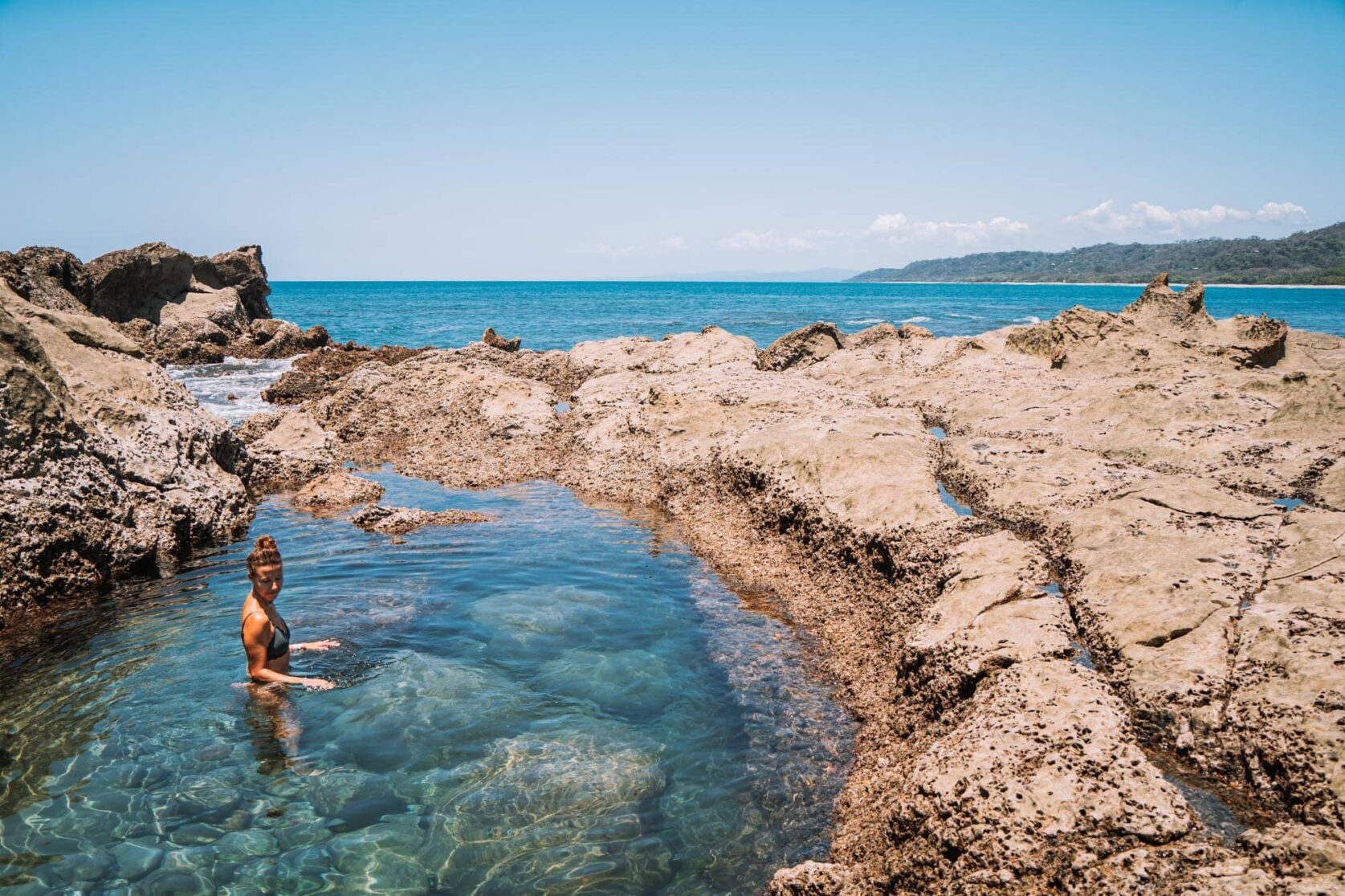 Take a Trip to Montezuma
If you'd like to explore more of the Nicoya Peninsula, consider taking a trip to Montezuma. This tiny village in the southern part of the peninsula has a very relaxed atmosphere. It's only a 40-minute drive by rental car or an hour by bus from Santa Teresa. You can visit Montezuma as a day trip or choose to stay there for a few days. I stayed there for a few days, and you can find all the tips for things to do in Montezuma here.
The Most Beautiful Beaches of Santa Teresa
Of course, you're coming to Santa Teresa primarily for its fantastic beaches, and they won't disappoint you. The beaches are especially stunning because there's very little construction right on the beach. There's often about 50 meters of natural space between the beach and the road. Below, you'll learn about the differences between the beaches of Santa Teresa.
Playa Santa Teresa
Playa Santa Teresa is the most famous beach and directly borders the village. During the day, people surf, swim, and enjoy the sun. Many people gather at Playa Santa Teresa to witness the colorful spectacle of the sunset. The sunset can be truly phenomenal under the right conditions.
Tip: Because there are few accommodations and restaurants directly on the beach, there's limited visibility at night, and the beach is often deserted. For safety reasons, it's not recommended to go to the beach when it's dark.
Playa Hermosa
Playa Hermosa is located to the north of Santa Teresa and is a beautiful spot for swimming and surfing. The beach has soft sand and gentle waves, making it an ideal place for beginner surfers to take lessons. It's less crowded here compared to Playa Santa Teresa. Feeling hungry? Grab a bite to eat at Couleur Café. This trendy spot offers delicious and healthy dishes.

Playa Carmen
Playa Carmen is situated to the south of Santa Teresa. The beach is dotted with palm trees, exudes a relaxed atmosphere, and features a few restaurants and stalls. During low tide, clear pools form between certain rocks, perfect for a refreshing dip. During high tide, be cautious of the rocks in the sea if you're swimming or surfing.
Playa Manzanillo
Playa Manzanillo is about 9 km (5.5 miles) north of the village and is a hidden beach that not many people know about. You'll truly feel like you're in paradise here! It's the perfect place to relax and enjoy the tranquility. It's a 25-minute drive to Playa Manzanillo by rental car.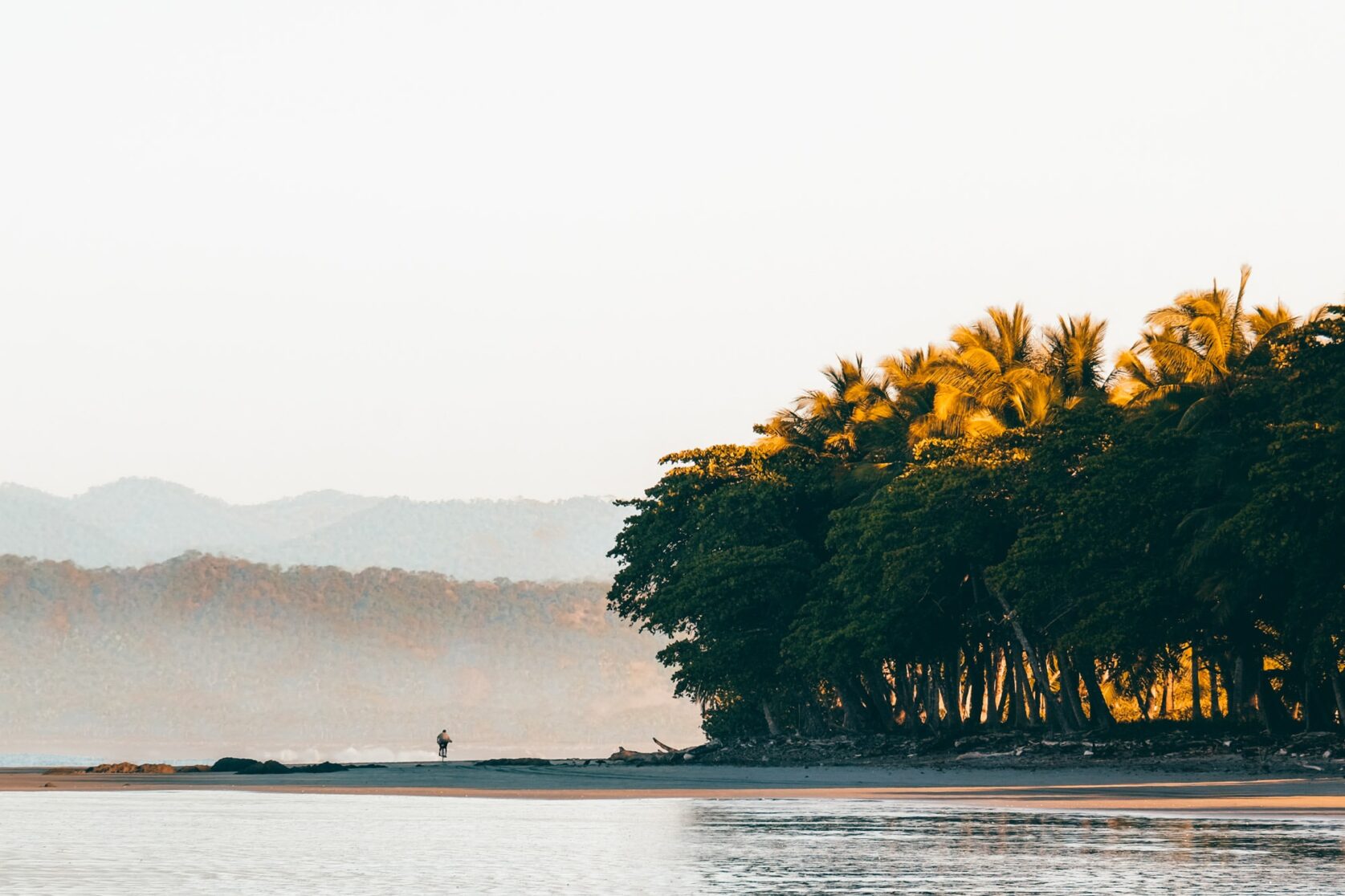 Playa Cuevas
This beach is officially known as Playa Cuevas but is also nicknamed Secret Beach. You can only access it by following a walking path through the trees from the parking area, eventually leading you to this hidden beach. During low tide, a pool forms between the rocks here, offering calm waters. It's located near the Mal Pais Tide Pools, so you can easily combine these spots.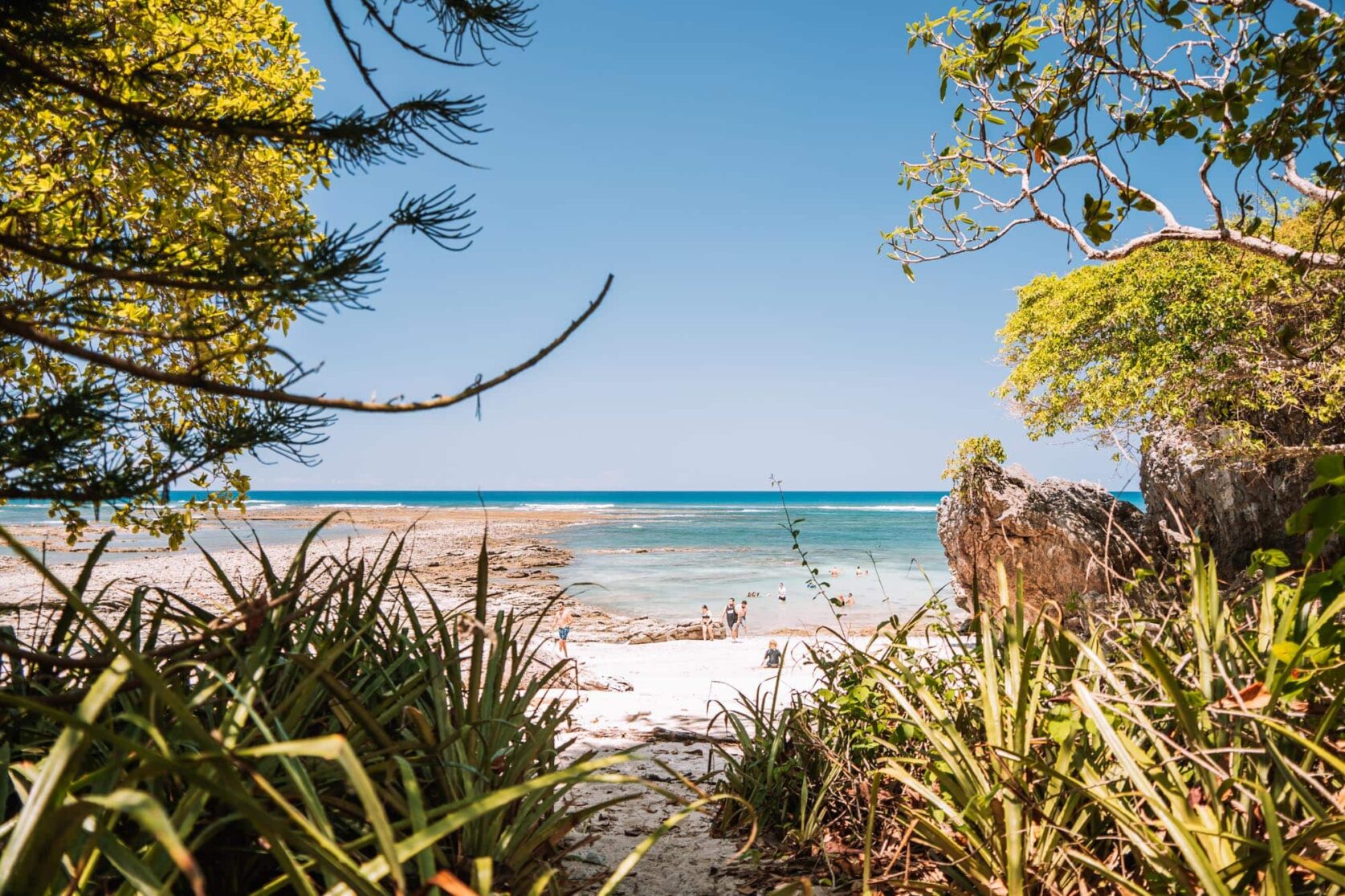 Best Restaurants in Santa Teresa
In addition to the many beautiful beaches and fun activities, you'll find a plethora of excellent restaurants in Santa Teresa. We've tried many of them, and these are our top recommendations.
The Bakery – Whether you want breakfast, lunch, or dinner, The Bakery is always a great choice! It's one of the most popular eateries, and their extensive menu includes items like paninis, bagels, avocado toast, pizzas, pastas, and much more.
Eat Street – These are three small eateries with a shared terrace. Each eatery has a different menu, and there's a fun and relaxed atmosphere.
The Somos Cafe – Start your day right at Somos Cafe. Here, you can enjoy healthy breakfasts in a cozy setting. They also serve delicious cocktails for dinner.
Zula Restaurant – If you love Middle Eastern cuisine, Zula Restaurant is a must-visit. The falafel here is amazing!
Ani's Bowls and Salads – If you're looking to get your daily dose of fruits and vegetables, this is the place to be.
Vermú – You can also have a fantastic breakfast and lunch here. Acai bowls, shakshuka, and bagels are on the menu.
Taco Corner – You'll find the best tacos here at an affordable price!
Koji's – The place to be for delicious sushi and a wide selection of wines.
Soda Tiquicia – For cheap and tasty Costa Rican food, this is the spot. Most dishes consist of rice, beans, salad, fries, and meat or fish.
Our Favorite Places to Stay in Santa Teresa
If you stay at Santa Teresa Surf Vista Villas, you can enjoy a phenomenal view. The hotel is situated a bit higher, allowing you to have expansive views of the jungle and the ocean from your room and the pool. The comfort of this hotel is also top-notch. You'll stay in a spacious room with air conditioning, a comfortable bed, an outdoor kitchen, and a large balcony. Another option, Canaima Chill House, is a hidden paradise in Santa Teresa. This hotel is nestled in the jungle, and during our stay, we saw a group of howler monkeys swinging through the trees every day! There's a lovely pool and even a jacuzzi. Keep in mind that it's located on a hill, and you'll need a 4×4 to reach this hotel. If you're looking for a cozy and peaceful hostel, you should check out Salty Enthusiasts.
If you're interested in more recommendations or want to see photos and detailed descriptions of each hotel, check out our article on the 5 most beautiful places to stay in Santa Teresa.
Tip: As Santa Teresa is becoming more popular, the best and most charming hostels and hotels get booked up quickly. So, it's wise to book your accommodation as early as possible.
| | | |
| --- | --- | --- |
| Santa Teresa Surf Vista Villas | Canaima Chill House | Salty Enthusiasts |