Montezuma is a tiny village located in the southern part of the Nicoya Peninsula. If you're looking for a wonderfully relaxing beach destination with a laid-back and bohemian atmosphere, Montezuma is the perfect spot for you. Many people visit Montezuma from Santa Teresa for a day trip, but it's also delightful to spend a few days here. Relax on the beach, take a refreshing dip in the three-tiered waterfall, or hike through Cabo National Park. Here are all my tips for Montezuma in Costa Rica!
How to Get to Montezuma?
Most people travel to Montezuma from Santa Teresa or Monteverde. Below you'll find how to travel from these destinations to Montezuma. Make sure to carry enough cash as there's no ATM in Montezuma.
From Santa Teresa to Montezuma
By Bus: There's one local direct bus from Santa Teresa to Montezuma each day. Departure times may vary, so ask in your hotel or hostel for the bus schedule. If you miss the direct bus, you'll need to transfer once in Cobano.
By Rental Car: It's just a 40-minute drive.
From Monteverde to Montezuma
By Local Bus: Take the bus from Monteverde to Puntarenas, then take a taxi to the port (2.5 km). From there, take the ferry to Paquera. In Paquera, catch the bus to Cobano and then transfer to the bus to Montezuma. The entire journey takes at least 6 hours.
By Minivan: The quickest way to travel from Monteverde to Montezuma is by minivan. This is a 4 to 5-hour ride. Check the current departure times and reserve a spot in the minivan in advance.
By Rental Car: It's a 4 to 5-hour drive. It's best to take the northern route so you don't need to take the car on the ferry.
What to Do in Montezuma?
Montezuma is a very small village where you primarily go to relax and enjoy the beautiful nature.
Relax on Playa Montezuma
Adjacent to the village of Montezuma is Playa Montezuma. You can easily reach the beach from Montezuma's main street. It consists of a small cove and a wide beach, separated by rocks. Since Montezuma is a small village, the beach is never overly crowded. It's a great place to relax on your towel and take refreshing swims in the sea.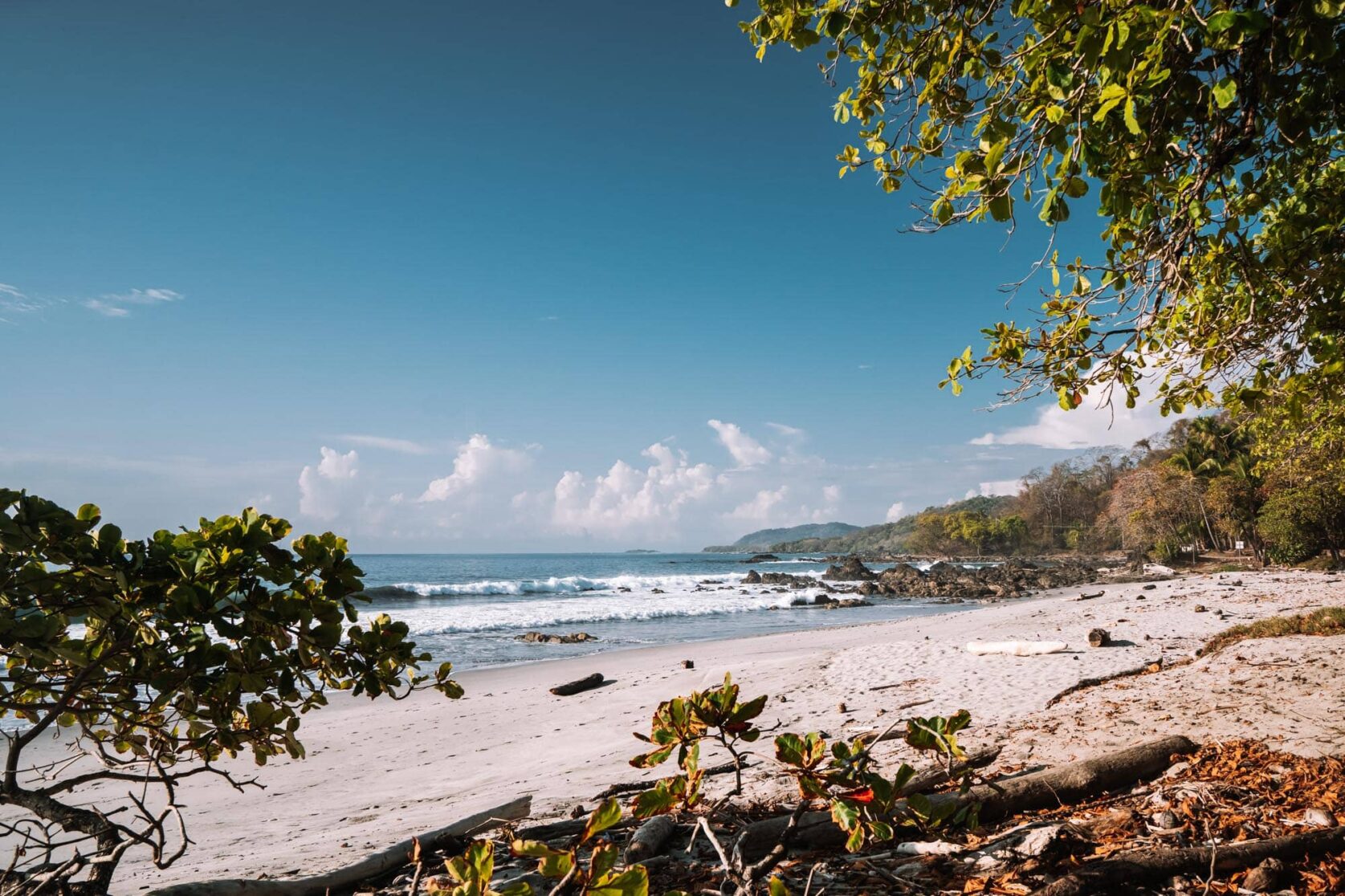 Visit Cabo Blanco Nature Reserve
Cabo Blanco is an untouched nature reserve full of wildlife and beautiful beaches. There are several hiking trails, ranging from easy walks to more challenging paths. With the short 2-kilometer (1.2-mile) route, you can take a loop through the jungle and encounter various animals like birds, monkeys, and coatis. If you're up for a more challenging hike, you can take the 10-kilometer (6-mile) route to the beach. The jungle paths incline and decline at times, but once you reach the stunning pebble beach, you can take a refreshing dip in the sea.
From Montezuma, you can easily take a bus to Cabo Blanco Nature Reserve. Check the local bus schedule as times can change, and the bus runs only a few times a day. The bus will take you from the Montezuma bus station to the entrance of Cabo Blanco Nature Reserve in about 45 minutes.
Tip: Depart early in the morning for Cabo Blanco Nature Reserve. If you take the longest 10 km route, you're advised to return by 2:00 PM to ensure you're back before the park closes. If you want to catch the last bus back, you might need to return even earlier, but confirm this at the entrance for certainty. The reserve is closed on Mondays and Tuesdays.
Take a Dip in Montezuma Waterfalls
Just outside the center of Montezuma, there's a trail leading to the beautiful Montezuma Waterfalls. The waterfall consists of multiple tiers with natural pools for swimming. From the entrance, you can choose various routes to the Montezuma Waterfalls. Starting from the entrance, you can take the left path, which leads you uphill via stairs to the top waterfall in about 20 minutes. This path has a small fee as it crosses private property, and you'll receive a wristband as proof of payment. Alternatively, you can take the path to the right from the entrance. This trail is a bit more adventurous, involving walking over rocks and climbing steep paths to the waterfall. Make sure to get clear instructions on this route at the entrance.
On your way back, from the upper waterfall, you can take a different route back to Montezuma. This is a pleasant 45-minute route with hanging bridges. Eventually, you'll reach Sunshine Sanctuary, and from there, it's about a half-hour walk back to the center of Montezuma.
Tip: If you take the route with hanging bridges, you'll pass by the Butterfly Brewery & Co. restaurant. It's a charming place with delicious food!
Visit the Paradise Island of Isla Tortuga
A short boat ride from Montezuma takes you to the stunning Isla Tortuga. After about an hour's boat ride, you'll see the beautiful coastline formed by a volcanic reef. You'll be taken to the best spots for snorkeling, where you'll encounter various species of tropical fish. You'll also visit some pearl-white beaches with crystal-clear blue water on Isla Tortuga. Learn more about this boat tour to Isla Tortuga.
Watch the Sunrise at Montezuma Beach
Playa Montezuma is a beautiful spot to witness the magic of sunrise. From the beach, you can see the sun rise from the sea, creating a splendid way to start your day. Bring a towel and pick up some treats from the bakery the day before. It's wonderful to have a picnic on the likely deserted beach during sunrise. If you enjoy yoga, it's also fantastic to bring your yoga mat and do a relaxing morning flow by the water.

Hike to Playa Piedra Colorada and Playa Grande
It's time for a delightful coastal hike from Montezuma! Sendero Verde is a scenic trail from Montezuma to Playa Grande. After about half an hour of walking, you'll reach Playa Piedra Colorado, recognizable by the stone towers balancing on the sand. If you continue for another fifteen minutes, you'll arrive at Playa Grande. As the name suggests, this is a vast stretch of beach loved by runners and beginner surfers.
Tip: Begin this hike early in the morning as you'll occasionally walk along the beach with little shade, which can get quite hot in the blazing sun. Apply sunscreen generously and wear a hat or cap.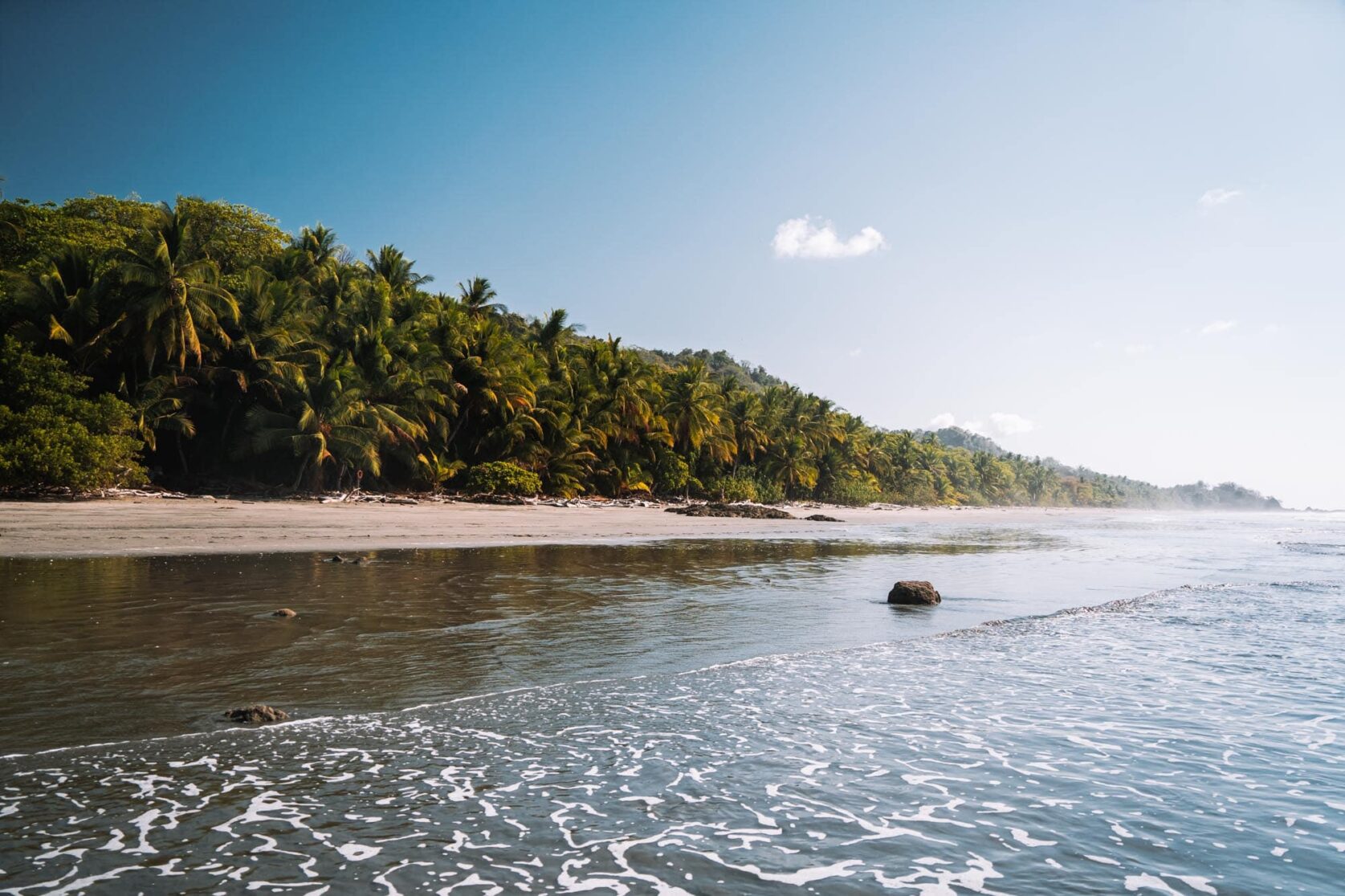 Horseback Riding in Montezuma
The route to Playa Grande is also fantastic to explore on horseback. During a tour, you'll ride along the coast and through the trees to a beautiful hidden waterfall and back. You can walk at a leisurely pace, trot, or even gallop across Playa Grande. An experienced guide accompanies the tour, so even if you're not experienced in horseback riding, this is an enjoyable activity. You'll experience Montezuma's nature in a completely different way than on foot. You can book horseback riding with various providers in the center of Montezuma.
Surfing in Montezuma
The waves of Montezuma are perfect for catching some surf. If you're an experienced surfer, Playa Cedros is a great spot to surf. It's a beautiful expansive beach, but be aware that there are rocks scattered in the water. Playa Cedros won't be too crowded, giving you space to catch some good waves. Another popular surfing spot is Cabuya Surf Spot, and Playa Grande is perfect for beginners.

Best Restaurants in Montezuma
Montezuma is a small village, but there are several good restaurants to be found. Here are my favorite tips.
Cocolores – This is a romantic spot where you can dine by candlelight with your feet in the sand. The menu is extensive, offering options for meat, fish, and vegetarian dishes. It's only open for dinner.
Tierra y Fuego – A good Italian restaurant where pizzas are baked in a stone oven.
Soda Típica Las Palmeras – If you want to experience Costa Rican cuisine, this is the place to go. Meals are beautifully served on banana leaves.
Cafe Organico – A cozy restaurant with live music almost every night of the week.
Playa de los Artistas – This Mediterranean restaurant by the beach is open for lunch from Thursday to Sunday between 12:00 and 4:00 PM.
Our Favorite Places to Stay in Montezuma
One of the best affordable hotels in Montezuma is Hotel El Jardin. It features a nice pool, a central location, and rooms with air conditioning and a fridge. If you prefer a charming hostel in the center of Montezuma, then Luz En El Cielo is perfect. This eco-hostel is surrounded by jungle and has a large pool. You can choose between bungalows with great views or dormitories if you're traveling on a smaller budget in Costa Rica. At Casa Colores, you'll stay in a cheerful cottage surrounded by a tropical garden. The cottages offer lots of privacy, a spacious veranda with a hammock, air conditioning, and a kitchen. This is where you'll truly get that vacation feeling! Note that Casa Colores is slightly outside the center of Montezuma. A rental car might be convenient if you stay here.
| | | |
| --- | --- | --- |
| Hotel El Jardin | Luz En El Cielo | Casa Colores |