Drake Bay is a small, beautiful bay on the Pacific coast of Costa Rica. It serves as an ideal base for visiting the diverse Corcovado National Park, where you can experience one of the most biodiverse places on the planet. In addition to this, Drake Bay offers much more beauty both on land and underwater. It's also one of the best spots to observe the massive humpback whale! In this mini travel guide, you'll find all the tips for visiting Drake Bay. Discover what to do, how to get there, recommendations for good restaurants, and comfortable places to stay.
How to Get to Drake Bay
Drake Bay is a bit remote, and getting there requires some planning. Read below to learn how to travel from Uvita, Manuel Antonio, and San José to Drake Bay using various transportation options.
By Bus + Boat: From Uvita, take a bus to Palmar Norte and from there, catch a bus or taxi to Sierpe. In Sierpe, board the boat to Drake Bay, departing daily at 11:30 AM and 3:30 PM. You can find online tickets for the boat, but they are cheaper at the harbor.
By Rental Car: There are two options for traveling by rental car. The first option is to drive from Uvita to Drake Bay, which takes about 3 to 4 hours. Note that the last part of the route is an unpaved road and only accessible by 4×4, especially after rainfall. The second option is to drive for 1 hour to Sierpe, park your car there, and take the boat to Drake Bay. Refer to the boat departure times above.
From Manuel Antonio (Quepos) to Drake Bay
By Local Bus + Boat: In Quepos, take the bus operated by Tracopa Bus Company. There's a direct bus to Sierpe once a day, and multiple buses to Palmar Norte throughout the day. Check departure times here. Buy bus tickets at the bus station. From Palmar Norte, it's a 15-kilometer ride to Sierpe, which you can complete by bus or taxi. The boat to Drake Bay departs from Sierpe at 11:30 AM and 3:30 PM. You can buy online tickets in advance or get them cheaper on-site.
By Rental Car: There are two different ways to drive with a rental car. You can drive all the way to Drake Bay in about 4 hours. However, be cautious because if it has rained in the days before your trip, the last part of the route, which is an unpaved road, may only be accessible with a 4×4 vehicle. The second option is to drive for 2 hours to Sierpe. Here, you can safely park your rental car and take the boat to Drake Bay. Refer to the boat departure times mentioned above.
From San José to Drake Bay
By Local Bus + Boat: The local bus departs once a day at 8:30 AM directly to Sierpe. Alternatively, multiple buses depart to Palmar Norte, where you can take a taxi or another bus to Sierpe. Check departure times for these buses. The local bus is affordable but takes quite a while, about 6 to 7 hours. Therefore, you'll need to leave early to catch the boat in Sierpe. The last boat to Drake Bay departs at 3:30 PM. You can buy online tickets for the boat, but they are slightly more expensive than purchasing at Sierpe's harbor.
By Minivan + Boat: A comfortable way to travel this route is with a minivan. You'll be picked up from your hotel in San José and dropped off at Sierpe's harbor about 4.5 hours later. From Sierpe, boats depart at 11:30 AM and 3:30 PM, taking about 1.5 hours to reach Drake Bay.
By Rental Car: There are two options for driving to Drake Bay. The first option is to drive all the way to Drake Bay, which takes about 7 hours. Keep in mind that the last part of the route is an unpaved road. If it has rained, a regular car won't be suitable, and you'll need a 4×4. The second option is to drive for 4.5 hours to Sierpe. After arriving, park your car and take the boat to your destination. Refer to the boat departure times mentioned above.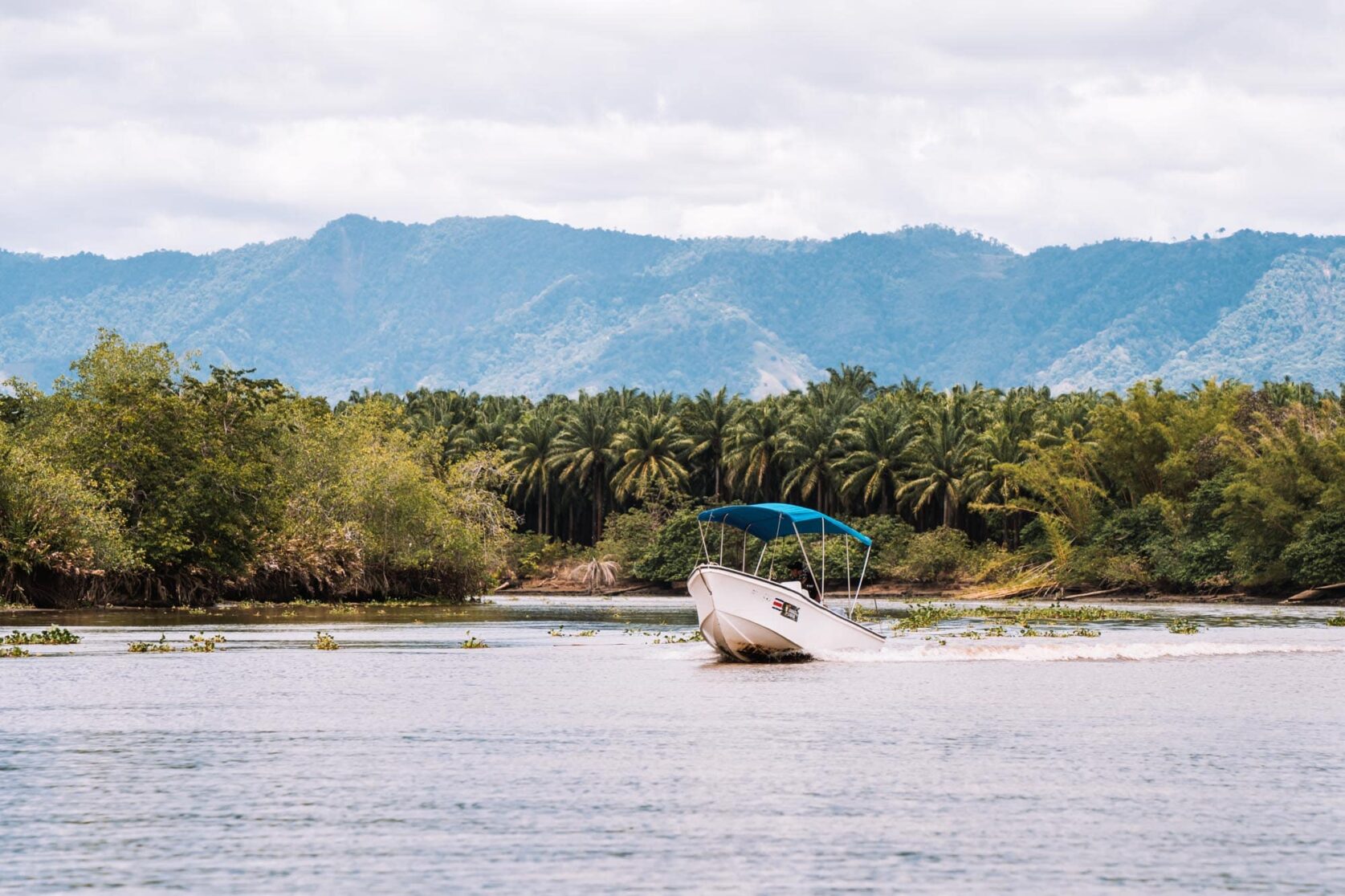 What to Do in Drake Bay?
Drake Bay is a fantastic base for exploring the beautiful surroundings. Below, you'll find my tips for the best activities.
Snorkeling at Isla del Caño
Isla del Caño is a small island located off the coast of Drake Bay, designated as a protected natural area since 1978. It's an untouched island without houses or roads, but it offers a fantastic underwater world and beautiful beaches. When you dive into the water, you can admire the rich marine life around the island. The island is also known as the best snorkeling and diving spot in Costa Rica. During the day tour to Isla del Caño, you have the chance to encounter octopuses, rays, sea turtles, and a variety of colorful fish. Keep your eyes open during the boat ride to Isla del Caño, as you might spot dolphins or whales along the way!
Hike the Drake Trail
If you're up for a great hike, lace up your shoes and follow the Drake Trail! This path starts at Playa Colorada in Drake Bay and ends at Playa San Josecito. The trail runs along the coast, passing by various small beaches, through the jungle, and over suspension bridges. Along the way, you'll enjoy stunning views of the beaches. The one-way hike takes about two to three hours on average, depending on your pace and how often you stop. You'll walk the same route back. If you want to shorten the route, you can always turn back earlier. Alternatively, from Playa San Josecito or Playa Las Caletas, you can check if you can take a motorbike taxi back to Drake Bay.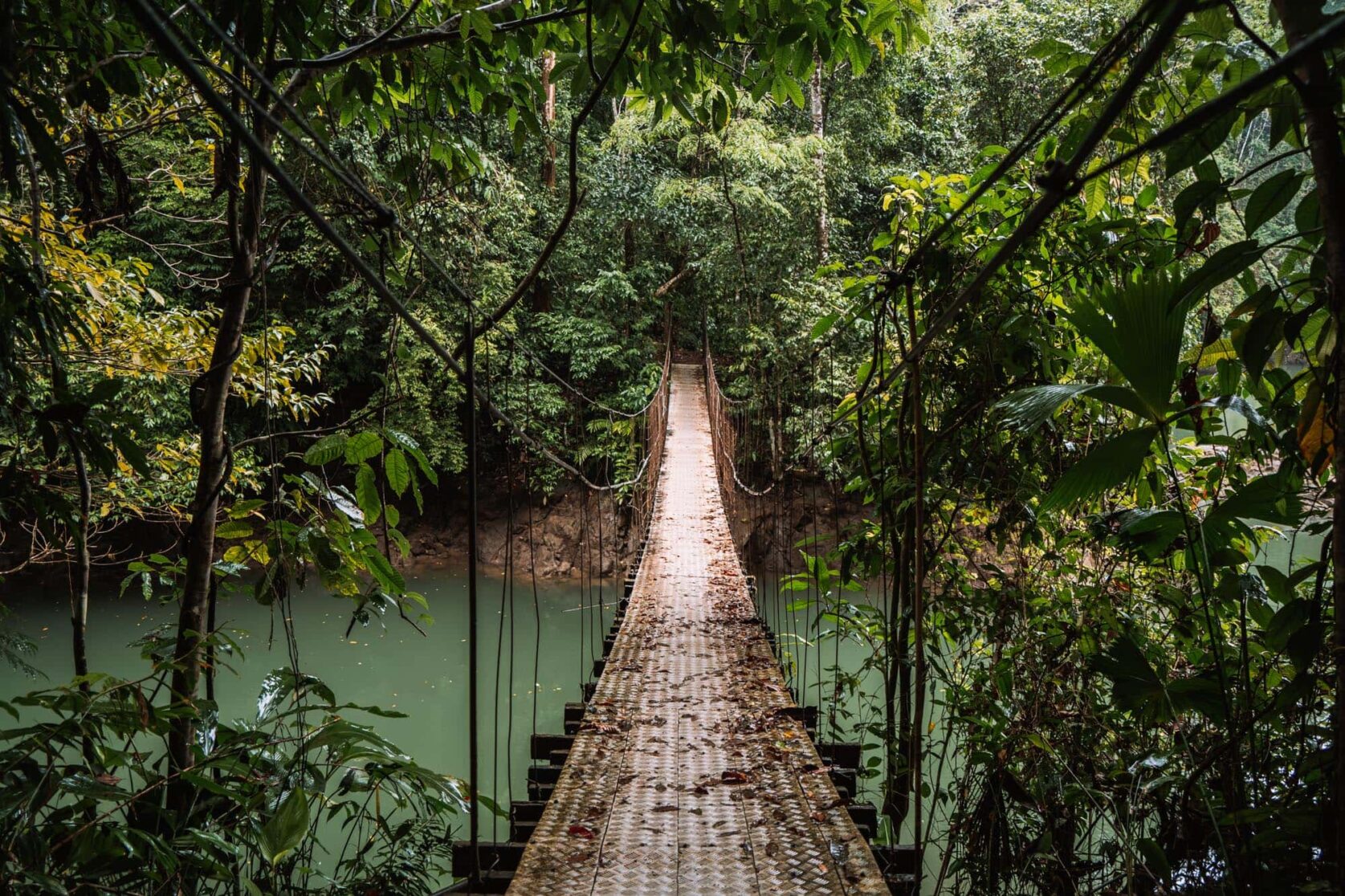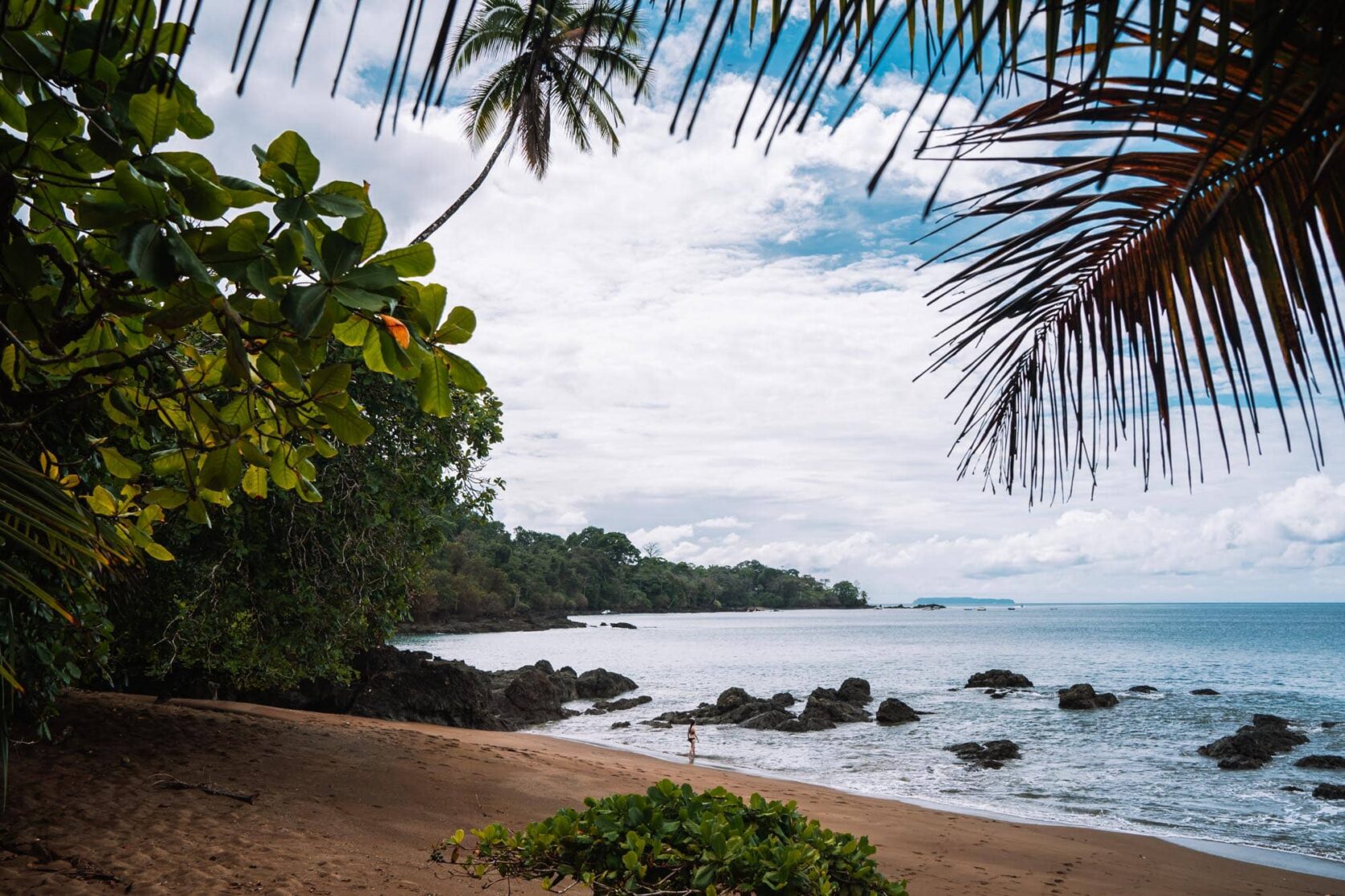 Discover the Mangrove of Drake Bay
If you found the boat ride from Sierpe to Drake Bay impressive and want to see more of the mangrove area, join a Mangrove Tour. This tour takes you deeper into the channels of the mangrove area. As you glide through the calm waters, the guide will point out various types of wildlife that call this biodiverse ecosystem their home. You might have the chance to see monkeys, crocodiles, and beautiful bird species. Admire the root systems of the mangrove trees while enjoying the stunning landscape.
Whale and Dolphin Watching in Drake Bay
There are over 25 species of dolphins and whales off the coast of Drake Bay. Humpback whales migrate between South America and North America, and because the waters off the coast of Drake Bay are warm, the whales come here to breed. Between mid-July and October, thousands of humpback whales can be seen off the coast. You can also spot whales from mid-November to April, although the chances are slightly lower. Besides humpback whales, you can spot large groups of dolphins year-round off the coast of Drake Bay. The most common dolphin species in this area are spotted dolphins, bottlenose dolphins, spinner dolphins, and rough-toothed dolphins.
During the whale and dolphin watching tour, you'll learn a lot about these impressive marine creatures. The tour includes lunch, and the group size is limited to 12 people. This organization is also committed to protecting the animals.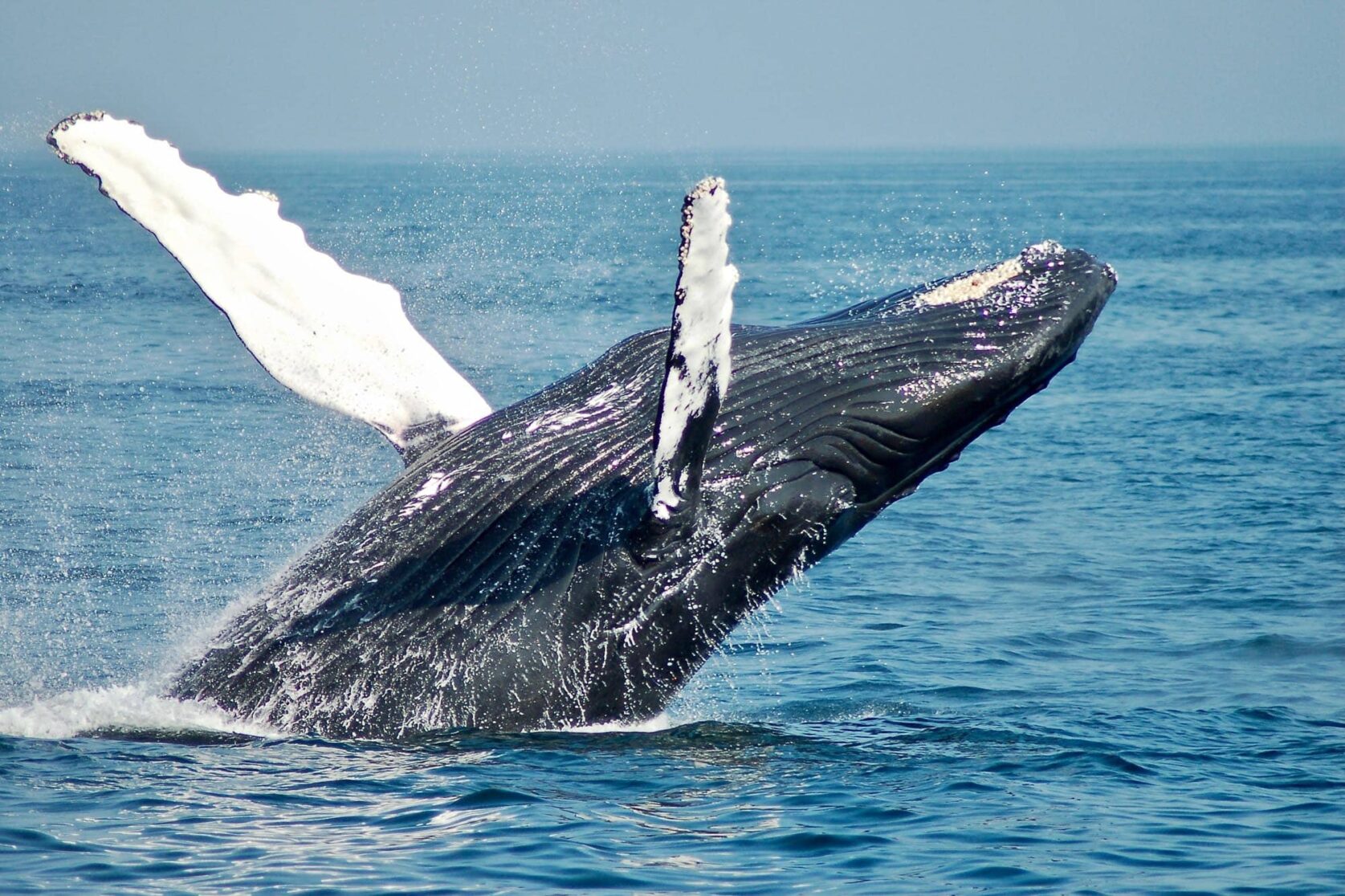 Nocturnal Animal Spotting with a Biologist
Experience the rainforest of Drake Bay in a completely different way at night. During the night tour, you'll explore with biologist Tracie, searching for unique nocturnal creatures. Tracie will enthusiastically tell you about all the animals and their special characteristics. With a flashlight, you'll discover which creatures come to life in the dark, including frogs, (bird) spiders, snakes, and bats. It's a fun way to see the animal kingdom in a different light and learn from a true expert.
Visit Corcovado National Park
Corcovado National Park is a special piece of nature in Costa Rica, known for having the highest biodiversity in the world. A whopping 2.5% of all plants and animals found worldwide inhabit Corcovado National Park. The park boasts 500 species of trees, 140 species of mammals, over 400 species of birds, and more than 100 species of amphibians and reptiles. It's also home to many endangered species like jaguars, pumas, tapirs, and Central American squirrel monkeys. To protect Corcovado National Park, you can only visit with a guide, and there are various tour options available, from day tours to multi-day tours with overnight stays in the jungle. It's advisable to research in advance which tour suits you best, as there's limited availability due to a daily visitor limit. Check out all the tips for visiting Corcovado National Park and learn about the different options.
Extra Tip: Bring Sufficient Cash to Drake Bay
When traveling to Drake Bay, it's essential to bring enough money with you. There are no ATMs in Drake Bay, and you can't easily travel to another location due to its remote location. For credit card payments, additional charges can amount to up to 13%, so it's recommended to bring enough cash with you in advance.

Best Restaurants in Drake Bay
Finding good restaurants in Drake Bay might take some searching, as there isn't a wide variety of choices. However, the following restaurants are recommended options in Drake Bay.
Casa El Tortugo Drakes Kitchen – This cozy restaurant offers delicious food at affordable prices. Many dishes feature fresh fish and are prepared with a variety of herbs and vegetables. They also have meat and vegetarian options on the menu. The restaurant offers a beautiful view of the bay.
Claudio's Grill – This restaurant also offers a great view and serves tasty local cuisine.
Kalaluna Bistro – Yes, this restaurant also boasts a beautiful view. Alongside local dishes, they serve Mediterranean cuisine. Prices are a bit higher, but they make every dish special. If you want to dine here, make sure to make a reservation.
Where to Stay in Drake Bay?
When searching for a hotel in Drake Bay, you might come across options in nearby bays. Staying there could mean being farther from restaurants and facing difficulties getting to Drake Bay itself. Make sure to carefully check the hotel locations. Below are our favorite choices, all located within Drake Bay itself.
Our Favorite Places to Stay in Drake Bay
Nestled in nature is the unique Sunset Lodge. Stay in a bungalow with privacy, a private veranda, and a stunning ocean view. The bungalows are surrounded by greenery, allowing you to spot birds, monkeys, and other animals from your veranda. While it's a bit uphill from Drake Bay, you're still close to all the restaurants. At Jacamar Corcovado Drake Bay, you can expect a bit more comfort. Stay in a spacious double room with air conditioning, a fridge, a comfortable bed, and a good shower. You also have a private balcony with a view of nature and the chance to spot wildlife. Casa Jade is the best budget option in Drake Bay. Here, you can stay in a double room for a very reasonable price. The rooms are simple but have all the necessary amenities. The owner and staff are incredibly friendly and hospitable.
| | | |
| --- | --- | --- |
| Sunset Lodge | Jacamar Corcovado Drake Bay | Casa Jade |