If you're looking to experience a unique stay during your trip to Costa Rica, we have some fantastic tips for you. Special accommodations are abundant in Costa Rica and offer unparalleled experiences. Stay in a treehouse, a glamping lodge with a view of a volcano, or on a cacao plantation. We've compiled a list of extraordinary hotels for you. Just a heads up: the prices in Costa Rica can vary significantly based on the season and how far in advance you book. Generally, booking early is recommended if you want to stay at one of these exceptional accommodations.
Note: Below are price estimates, but prices in Costa Rica fluctuate significantly depending on the season and booking lead time. In general, booking well in advance is advisable for these unique accommodations.
Adventurous Treehouses in Costa Rica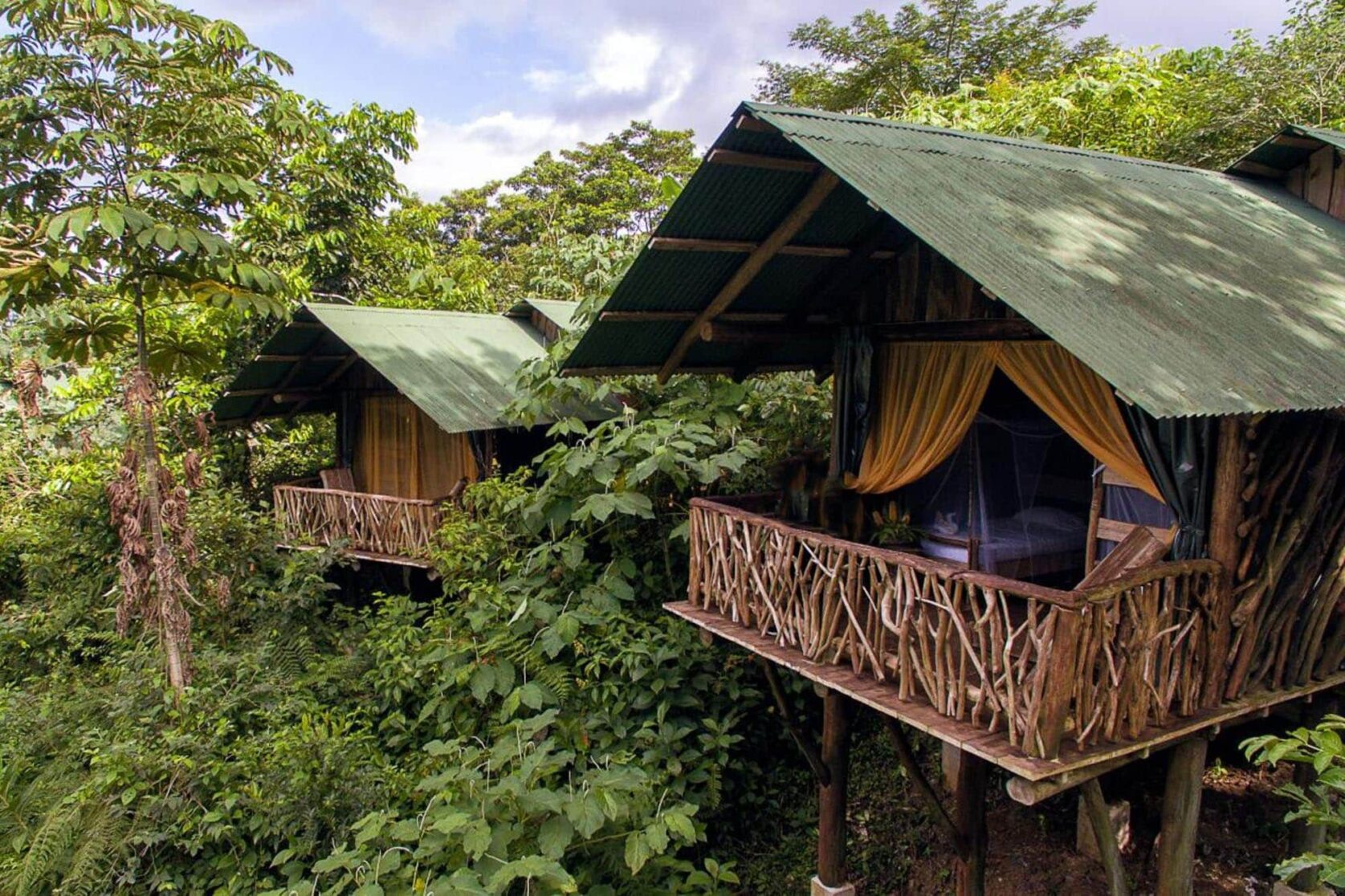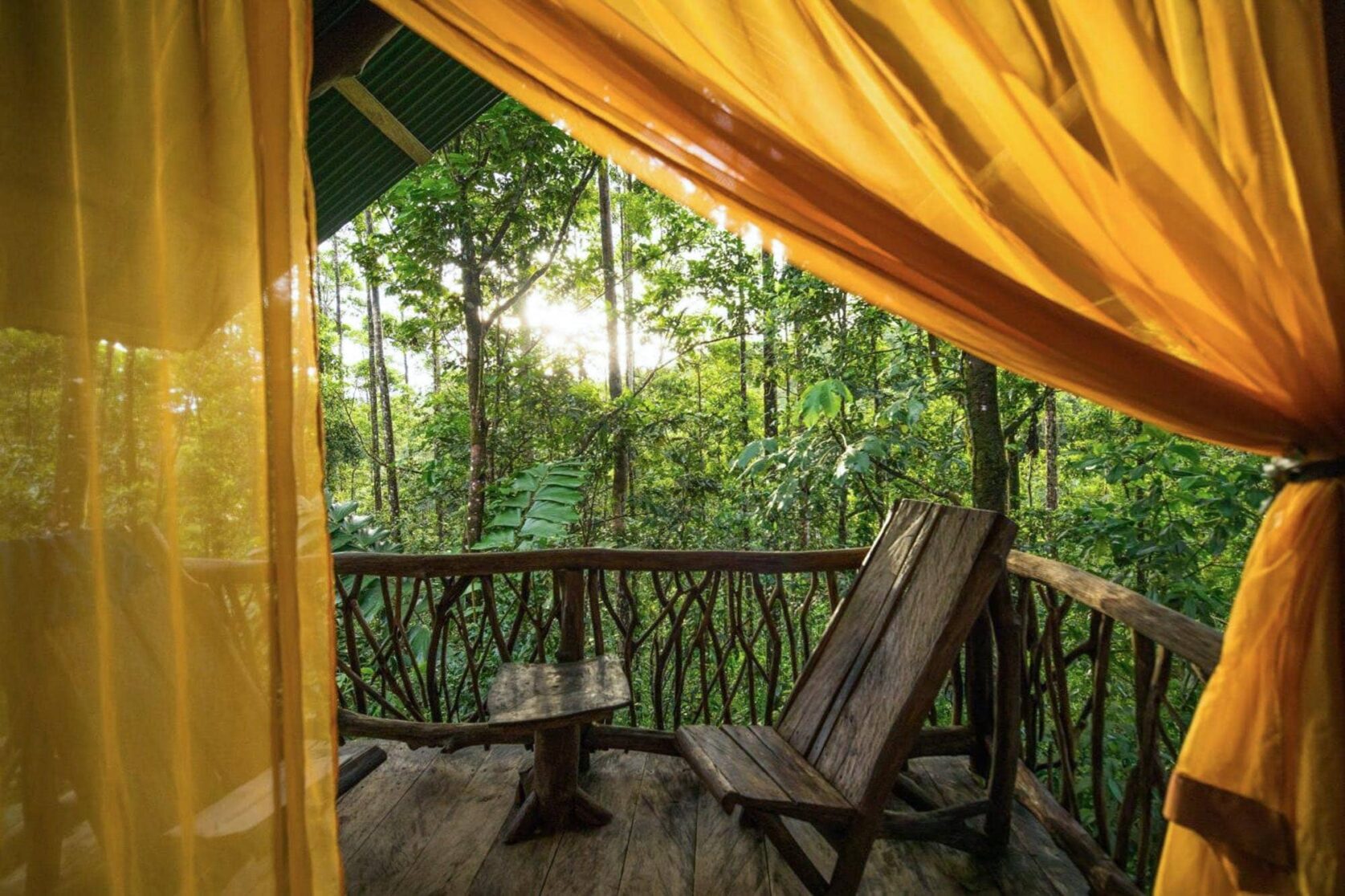 We can't start this list without mentioning a unique stay in a treehouse. At La Tigra Rainforest Lodge, you'll stay in a stunning treehouse nestled in the La Fortuna rainforest. Absorb the jungle sounds from your treehouse veranda or explore the flora and fauna of Costa Rica up close. The lodge offers a beautiful walking trail on the property where you can enjoy the lush tropical plants and, with a bit of luck, spot wildlife. Upon returning, you'll find a refreshing and beautifully designed swimming pool awaiting you. After all, swimming in the middle of the jungle never gets old.
Location: La Fortuna / Arenal
$$ –
View Prices
Back to Basics on a Costa Rican Farm
While unique accommodations in Costa Rica tend to be pricier, we have an exception for you. If you love animals and want an authentic local experience during your Costa Rican journey, consider staying at La Munequita Lodge, a typical Costa Rican farm located an hour and a half away from Corcovado National Park. You'll sleep amidst nature, surrounded by goats, chickens, and cows, and enjoy meals made from fresh produce from the farm. Yes, this means going back to basics for a few days, but trust us: it's entirely worth it if you're a nature lover. Just like the place itself, you could describe the owners of the lodge as pure and extraordinary. While luxury options are limited here, you won't miss out on anything. Hospitality is their top priority. If your preferred dates are unavailable, you can book the other floor of the lodge via this link.
Location: Sierpe (Dichtbij Corcovado National Park)
$ –
Lodge 1
$ –
Lodge 2
Stay in a Stylish Caravan 100 Meters from the Beach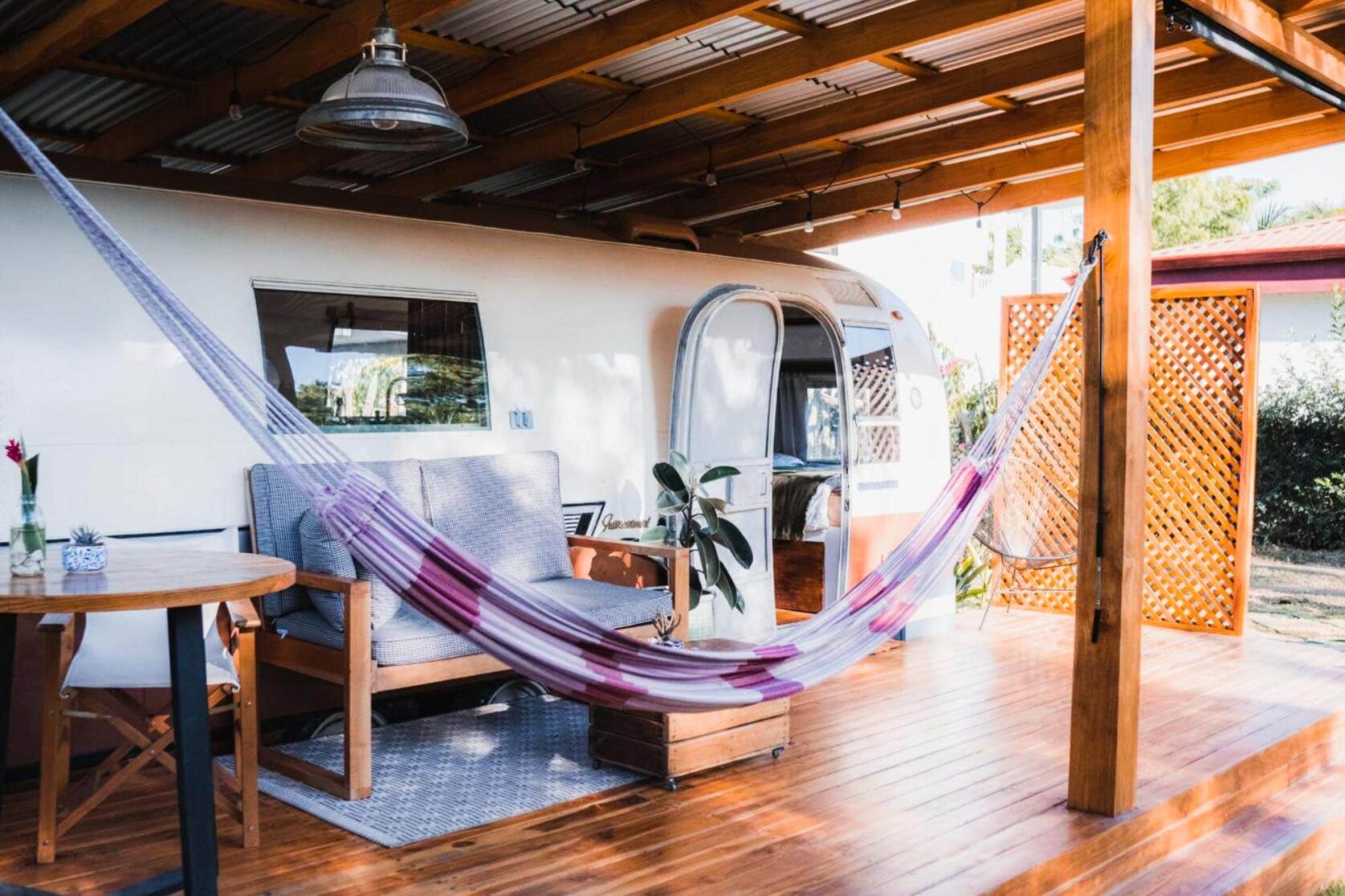 When you think of unique stays in Costa Rica, treehouses in the jungle or beachside bungalows might come to mind. However, if you're looking for something different yet special, this stylish caravan might catch your interest. This transformed caravan offers all the comforts you need and has been turned into a hip cottage. Concerned that a caravan might feel a bit cramped? The owners of La Caravana in Sámara found a solution. They added a spacious covered terrace in front of the caravan, effectively doubling the living space. Relax in the hammock or lounge in one of the seating areas. And if you're looking to cool off, there's an outdoor shower right around the corner from the caravan. If you're seeking further refreshment, the beach is just 100 meters away!
Location: Sámara (on the route between Monteverde and Santa Teresa)
$290-$400
View Prices
Pods and Design Villas in the Jungle of Uvita
We wouldn't quickly label a hotel as the 'accommodation of your dreams,' but this one comes remarkably close. Imagine a stunning, ultra-modern villa nestled in the jungle of Costa Rica, and Art Villas Costa Rica might still exceed your expectations. Don't let the term 'villa' discourage you if you're traveling as a couple. This extraordinary hotel offers not only villas for six or ten people but also 'pods' for two. These pods resemble cozy cocoons and offer breathtaking views of the jungle. It's important to note that a 4×4 vehicle is necessary to access this location.
Location: Uvita
$550-$680
View Prices
Note: Pod prices range between $140 and $180, depending on the season. These are often only available for booking a few months in advance. If you're looking to book for a date further than 4-5 months ahead, you might only see villa prices starting at $1120 or more. These villas accommodate 6 to 10 people.
Exceptional Treetop Accommodation in Costa Rica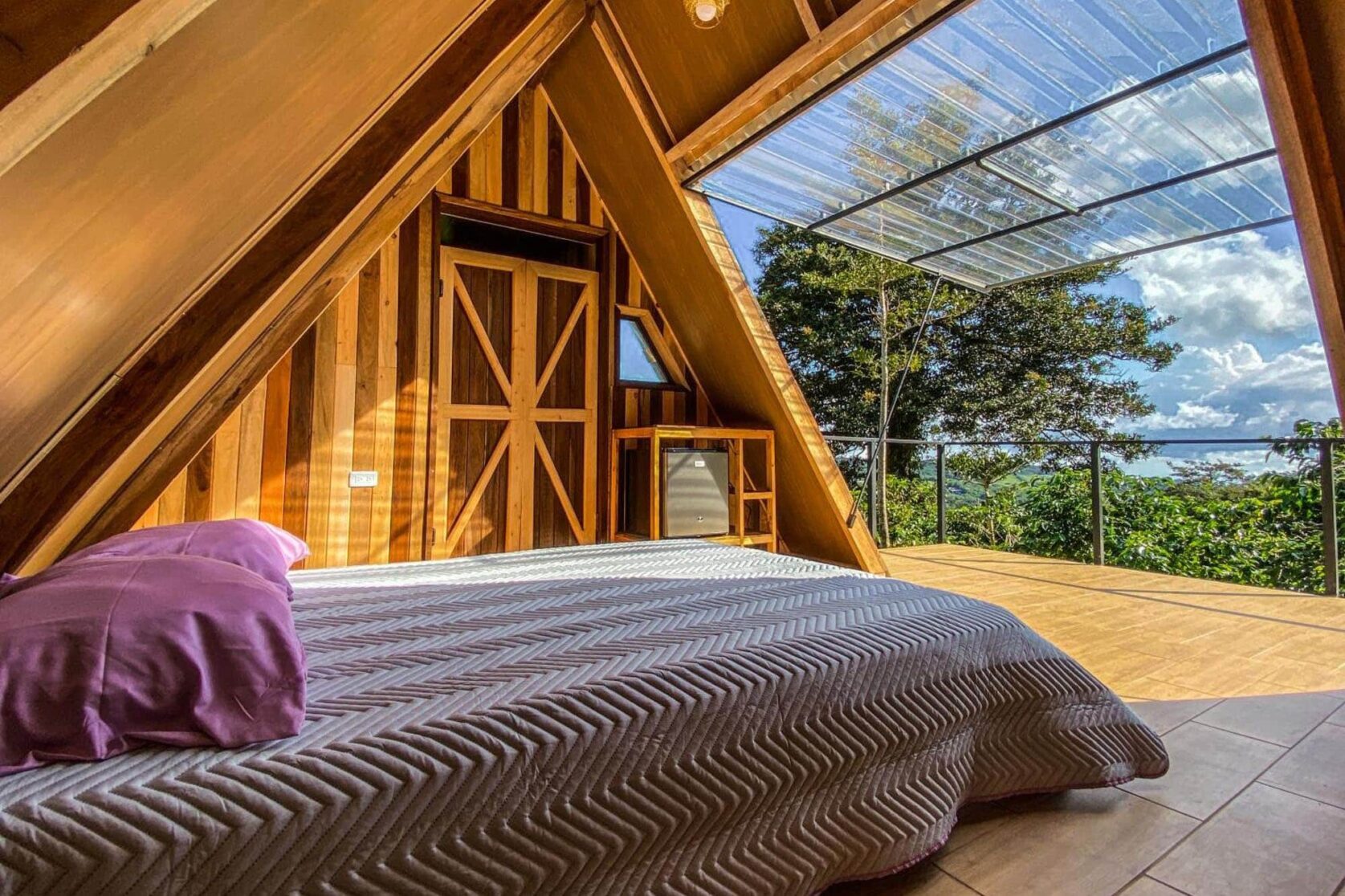 Becoming one with nature is effortless at Tityra Lodge in Monteverde. This unique hotel is surrounded by greenery and features lodges with a treetop view. These lodges offer an extraordinary experience in Monteverde due to their large windows that can be fully opened. This creates the sensation of floating among the trees while lying in bed. If these special lodges are fully booked, don't worry—every other cabin here has a lovely terrace where you can relax to the sounds of the rainforest. Some even have 'lignetten,' a special feature you'll surely enjoy.
Location: Monteverde
$$ –
View Prices
Stay in a Green Oasis in

Puerto Viejo
When we say you're in a green oasis at La Paz del Caribe, we truly mean it. The bungalows are completely hidden among the tropical plants, offering not only privacy but also an ultimate jungle experience. The animals you can spot from your private terrace—like monkeys, sloths, and tropical birds—will undoubtedly enhance this unique jungle stay in Puerto Viejo.
Location: Puerto Viejo
$680-$900
View Prices
Glamping with a View of Arenal Volcano
Glamping tents that live up to their name are among our favorites. We're talking about truly stunning tents that are just as comfortable as lodges, bungalows, or even hotel rooms. The tents at Hotel Arenal Glamping certainly don't disappoint. They are all beautifully decorated with features like cozy beds, inviting terraces, and private bathrooms. But the luxurious amenities of this glamping site don't stop at the tents. The property also boasts a stunning pool with a view of the Arenal Volcano. A delightful spot!
Location: La Fotuna / Arenal
$900-$1120
View Prices
Unique Stay on a Cacao Plantation in Costa Rica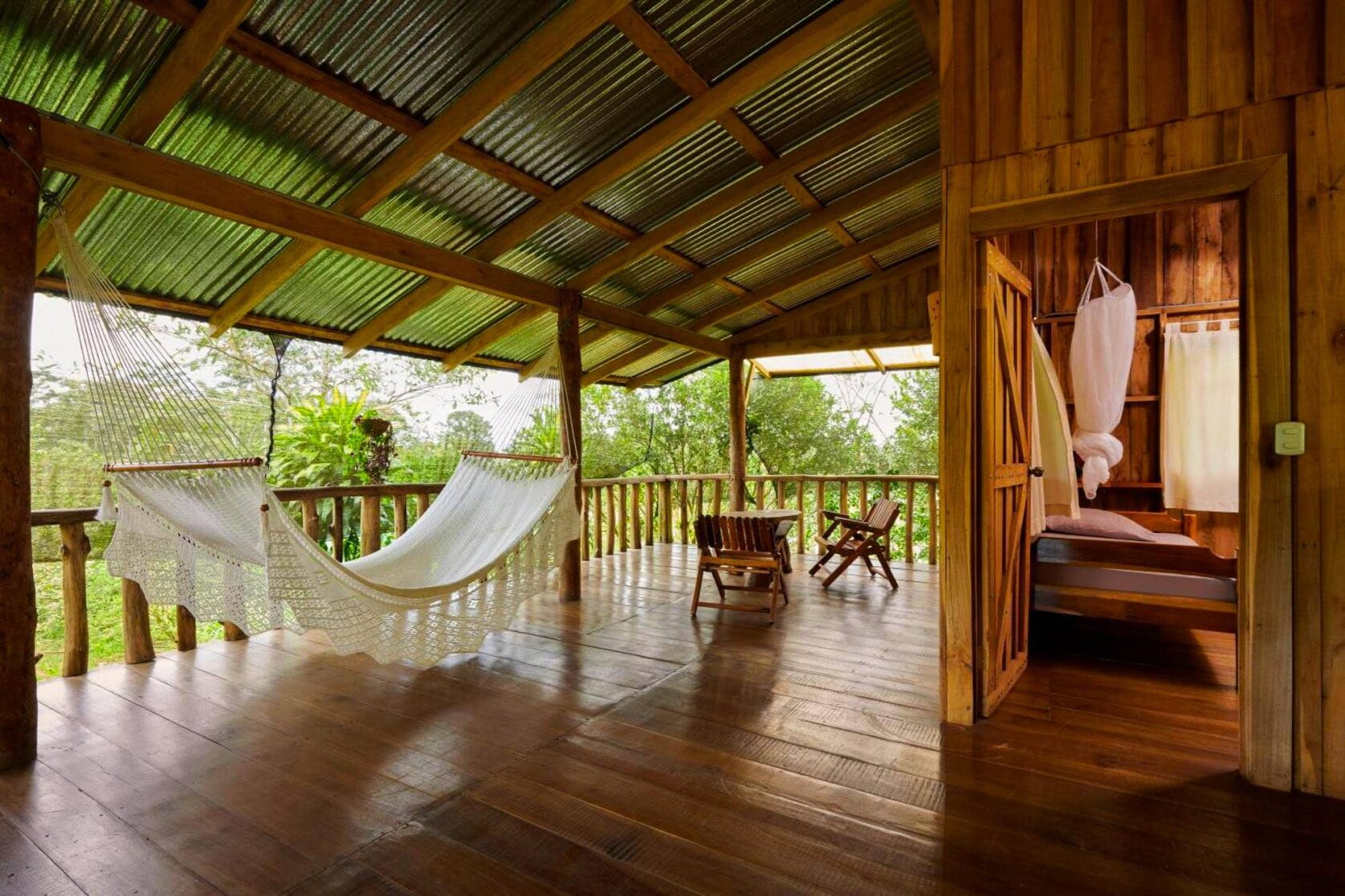 One of the most important factors for a unique stay? Location. It's a plus when a hotel is close to attractions and hotspots, allowing you to explore and experience more. In this case, you won't have to think about it. At Finca Amistad Cacao Lodge, you'll sleep on a cacao plantation. To be exact, a 60-hectare cacao plantation. This is a dream stay, especially for chocolate enthusiasts. Enjoy a fascinating tour and indulge in the most delicious chocolate. Afterward, unwind on your bungalow's terrace in your own hammock.
Location: Near Rio Celeste
$225-$450
View Prices
Movie Nights in the Costa Rican Jungle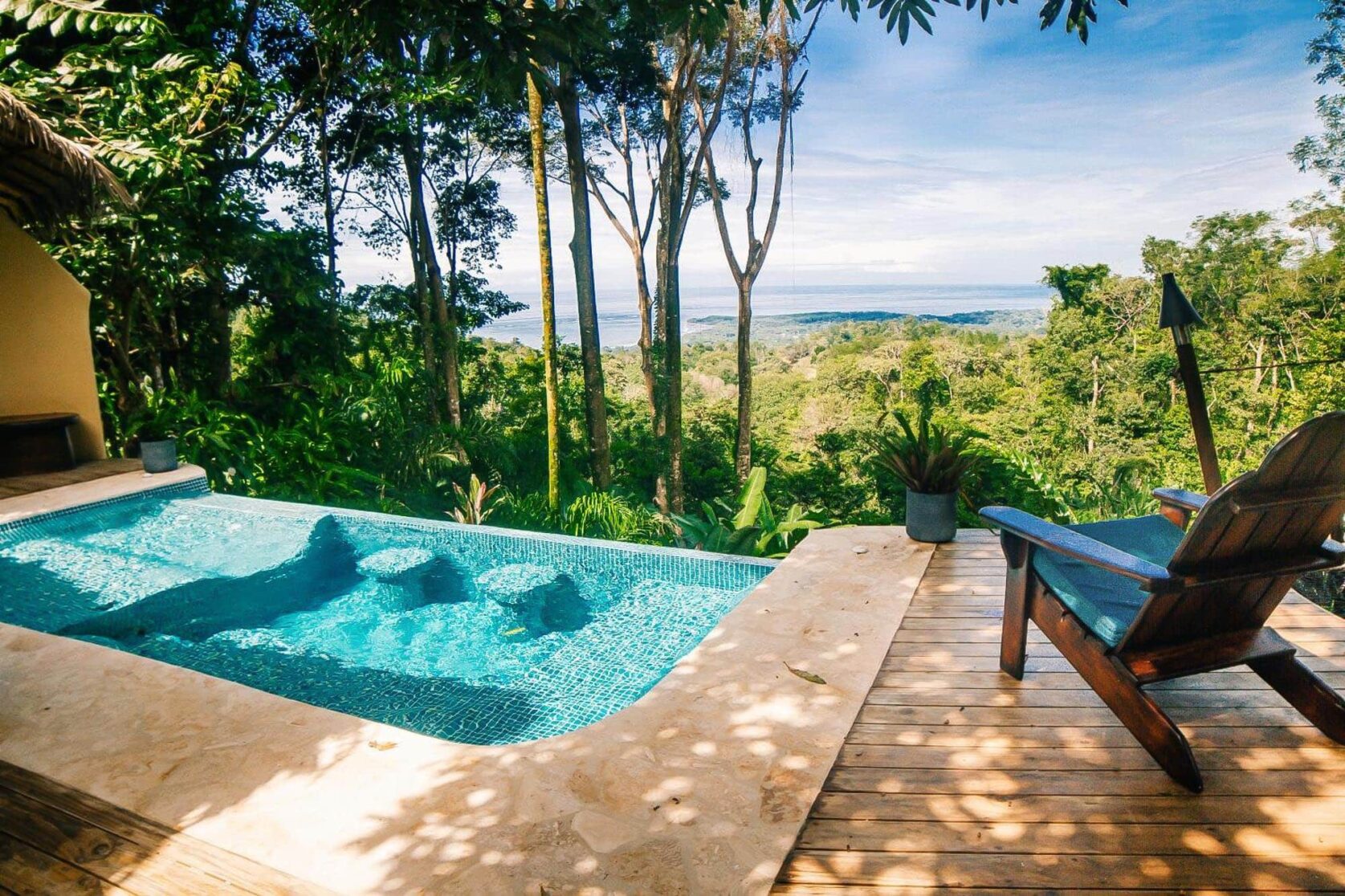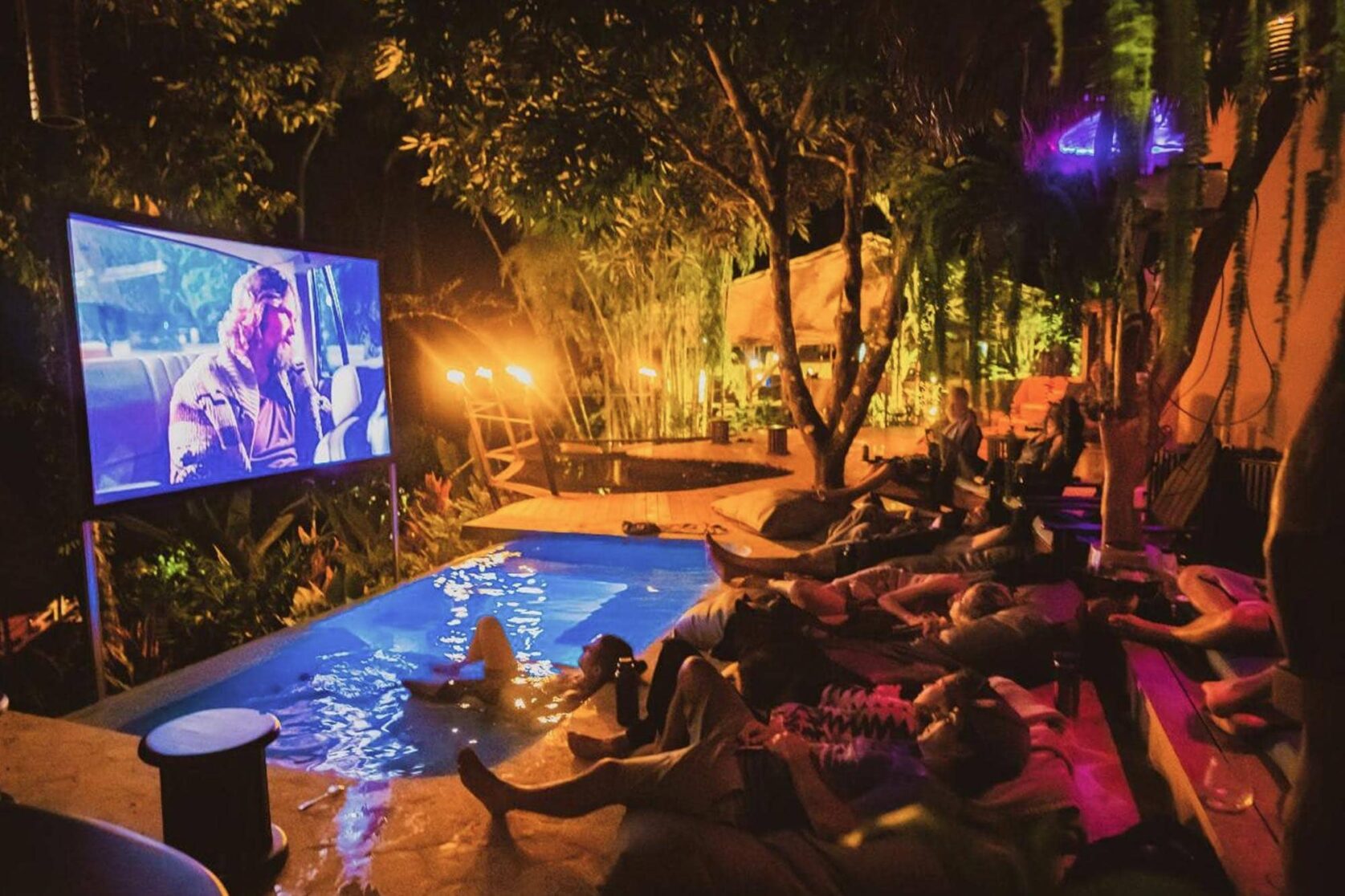 Some hotels are so wonderful that you may not even want to leave the property to fill your days. In the mountains of Uvita lies such a hotel where you can enjoy a delightful mini-vacation during your trip to Costa Rica. It's a social place with various activities, from games and movie nights to yoga classes and evenings by the campfire. You won't need to leave Selva Armonia Immersive Jungle Resort to have a fantastic time. Spend your afternoon by the pool or in the 'lignetten' with a stunning view of the jungle and, in the distance, the sea. This is exceptional lodging in Costa Rica at its finest!
Location: Uvita
Note: This hotel is often only available for booking three months in advance.
Stay in an Elevated Treehouse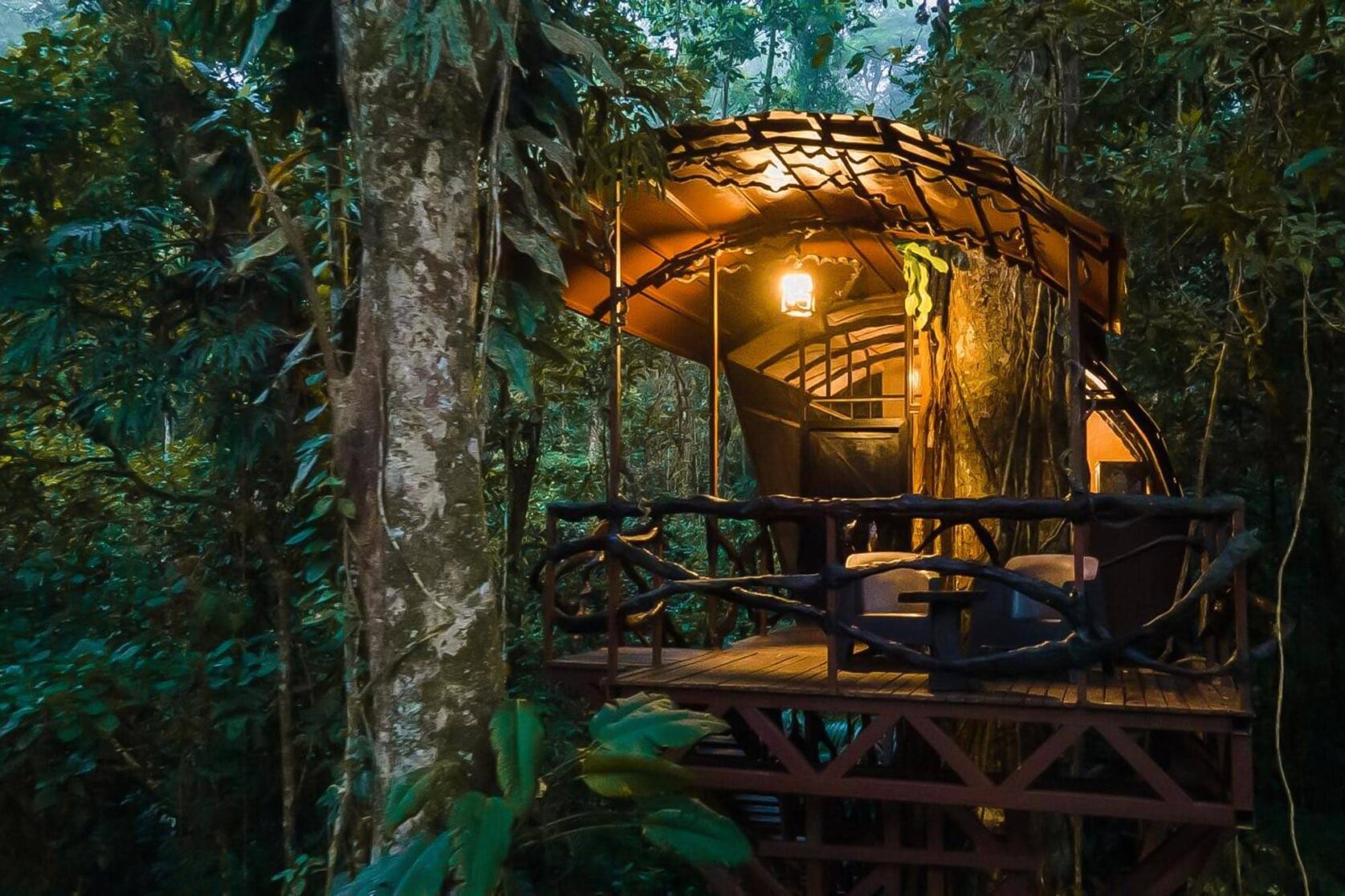 A house on stilts might often be called a 'treehouse', but at Maquenque Ecolodge, they take the concept of a treehouse to a whole new level. The treehouses at this ecolodge reach high into the sky. Yes, it requires some steps, but it's worth it. You'll have a beautiful, fully-equipped private room at a significant height. And perhaps the best part is that the treehouses lack nothing. Each of them has a terrace and a private bathroom. You won't have to descend all the steps in the middle of the night for a bathroom break. What might entice you to come down willingly? The lovely pool in the middle of the jungle or the nearby lake.
Location: In the middle of nowhere in the northern part of Costa Rica
$670-$900
View Prices