Uvita is a peaceful coastal village on the Pacific coast of Costa Rica. It's not as crowded as some other beach destinations, and there are many beautiful places to explore in the surrounding area. From Uvita, you can visit stunning waterfalls, a beautiful national park, and enjoy activities like horseback riding, surfing, and whale watching. You'll also find some unique accommodations here, nestled in the jungle with amazing views. Check out these 10 tips for fun things to do in Uvita!
How to Get to Uvita
Most people travel from Manuel Antonio (base: Quepos) or Drake Bay to Uvita. Below are the ways to travel from these destinations to Uvita.
From Manuel Antonio (Quepos) to Uvita
By Local Bus: The bus from Quepos to Uvita takes about 2 hours. Buses by Trasportes Blanco y Hernandez S.A operate multiple times a day. Check with your hotel or hostel for exact departure times.
By Rental Car: This is a 60 km drive and takes approximately one hour.
By Local Bus + Boat: Take the boat from Drake Bay to Sierpe and then catch a bus or taxi to Palmar Norte. From Palmar Norte, take the bus to Uvita.
By Rental Car: Take the boat from Drake Bay to Sierpe and retrieve your parked car here. It's about an hour's drive from Sierpe to Uvita.
What to Do in Uvita?
It's recommended to stay in Uvita for at least two days, but definitely plan some extra days if you want to relax on the beach or go surfing.
Explore the Whale Tail of Marino Ballena National Park
Nature sometimes creates extraordinary coincidences. In Marino Ballena National Park, a rock and sand formation precisely resembles the shape of a whale's tail. This alone looks quite remarkable, but it's also the spot where hundreds of humpback whales gather every year. The whale tail forms during low tide when the sea retreats. It's barely visible during high tide. So, visit Marino Ballena National Park during low tide and walk about 15 minutes from Uvita village to the whale tail. You'll walk along a beautiful dark brown beach bordered by rugged jungle where you might even spot parrots, toucans, and pelicans flying by. The entrance fee for Marino Ballena National Park is $8, and you can check here (up to one week in advance) for the timing of tides.
Tip: Officially, Marino Ballena National Park is closed on Mondays. However, most Mondays, there's no one at the entrance, so you can walk in. If someone is there and you're denied entry, you can also walk along the beach.

Watch the Sunset at Playa Uvita
Playa Uvita is adjacent to Uvita village and is a beautiful, expansive beach. Since it's part of the Marino Balleno National Park, there's a small entry fee for Playa Uvita. However, this ticket is valid all day, allowing you to leave and re-enter the park as many times as you'd like. The crescent-shaped beach of Playa Uvita is perfect for laying out your towel, and its waves are popular among experienced surfers.
Watching the sunset from Playa Uvita is also a great tip. If you're lucky, the sunset aligns with the tide, creating a shallow layer of water on the beach and a reflection of the sunset. Even if this isn't the case, Playa Uvita is still one of the most beautiful spots to witness the sunset in Costa Rica. Bring some beers or a bottle of wine and savor this unique location.
Hike to the Nauyaca Waterfalls
About a half-hour's drive from Uvita, you'll find the Nauyaca Waterfalls, often crowned as the most beautiful waterfall in Costa Rica by many travelers. The Nauyaca Waterfalls consist of two waterfalls, with water cascading over 200 meters (656 feet) down.
The easiest way to reach them is by rental car. After paying the entrance fee at the office on the main road, you can take the downhill turn to park your car there. If you prefer public transportation, I recommend taking the first bus around 6:00 heading towards San Isidro. This bus stops right at the entrance to the Nauyaca Waterfalls. It's not too warm at that time, and you'll have the waterfalls almost to yourself. You can also leave later, but in that case, get off at Dominical. The easiest way from there is to take a taxi to the entrance of the Nauyaca Waterfalls.
From the entrance, it's still a sturdy 4 km hike to the waterfalls, so wear good shoes and bring enough water. Along the way, you might encounter monkeys, toucans, and other exotic animals, so keep your ears and eyes open. If you're not up for hiking, there are pickups that shuttle between the entrance and the Nauyaca Waterfalls and back. The downside is that you won't truly enjoy the scenic route, and the chances of spotting wildlife are significantly reduced. Another option is to go to the Nauyaca Waterfalls on horseback. You'll spend about two hours at the waterfalls, and lunch is included. This is a wonderful way to reach the Nauyaca Waterfalls, but it can be quite pricey.
The water of the Nauyaca Waterfalls is often turquoise blue, but as you can see in the photo below, that wasn't the case during my visit. It had rained a lot just before I arrived, so the water was brown. This isn't always the case, though.
Have a Meal at One of the Many Hotspots in the Surf Village of Dominical
On your way back from the Nauyaca Waterfalls, you'll pass by the surf village of Dominical, and it's a great place to make a stop. The atmosphere here is lively, and you'll find numerous cafes and restaurants. Enjoy delicious coffee and breakfast at Cafe Mono Congo or savor craft beer at Fuego Brew Company.
Relax at Playa Hermosa
If you're in the mood to lay out on the beach with your towel, Playa Hermosa is a wonderful choice. Located just outside Marino Balleno National Park, Playa Hermosa is the only free-to-enter beach around Uvita. The clear blue water is perfect for swimming, and beginner to intermediate surfers can catch some waves here. That's why this beautiful 5-kilometer-long (3-mile-long) beach is a popular spot to hang out. Sometimes, you'll find a few small stalls at the entrance of Playa Hermosa where you can buy things like a cold coconut or a portion of ceviche. To be safe, bring enough drinks and snacks in case nothing is available for purchase.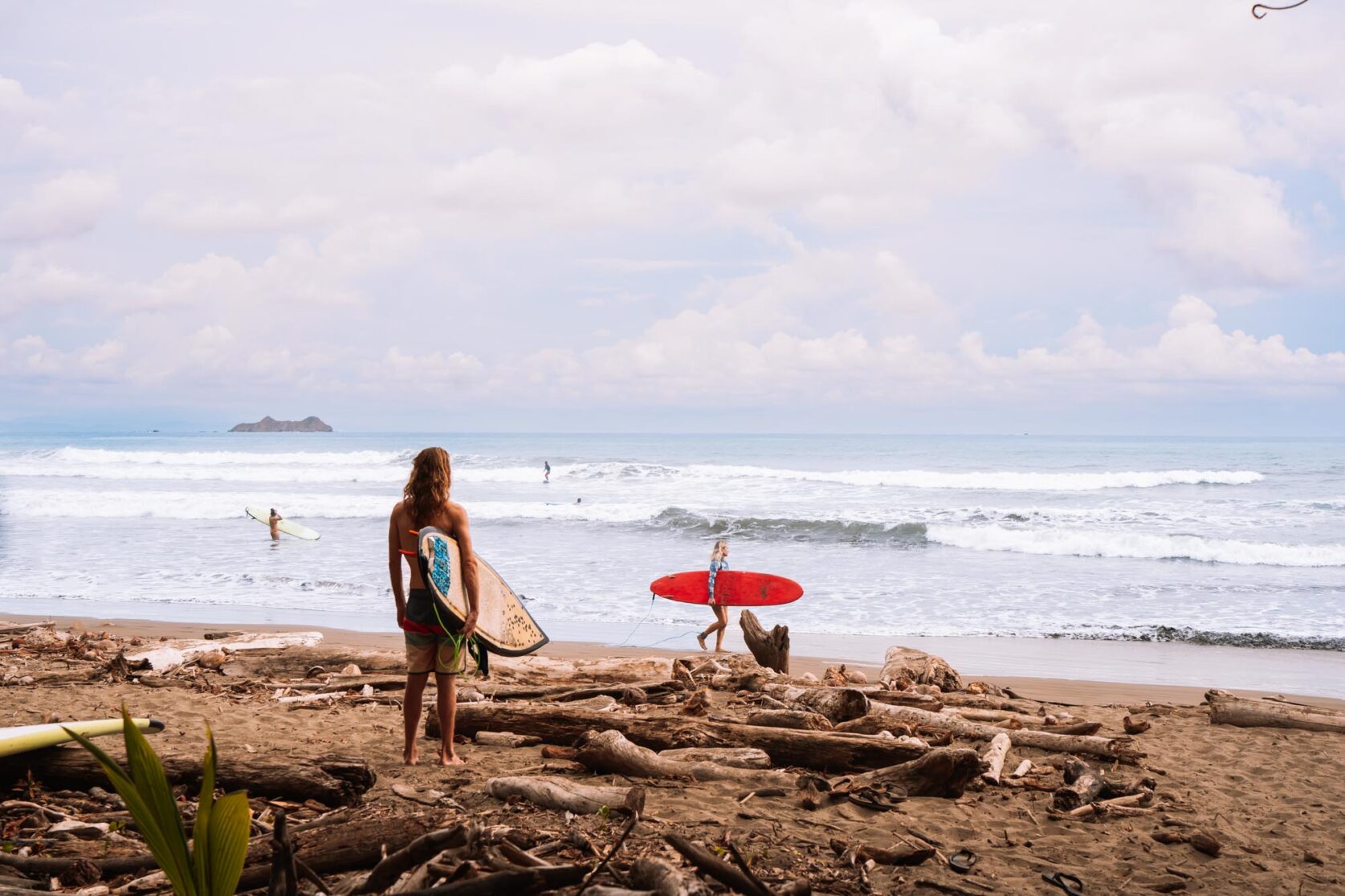 Take a Dip in the Catarata Uvita Waterfall
One of the most enjoyable things to do in Uvita is to visit Catarata Uvita. It's a beautiful waterfall hidden in the jungle where you can take a refreshing swim. Perfect for cooling off on a hot day! For a bit of adrenaline, climb up the staircase. From there, you can jump into the water from the rocks or slide down the natural slide. There's a small entrance fee for this waterfall at the restaurant by the entrance. You can also grab a tasty smoothie or a snack here for a picnic by the waterfall. It's a half-hour walk from the main street in Uvita to the entrance of Catarata Uvita, or you can take a taxi if you'd rather not walk.
Dine or Have Lunch at Gusto Italian
Besides the delicious food at Gusto Italian, you come here mainly for the location. This restaurant is situated a bit higher up on the mountain, nestled in the jungle with a view of the ocean. If you're dining here, make sure to arrive before sunset, because trust me, you don't want to miss it. Another reason to go while it's still light: there's a good chance you'll see toucans, parrots, and howler monkeys here! Listen closely to the sounds and ask for binoculars from one of the owners if you spot something. Gusto Italian is a popular spot, so it's wise to make a reservation in advance through their Facebook page.
Note: The road to Gusto Italian is quite steep and can be a challenge if you don't have a 4×4 vehicle. It should be doable with a regular car, but be prepared for a tougher uphill drive.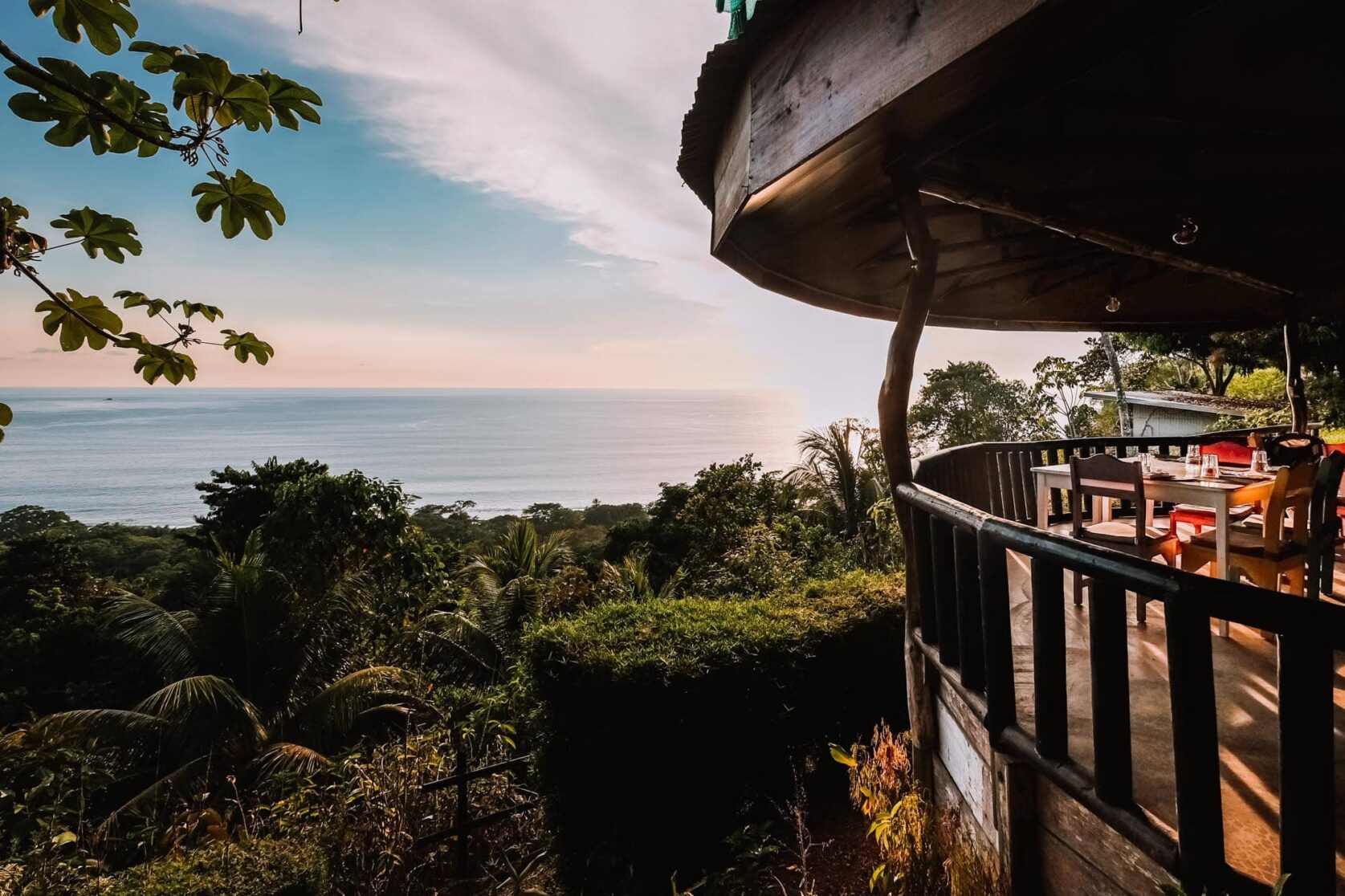 Horseback Riding in Uvita
A fantastic activity to try in Uvita is horseback riding. You don't need to be an experienced rider, as even if you've never been on a horse, the trained horses and guides can show you a beautiful part of Uvita. Stroll along peaceful paths through the stunning nature or opt for a ride on the beach, where you'll head towards a gorgeous sunset in the late afternoon. The tours by Rancho La Merced come highly recommended in Uvita.
Whale Watching in Uvita
The waters around Costa Rica are teeming with life, and from Uvita, you can head out to sea to spot whales. In addition to humpback whales that can steal the show by leaping spectacularly out of the water, you also have a chance to encounter dolphins and turtles. The whale-watching season is from mid-July to the end of October and from January to March. If you join this exciting tour, you'll also visit beautiful snorkeling spots.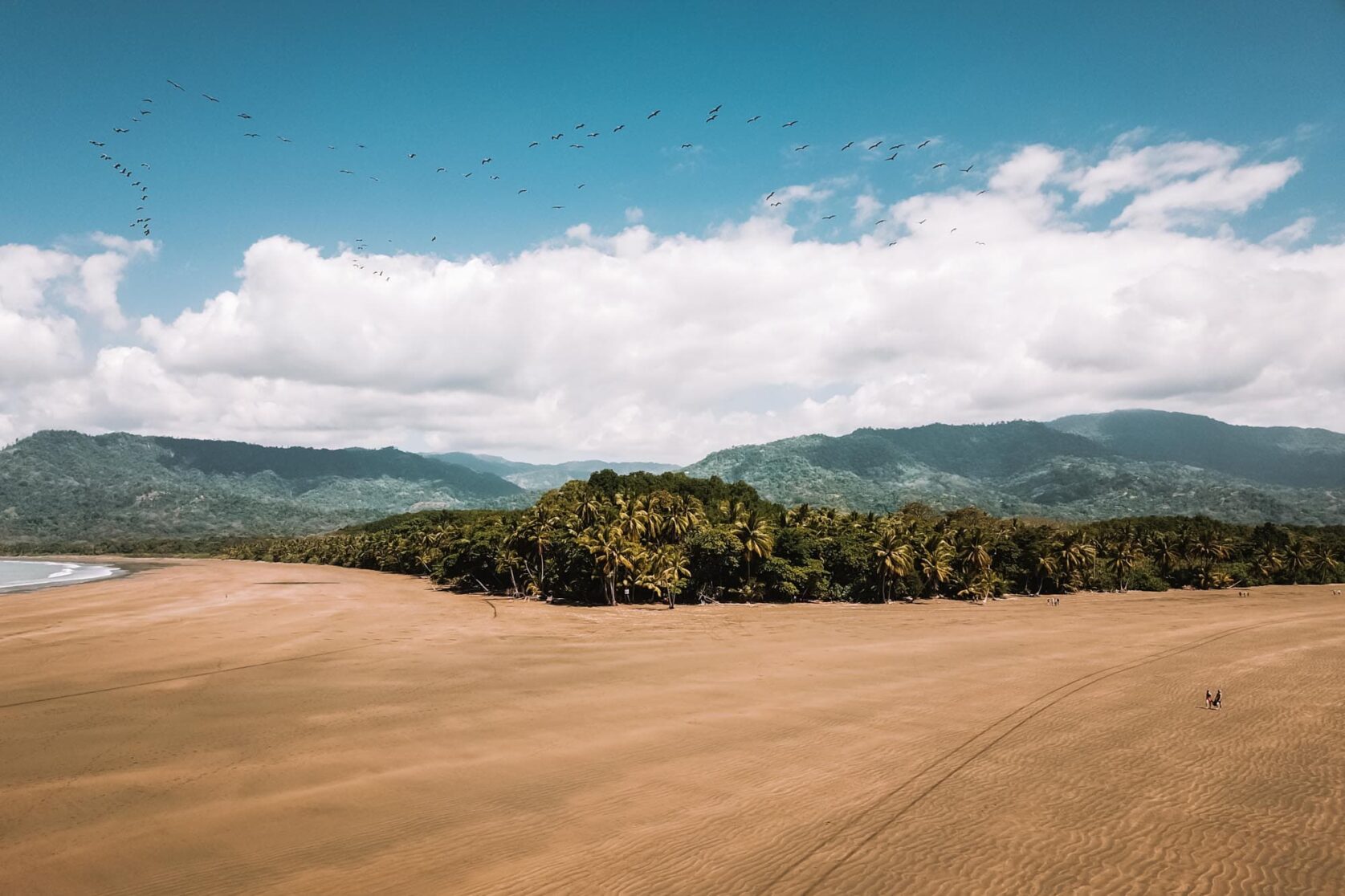 Dancing at the Envision Festival
Once a year, the Envision Festival takes place in Uvita. This event occurs around late February / early March each year and revolves around creativity, art, spirituality, yoga, and of course, music. You can only purchase tickets for the entire festival and not for single days. Tickets cost around $380. While I haven't been there myself, it's known to be a very unique and enjoyable festival.
Tips for Getting Around in Uvita
To explore the Uvita area on a budget, you can use local buses. However, the buses don't run all day, only a few times a day. It's a good idea to check with your hostel or hotel for the current bus schedules. For short distances in Uvita, a bicycle is a perfect mode of transportation. You can rent bikes at La Casa Del Ciclista. Of course, you can also use taxis in Uvita.
Best Restaurants in Uvita
Even though Uvita is a small village, there are plenty of wonderful cafes and restaurants where you can enjoy delicious meals. I've compiled my favorites for you.
Indómitos Cafe – A super cozy spot where they turn every dish into a delight. Everything is vegetarian, and they offer tasty smoothie bowls, veggie burgers, falafel, quinoa salads, and more on their menu.
Bagel Time Bakery – Grab a delicious sandwich at Uvita's best bakery. Perfect for an affordable breakfast or lunch on the go.
Sibu Cafe – Despite being located along a busy road, Sibu Cafe is still a recommendation. Enjoy great coffee, healthy smoothies, and of course, delicious food here.
Pizza Time – The best place for pizza in Uvita!
Soda Ranchito Dona Maria – Here, you can have an inexpensive local breakfast or lunch. The portions are generous, so you won't leave hungry.
Gusto Italian – I'll mention it again for good measure, as this tip is definitely not one to be missed.
Uvita Gastro Park – An open-air food court with various food trucks. Enjoy different types of international street food and have a drink in the evening while enjoying some music.
Our Favorite Places to Stay in Uvita
Cascada Verde is a special place to stay in Uvita. It's not overly luxurious, but you'll be amidst the jungle for a very reasonable price. You'll frequently see toucans, parrots, and hummingbirds fly by, and with a bit of luck, you might spot monkeys and sloths. The atmosphere is delightful, and they offer both cozy double rooms and dormitories. At Tropical Beach, you can expect affordable luxury. There's a nice swimming pool, air-conditioned rooms with comfortable beds, and hot showers. Moreover, it's centrally located in Uvita. If you have a slightly larger budget, Oasis Uvita is absolutely fantastic. This hotel is nestled in nature, and the owners have created a small paradise. Situated higher up the mountain, it offers stunning views, a lovely pool, and beautiful rooms. The owner is a chef, so you can expect a delightful breakfast. Note that Oasis Uvita is a bit farther from the town center, and a 4×4 vehicle is required to reach it.
| | | |
| --- | --- | --- |
| Cascada Verde | Tropical Beach | Oasis Uvita |