If you're planning a trip through Costa Rica, you'll undoubtedly want to spot wild animals, explore the jungle, visit rugged beaches, and waterfalls. Costa Rica boasts a multitude of stunning destinations, which can make crafting a logical itinerary a bit challenging. Which national parks are the most beautiful? Which beach destinations are the most enjoyable? We've been to Costa Rica three times and have used these experiences to create the ultimate itinerary for Costa Rica. With this itinerary, you'll see the most beautiful places and experience that quintessential pura vida feeling that Costa Rica is known for. Hanging bridges, volcanoes, jungle, waterfalls, beaches, wildlife, beach clubs, and hot springs – with this itinerary for Costa Rica, you'll see it all!
Transport for This Itinerary in Costa Rica
Costa Rica is a typical country where most people travel around with a rental car. Having a rental car gives you all the freedom to go wherever you want. While it's not a must, it's quite convenient in Costa Rica. If you're traveling on a budget, local buses are your best friends. These buses are quite cheap, helping you keep your costs low. Keep in mind that local buses often stop at bus stops, usually lack air conditioning, and for most itineraries, you'll need to transfer one or more times. There are also minivans that cater specifically to travelers, offering direct transportation between destinations, but these often cost more than renting a car. In our opinion, renting a car is the best and most enjoyable option because embarking on a road trip through Costa Rica is fantastic. Interested in renting a car? Take a look at our tips for renting a car in Costa Rica.
How Many Weeks Do You Need for This Itinerary?
This itinerary takes you through the most beautiful destinations in Costa Rica. It's what we consider to be the perfect combination of national parks, beaches, and charming villages. The entire itinerary requires a little under three weeks, but you can easily shorten or extend it. We've written articles with tips about each destination on this itinerary, providing you with a comprehensive understanding of each place. In these articles, you'll find information on how to get there, things to do, where to eat, and tips for unique accommodations. If you have more time in Costa Rica, we'll also suggest a few destinations you can add to your trip at the end of this article. While you'll see these destinations on the map below, they're not connected to the main itinerary. You can skip or add destinations as you please, giving your own personal touch to this Costa Rica itinerary.
San José
San José is the capital of Costa Rica and likely the starting point of your journey if you're not coming from Panama or Nicaragua. Unfortunately, San José isn't a particularly enjoyable city, and our advice is not to linger there for too long. Of course, after your flight, you'll want to rest a bit, and in that case, Selina San José is the perfect place. They have beautiful luxury double rooms, as well as comfortable dorms and simpler double rooms. The design and atmosphere are truly fantastic! There are cozy spots where you can easily meet other travelers, and sometimes there's live music in the evenings. Whether you're traveling on a small budget or prefer a bit more luxury, they have suitable rooms for every type of traveler. Extra tip: if you have an early or late flight and want to stay close to the airport, the comfortable Dos Palmas Studio Apartments is perfect.
Selina San José is highly popular, so book your accommodation as soon as possible after booking your flights. If you're also flying back to from San José, it's recommended to stay here for a night before your flight.

La Fortuna & Arenal Volcano
In La Fortuna, your journey starts off on a high note. Here, you'll find the famous Arenal Volcano, delightful hot springs, and the most beautiful jungle hanging bridges in Costa Rica. La Fortuna is literally located next to the volcano, providing breathtaking views. You can go on beautiful hikes in the national park, visit a 70-meter-high (229-feet-high) waterfall, relax in hot springs surrounded by nature, and much more. Check out our article with tips for La Fortuna to learn more about this fantastic destination.
Tip: If you're traveling by rental car from San José to La Fortuna, it's awesome to visit Costa Rica's tallest waterfall. The Catarata del Toro waterfall stands at an impressive 90 meters (295 feet) and cascades straight into the crater of an old volcano. The detour is only about an hour longer, and the itinerary to the waterfall is stunningly beautiful!


Monteverde
Continuing on your journey, you'll head to Monteverde via a stunning winding mountain road. Of all the forests in the world, only 1% is cloud forest, and Monteverde is home to one of the most beautiful cloud forests. Due to its elevation of 1300 meters (4265 feet), you'll find entirely different types of flora and fauna here compared to many other destinations in Costa Rica. You can engage in various outdoor activities, with ziplining being one of the most impressive. You'll soar at speeds of up to 70 km per hour (43 mph) over the tops of the jungle and through the clouds at heights of over 100 meters (328 feet). Curious about other things to do in Monteverde? Check out our tips for Monteverde.
Tip: The village near Monteverde where all the hotels and restaurants are located is called Santa Elena.
Santa Teresa
After a few days of active exploration, it's time to visit a wonderful beach destination. Santa Teresa offers a delightful blend of relaxed vibes, stunning beaches, and charming hotspots. It's tucked away in the southern part of Nicoya. This peninsula is unique as it's considered a Blue Zone – regions where people tend to live noticeably healthier and longer lives compared to other parts of the world. Santa Teresa is the perfect place to relax for a few days. While it's becoming more popular, it hasn't yet been overrun by mass tourism. You won't find large hotels and traffic lights here, and life moves a bit slower than in the rest of Costa Rica. Check out our tips for Santa Teresa to get a better idea of how beautiful it is.

Manuel Antonio National Park
Manuel Antonio is an incredibly beautiful national park on the Pacific coast of Costa Rica. Here, you come not only for hiking but also for relaxation. The park features stunning white sandy beaches lined with palm trees. Additionally, you can spot a lot of wildlife, making it one of the best places in Costa Rica to see sloths! Before you visit, make sure to read our tips for Manuel Antonio because there are a few things you should be aware of.
Manuel Antonio is the smallest national park in Costa Rica and also the most visited, so be prepared for crowds. If you find this bothersome, you might want to visit one of the less crowded parks, such as Tortuguero National Park or Corcovado National Park. You'll find more information about these destinations later in this article.
Tip: On the road between Santa Teresa and Manuel Antonio, you'll pass by the town of Jaco. Just before Jaco, you'll find the 'Crocodile Bridge'. You should definitely park your car and take a short walk on the bridge. In the water directly under the bridge, you'll see dozens of gigantic crocodiles basking in the sun.
Uvita
Continue your journey through Costa Rica to the tranquil coastal village of Uvita. In its surroundings, you'll find several unique attractions. You can visit an incredibly beautiful waterfall and engage in various activities like horseback riding, surfing, and whale watching. The nearby national park is also unique because a rock and sand formation perfectly resembles a whale's tail. This is the very spot where hundreds of humpback whales gather every year! The whale's tail forms during low tide when the sea recedes, but during high tide, it's almost invisible. Learn more about this charming destination in our tips for Uvita article.

Puerto Viejo
You probably want to end your Costa Rica journey on a relaxing beach destination, and Puerto Viejo is the perfect choice for that. This area offers paradisiacal beaches that you can easily explore by bicycle. Puerto Viejo is a laid-back town on the Caribbean coast, where you can always find a reggae band performing somewhere, and you can indulge in Caribbean cuisine. There are plenty of excellent cafes and restaurants, and even in the evening, you can always find a place to dance. Moreover, there are numerous exciting things to do and see in the area. Check out our article with tips for Puerto Viejo to discover all the activities available.
Tips for Other Wonderful Destinations in Costa Rica
Of course, there are more beautiful destinations in Costa Rica. Depending on how much time you have, you can adjust your itinerary and add or omit destinations. The above itinerary is, in our opinion, a perfect mix of various beautiful places, but the following destinations can also be stunning additions, depending on your preferences.
Tortuguero National Park
Tortuguero is situated on a sandbank and is only accessible by a boat ride through the mangroves. Known as the "Amazon of Costa Rica," this national park has the second-largest population of turtles in the world. During the nesting season from July to October, you can witness thousands of turtles laying their eggs on the beach simultaneously. Apart from this extraordinary spectacle, Tortuguero has a lot more to offer. Explore the beautiful national park by kayak and admire the many exotic animals that call this place home. Discover all the tips for Tortuguero National Park.
Corcovado National Park and Drake Bay
Corcovado National Park is Costa Rica's most biodiverse destination and is one of the most biodiverse places on Earth. Because it's located in the southernmost part of Costa Rica, many people skip this destination. However, with its abundant fauna and remote beaches, it's a paradise for those seeking an unforgettable nature experience. You can venture deep into the jungle for hikes through the primeval forest and spot animals like tapirs, monkeys, and even occasionally, pumas. The latter, however, is a rare sighting. The town of Drake Bay is the perfect base for a visit to Corcovado National Park, and from here, you can enjoy more incredible wildlife activities like snorkeling at Isla del Caño. Check out all the tips for Drake Bay and also our tips for Corcovado National Park.
Montezuma
Montezuma is a tiny surf village in the southern part of the Nicoya Peninsula. It's located near Santa Teresa, which is why many travelers visit Montezuma as a day trip. However, it can also be wonderful to stay here for a few days if you're seeking tranquility. Relax on the beach, take a refreshing dip in the three-tiered waterfall, or hike through the nearby Cabo National Park. Check out all the tips for Montezuma.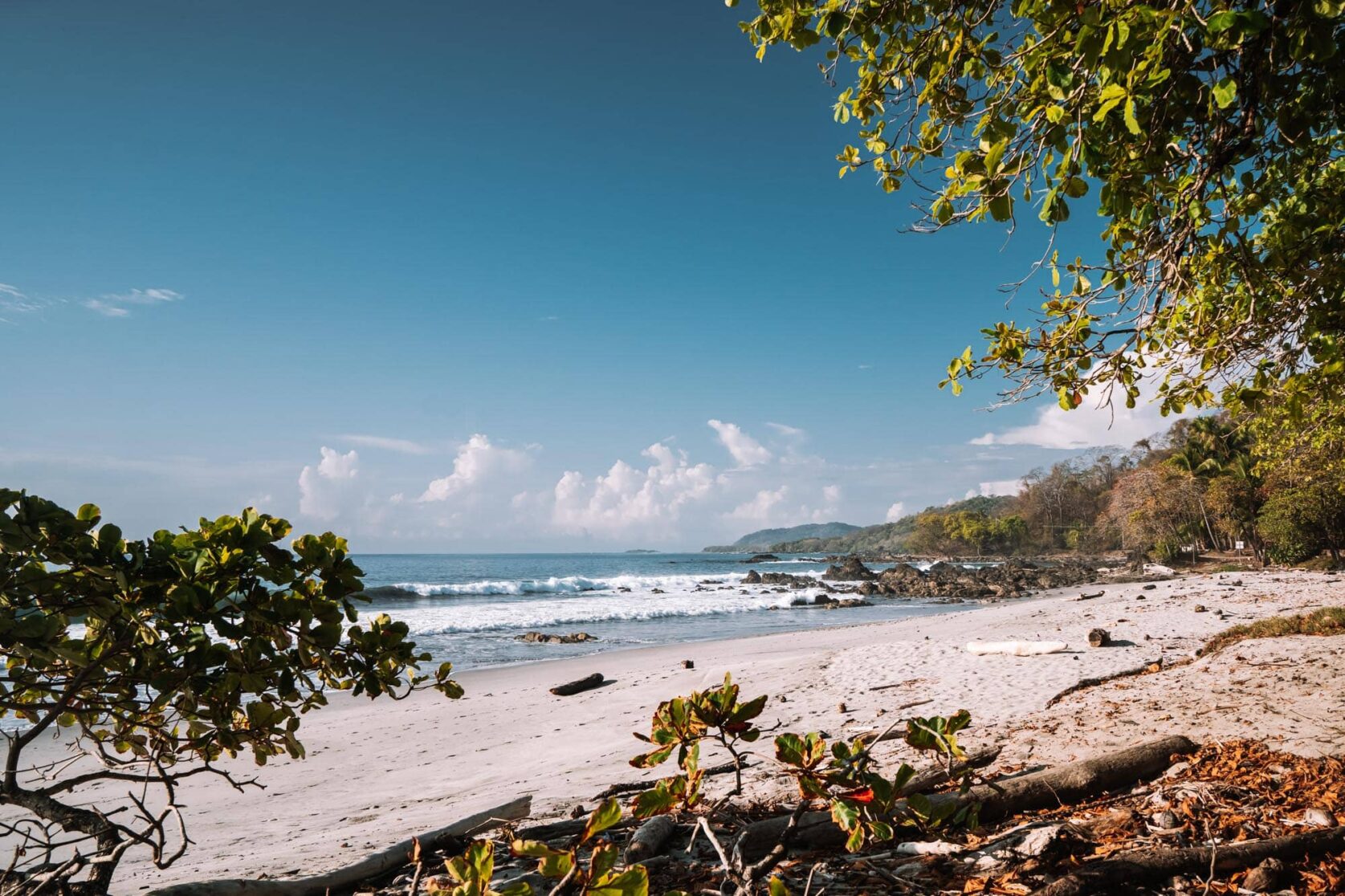 Our Favorite Places to Stay in Costa Rica
During our travels, we always seek out the most beautiful and unique accommodations because they can enhance your trip. In Costa Rica, this wasn't too difficult, as there are many remarkable hotels and cozy hostels to be found. For all the destinations on this itinerary, we've compiled several great tips for you. These are accommodations where you're sure to have a wonderful time and get real value for your money. Take a look at the complete overview of our favorite places to stay in Costa Rica.