The experience of traveling in Costa Rica is beyond description. The landscapes are breathtakingly beautiful, colorful animals can be found everywhere, and the locals – known as Ticos & Ticas – are incredibly friendly. Costa Rica literally translates to rich coast in Spanish. Columbus named the country after his first visit in 1502, being impressed by its abundant nature. Traveling in Costa Rica is quite easy, but there are definitely a few things you should know before hopping on the plane. With these 11 tips, you'll be well-prepared for your journey to beautiful Costa Rica!
#1 Bring Binoculars to Costa Rica
Costa Rica is renowned for its stunning nature and the multitude of animals that inhabit it. While you might get lucky and see some wildlife up close, more often than not, you'll be observing animals from a distance. Creatures like toucans, parrots, and monkeys are usually high up in the trees. If you want to get a better view of these animals, it's a great idea to bring binoculars with you on your Costa Rica journey. There's a wide variety of binoculars available, so check and compare all binoculars to find the one that suits your preferences and budget.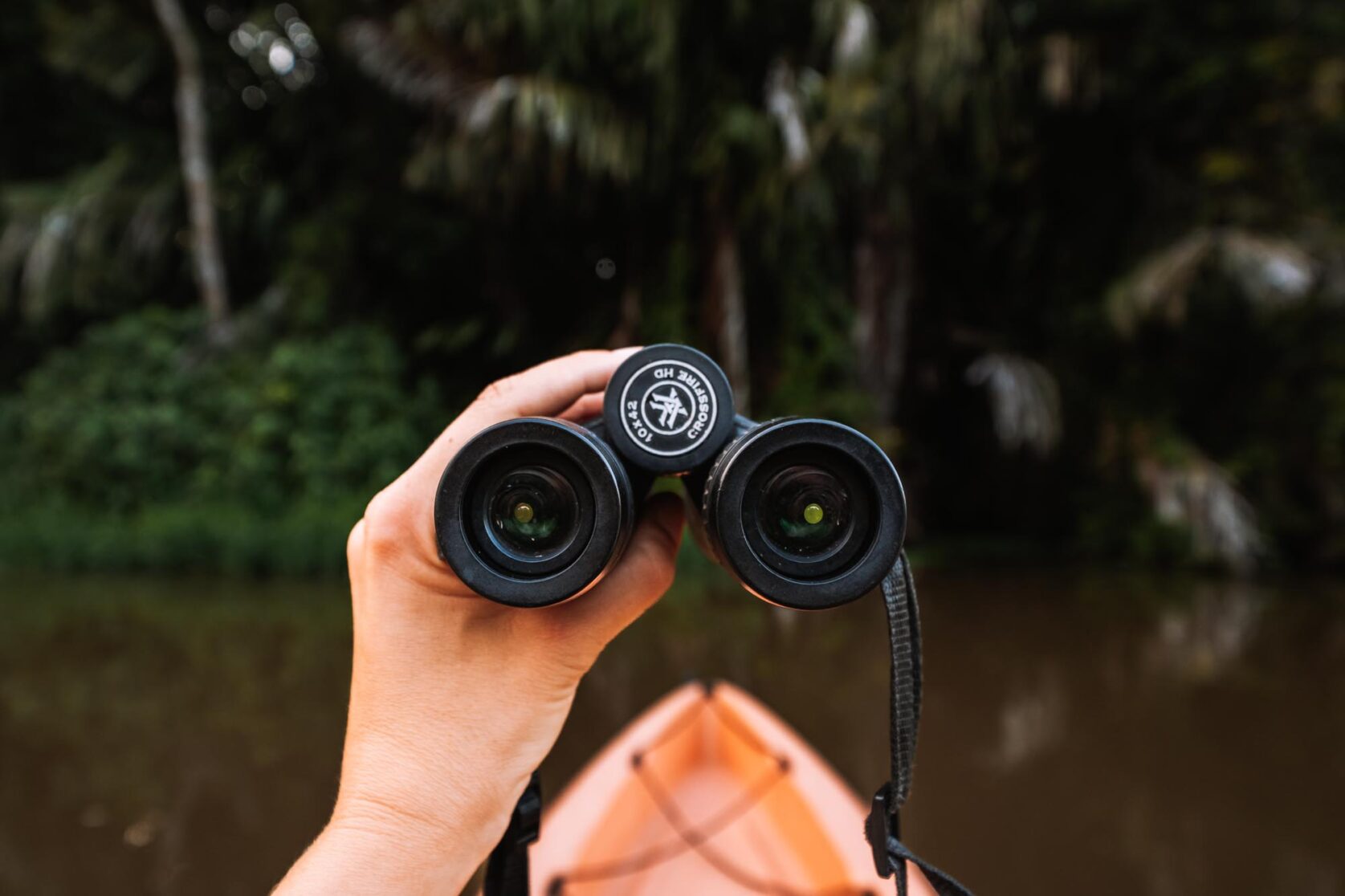 #2 Visit National Parks Early in the Morning
Over 30% of Costa Rica's land is protected nature reserve. With 28 national parks in the country, they are the major attractions of Costa Rica. The best time to visit national parks is early in the morning. Animals are most active during this time, giving you the best chance to spot them. Additionally, the morning temperature is pleasant, and the hiking trails are less crowded.
#3 Master the Phrase 'Pura Vida'
You'll undoubtedly hear the phrase Pura Vida during your trip to Costa Rica. It's the country's motto and translates to pure life. This phrase embodies the Costa Rican way of life. You'll see it everywhere on shirts, posters, and signs. Ticos and Ticas often greet and thank you with it. Pura Vida!
#4 Best Time to Travel in Costa Rica
The best time to visit Costa Rica is between December and April. This period is the dry season, with pleasant warm temperatures. The rainy season, roughly from May to November, is warmer and more humid, with occasional showers. Rainfall is often heavy but followed by sunshine. October tends to have the most rain, so it's best to avoid it if you're seeking good weather. The advantage of the rainy season is lush green landscapes, fewer tourists, and lower prices. Learn more about the best time to visit Costa Rica if you want more details.
Save Money: Hotel prices vary greatly depending on the season in Costa Rica. If you want to save money, consider visiting in May, June, September, October, or November. During these months, hotel prices can be up to 60% lower. October is the rainiest month, so the other months are a better choice.

#5 Transportation Tips for Costa Rica
Depending on your budget and preferences, there are various ways to travel within Costa Rica. Here's a breakdown of different modes of transportation.
Traveling by Public Bus
Local buses are the way to go if you're traveling on a budget in Costa Rica. Both short rides and longer distances are relatively inexpensive. While it won't cost you much money, it might take up some of your time. Keep in mind that you might need to make multiple transfers to reach your destination, and the buses might not always have perfect connections. Therefore, public transportation might not be recommended for certain connections.
Traveling by Minivan
Minivans operate between popular destinations and are designed for travelers, taking you directly from point A to point B. These minivans are slightly more expensive than local buses, but they save time and hassle since they take you straight to your destination. Additionally, these minivans offer more comfort. In most cases, they'll pick you up at your hotel and drop you off at your destination hotel. It's advisable to book these minivans online a few days in advance to secure a seat.
Traveling by Rental Car
Costa Rica is an ideal destination for a road trip. With a rental car, you can explore the country's most beautiful spots and have the freedom to go wherever you please. Given Costa Rica's size, distances are never too long, and traffic is calm. The roads are well-maintained, and the landscapes you encounter along the way are stunning. You can access places that are harder to reach by bus, and you can make stops along the way. Check out all tips for renting a car in Costa Rica if you want to know more.
#6 Traveling in Costa Rica Isn't Cheap
Unfortunately, there's a price tag attached to experiencing the beauty of Costa Rica. The country's major highlights are its national parks, most of which require an entrance fee. On average, this costs around $17 per person. There are also many free attractions to visit, such as the free hot spring in La Fortuna, and all beaches not located in national parks are also free to access.
Dining out in Costa Rica is also quite pricey. On average, you'll spend about $17 to $22 for a main course at a well-regarded restaurant. If you opt for local eateries, known as "sodas," you'll pay around $9 for a main dish. Many hostels offer communal kitchens where you can prepare your own meals as well.
Hotels and hostels come in various sizes and styles. If you prefer to stay in nicer hostels and hotels, prices start around $17 for a bed in a dormitory and $39 for a double room. Of course, prices rise quickly if you're seeking more luxury and comfort or if you're booking last-minute. Check out our favorite hotels in Costa Rica to get a good idea of prices for the more enjoyable hostels and hotels.

#7 Tips for Payment in Costa Rica
Below, you'll find some tips and information about tipping and payment in Costa Rica, so you won't be caught off guard.
In Costa Rica, there's a 13% value-added tax (VAT) on goods and services, including restaurant prices. Some restaurants include this VAT in their prices, but sometimes it's not included. Prices shown on restaurant menus are exclusive of this VAT, which is always indicated at the bottom of the menu. So, be sure to pay attention to this.
In addition, a 10% service charge is added to your bill, which covers employee wages. This 10% service charge is not a tip. Like the VAT, this may or may not be included, so always check the menu.
If you're satisfied and want to give a little extra, you can round up the final amount or leave some extra change.
Using a credit card often incurs extra fees. These fees can range from 4% to 13%. As a result, costs can add up significantly. To avoid this, it's recommended to pay with cash as much as possible. Withdraw the maximum amount from ATMs to minimize transaction fees.
#8 A Guide is Worth the Money if You Want to Spot Many Animals
During your journey through Costa Rica, you'll undoubtedly encounter a variety of animals. With a bit of luck, you might spot them by the roadside or from the veranda of your bungalow. However, it's likely that you'll only see about 1% of the animals that are actually near you. That's why it's worth going out with a guide from time to time. Guides sometimes hear, see, and even smell the animals nearby and can accurately track them down. After all, would you recognize the hiding place of a tarantula as you walked by? Probably not. With a guide, you'll see many more animals and learn a lot about Costa Rica's wildlife and nature.
Of course, you don't need a guide everywhere, but it's definitely recommended to do so occasionally. The guided walk at the hanging bridges in La Fortuna and the night tour with a biologist in Drake Bay are highly recommended and quite different from each other. If you have a slightly larger budget, a trip to Corcovado National Park is a must-do. This park is the most biodiverse place in Costa Rica.
#9 Tips for Buying a Local SIM Card
If you prefer to stay connected while in Costa Rica, you can purchase a local SIM card. These are available at phone shops and most supermarkets. There are several providers, with Kolbi being considered the best. When buying a SIM card, make sure to bring your passport as you need to be officially registered. Seek assistance from a store representative, as they will need to make a call to the registration service from a different number.

#10 Unique Accommodations in Costa Rica
If you have a bit of extra budget, consider planning a unique overnight stay in Costa Rica. The country offers a variety of one-of-a-kind accommodations. Imagine staying in jungle treehouses, a luxurious caravan by the beach, or glamping with a view of a volcano. These experiences can transform a practical part of your journey into an extraordinary highlight. We've uncovered the most remarkable hotels and discovered 10 unique accommodations in Costa Rica that all deserve a spot on your bucket list.
#11 The Ultimate Travel Itinerary for Costa Rica
Costa Rica is a fantastic country to explore through a road trip. Having visited Costa Rica multiple times and explored nearly all its destinations, we've crafted the ultimate travel itinerary. Whether you're planning a two, three, or four-week journey, our travel itinerary for Costa Rica offers flexibility and helps you discover the most exciting places. With this itinerary, you'll make the most of your trip to Costa Rica!