Mexico is one of our favorite travel destinations, which is why we've visited this cheerful Latin American country three times in recent years. The cuisine is fantastic, the people are a lot of fun, the diversity of nature is extreme, and the atmosphere is perfect for ultimate relaxation. This itinerary isn't the first one we've shared on Travelrebels.com. We previously shared The ultimate beach destinations itinerary for Mexico. That itinerary is a delightful mix of travel and vacation vibes, with mostly paradise beach destinations. This alternative itinerary with tips to southern Mexico is characterized by more diversity and a somewhat more adventurous nature.
The differences between our itineraries
Making a choice is never easy, so we've listed the biggest differences between our two Mexico itineraries below. Of course, you can also create your own unique combination using the destinations listed on these two itineraries.
The ultimate beach destinations itinerary for southern Mexico
Ideal for 2 to 3 weeks
States: Yucatan & Quintana Roo
More crowded and touristy
Many beach and swimming destinations
Short distances
Lower cost of transportation
Hotel prices are higher
The alternative itinerary for southern Mexico
Ideal for 3 to 4 weeks
States: Oaxaca, Chiapas & Quintana Roo
More of a traveler's atmosphere
Great diversity of destinations
Mostly longer distances
Higher cost of transportation
Hotel prices are lower

Set aside 3 to 4 weeks for this itinerary
For this itinerary, we recommend a minimum of 3 weeks, but actually, that is already cutting it a bit close. Allowing for 3.5 to 4 weeks ensures that you have enough time everywhere to fully appreciate all the beauty without feeling more exhausted after returning home. If you're short on time but still want to visit the west coast of Mexico, you could of course choose to visit only a few destinations on our itinerary.
Choosing between a rental car or the bus
The distances between destinations in this itinerary can be quite long. If you're traveling by bus, it's best to take night buses, which are quite luxurious in Mexico and provide an excellent experience. However, if you prefer to rent a car, you'll be able to travel faster but you'll have to drive yourself or share the driving with others. In terms of cost, the bus will win out over the rental car if you are not traveling with more than two people. Nevertheless, we chose to rent a car for our trip. Even though it is not cheap, we always enjoy the freedom to go wherever we want, both between destinations and within the destinations themselves, without being dependent on anyone or anything. Would you like to read more about transportation in Mexico? Then check out our tips for traveling by bus in Mexico or tips for traveling by rental car in Mexico.
Note: If you deliver the rental car to a different destination than you pick it up, you will pay a"one way fee". When you submit your rental car application, you will receive an email with the amount of this fee within 24 hours. Then you have the choice to accept it or cancel the booking for free.

The itinerary for southern Mexico
Below is a map of Southern Mexico that shows our recommended itinerary. Following the map, you will find a brief description of the different destinations on this route. We have also written a separate article about each destination with tips on fun things to do there, how to get there, where to eat good food and special places to stay. This will hopefully give you a good idea of the destinations and allow you to decide how many days you want to spend there.
Tip: Fly to Mexico City where you can transfer directly to a domestic flight to Oaxaca. We chose to skip Mexico City to save time but if you have enough time you can also add Mexico City to your trip and start the trip from there. From there you can continue to Oaxaca by plane or bus.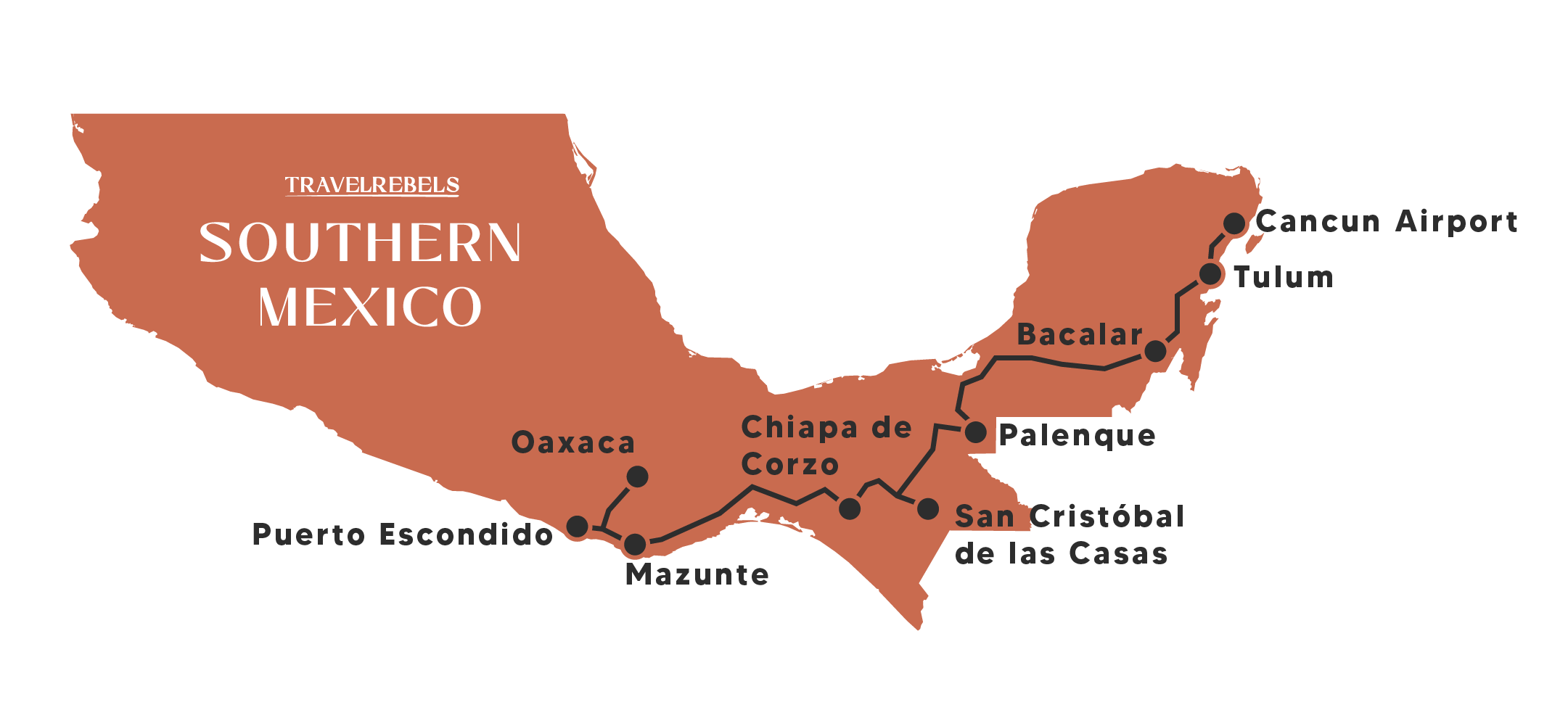 Oaxaca
The trip starts very relaxed in Oaxaca, the culinary capital of Mexico located in the state of the same name. Oaxaca, by the way, is (pronounced wa-ha-ka). This city is quite large but as a traveler you will mainly explore the center and here you will have the very feeling of walking around in a cozy and authentic Mexican town. The many colorful buildings give the streets a cheerful look and you can find a cozy bar or special restaurant on every street. By the way, you don't necessarily have to eat in a restaurant because the street food here tastes great. However, it's also fun to try out some of the exceptional restaurants in the area, as there are many great hotspots to choose from. Additionally, you can visit a botanical garden that's full of cacti, take a trip to a "frozen" waterfall, and explore the Monte Alban temple complex. Read our article with things to do in Oaxaca to learn more about this.
Puerto Escondido
Of course, a trip through Mexico is not complete without a relaxing week of sun, sea and beach. As far as we are concerned, Puerto Escondido is the best place for this. Here, you can combine leisurely beach time with plenty of nature and wildlife tours and activities. Hop on a boat to spot dolphins and whales, lounge on the most beautiful beaches with a cocktail in hand, kayak through the mangroves, or release baby turtles that have just hatched. The surfing is excellent, and the nightlife is more than lively. We recommend spending at least five days in Puerto Escondido as it was the highlight of our trip. Want to know more about the special tours and activities? Then read about the things to do in Puerto Escondido.

Mazunte
An hour's drive from Puerto Escondido lies Mazunte, a smaller coastal town that draws in many spiritual and creative travelers. Many people come there for activities like ecstatic dance, yoga, breathwork, and meditation. Even if you have no interest in those activities, it is still a special destination to take in. The beaches there are lovely, the atmosphere nice and free, and there isn't much to do. Therefore, it's an excellent place to fully unwind before the long journey to neighboring Chiapas state. To find out which beaches that you shouldn't miss, read our article with things to do in Mazunte.


Chiapa de Corzo (if you have a rental car)
Traveling by rental car? Then we recommend spending a night in the authentic town of Chiapa de Corzo. This will help to shorten the long trip to San Cristóbal de las Casas and also because you can easily visit some special places from here. From Chiapa de Corzo, you can easily visit the 1,000-meter-deep Sumidero Canyon and the still relatively unknown waterfall, Cascada El Aguacero. You can read more about these places in the article with tips for Chiapa de Corzo. You can also visit these places from San Cristóbal de las Casas, but if you're traveling by car, it would be a shame to drive past them and then have to come back later that week. If you're taking the bus, it's easier to go directly to San Cristóbal and book a tour from there if you want to visit these places.

San Cristóbal de las Casas
The charming San Cristóbal de las Casas is an upper town with a very vibrant Mayan culture. It almost feels like stepping back in time here, with rickety vintage cars driving on bumpy roads and most residents wearing traditional Mayan clothing. As you wander around the city, you can smell the scent of burning sage, incense, and palo santo everywhere.
San Cristóbal de las Casas sits at an altitude of 2,200 meters, making it a lot cooler than many other destinations in southern Mexico. So don't forget to pack a thick sweater. From San Cristóbal de las Casas you can also take many fun trips to impressive places in the area. To find out more about the recommended trips, check out our article with things to do in San Cristóbal de las Casas.
Palenque
During the drive to Palenque, you see the landscape change rapidly. So far you have seen a lot of dry landscapes with cacti, grasses and shrubs but the closer you get to Palenque, the more banana trees and tropical plants you will encounter. Located in the middle of the jungle, Palenque is rich in wildlife. While visiting the ancient Mayan temples, you may just see brightly colored parrots or toucans flying by. With any luck, you will wake up in the morning to the roar of howler monkeys swinging through the trees. In the middle of the jungle you will find a beautiful hotel located along the river. Check out our article with things to do in Palenque to read more about this.
Tip: Traveling by rental car? Then make sure to stop along the way at the breathtaking Agua Azul and Misol Ha waterfalls. If you're traveling by bus, you can visit them later from Palenque, but if you're driving, it's more convenient to stop there on the way.
Bacalar
We added a little more to our itinerary to enjoy the blue waters of southern Mexico at the end of the trip. Bacalar is located on a huge lake with crystal clear blue water. Some might call it the Maldives of Mexico, and that's mainly because of the seven different shades of blue water. You'll find plenty of great spots around the lake to spend a day relaxing. And if you're in the mood for some activity, you can also explore the lake by kayak, take a stand-up paddle tour at sunrise, or even go out on a small sailboat. In short, there are plenty of unique ways to experience the beauty of Laguna Bacalar. Check out our article with things to do in Bacalar to discover the best hotspots and a variety of activities that should not be missed.

Tulum
What was once a sleepy village on an insanely beautiful beach has become one of Central America's most famous hotspots. Tulum is a case of you hate it or you love it. Without a doubt, there are many beautiful places to discover. From sprawling beaches, wondrous cenotes to ancient temples.
Tulum is divided into two parts: Tulum Pueblo and Tulum Beach. At the beach you will find many exclusive beach clubs, extremely expensive hotels and trendy restaurants. The prices in Tulum can be extreme, and it's definitely a see-and-be-seen kind of place. If that's not your thing, then Tulum Pueblo offers a more laid-back alternative. Life there is a lot cheaper, and it's a great base for biking to the beach or visiting other places in the area. Although Tulum has been completely changed by tourism, we still recommend it because there is a lot of beauty to see in the area. We found it amusing to people-watch at Tulum Beach, where you can marvel at the far too rich, mostly young Americans strolling around with their big hats and tiny bikinis at the popular hot spots. Check out our article with things to do in Tulum to not miss a thing.

Return home from Cancun Airport
The journey is over! Enjoy the last cocktail with your feet in the sand and order your favorite tacos one very last time before you leave oh-so-fine Mexico behind. From Tulum, it is only a 1.5-hour drive to Cancun Airport. So, there's no real reason to stay in the even more touristy Cancun unless you have an early flight. If you have a rental car, it's incredibly easy to get from Tulum to Cancun Airport, but it's also perfectly doable by bus or colectivo if you need to travel directly before your flight.
Our favorite places to stay on this itinerary
During our travels, we always search for the most fun and unique hotels. Whether it's a stunning boutique hotel or a charming bungalow on the beach, as long as it has something special to make your trip even more enjoyable. Once again, in Mexico, we discovered some fantastic places that we'd like to share with you. For each destination on this itinerary, we have two unique tips for you which you can find in this overview of our favorite places to stay in Mexico.

Prefer English? Read our Alternative Itinerary for Southern Mexico