Are you ready for sun, sea, and sand but want to experience a lot of exciting things in between? Then the Yucatán region in southern Mexico is the perfect destination for this. You can spot flamingos, climb temples, swim in cenotes and, of course, kick back and enjoy a delicious mojito under the swaying palm trees. We have traveled through Mexico several times looking for the most beautiful places and fun things to do. The result is this bounty travel itinerary full of adventure, tropical hotspots, and fine destinations and tips!
The differences between our itineraries
The ultimate beach destinations itinerary is the first itinerary we wrote for Mexico. Later we also wrote The Alternative South Mexico Itinerary where we visit yet another part of southern Mexico. Below we list the main differences between these two itineraries. Of course, you can also customize your own itinerary by combining destinations from both lists.
The ultimate beach destinations itinerary for southern Mexico
Ideal for 2 to 3 weeks
States: Yucatan & Quintana Roo
More crowded and touristy
Many beach and swimming destinations
Short distances
Lower cost of transportation
Hotel prices are higher
The alternative travel route for southern Mexico
Ideal for 3 to 4 weeks
States: Oaxaca, Chiapas & Quintana Roo
More of a traveler's atmosphere
Great diversity of destinations
Mostly longer distances
Higher cost of transportation
Hotel prices are lower
How many weeks do you need for this itinerary?
Many people who travel to Mexico end up choosing a package tour with a resort in Cancun or Playa del Carmen. As far as we are concerned, that's a shame — this region has so much more to offer than these extremely touristy beach resorts. Fortunately, the distances between destinations along this route aren't too far apart, and the roads are in great condition. This makes it easy to take a short road trip between various hotspots and cities. We suggest setting aside at least two weeks for this itinerary, but adding an extra week wouldn't be a bad idea if you're open to spending some time at the beach.

Choosing between the bus and a rental car
For this trip, you have two options in terms of transportation:
Rent a car in Mexico
Renting a car gives you the freedom to go wherever you want, whenever you want. If you have a driver's license, a rental car is genuinely convenient. Plus, you can cross "having a road trip in Mexico" off your bucket list. There is no better way to experience Yucatán's natural beauty. If you are interested in renting a car in Mexico, then check out our tips for renting a car in Mexico.

Public transportation in Mexico
Public transportation in Mexico is well organized and goes to all the popular destinations, with luxury buses offering amenities such as restrooms, comfortable reclining seats, air conditioning, and some even have Wi-Fi on board. Tickets can be purchased at the bus station upon arrival or in advance, but it is recommended to book online as these buses can sometimes become fully booked. There are also small vans called colectivos that fit about 12 to 15 people. Some run at set times but at busier places, they leave whenever they are full. Want to travel around Mexico by bus or colectivo? Then check out our tips for traveling by bus in Mexico.
The ultimate bounty travel itinerary in Mexico
We have put together this itinerary so that you can have a perfect balance of relaxation and fun. The map below highlights the main cities where you can spend the nights and from where you can take day trips to temples and cenotes.
Want to get a good idea of the destinations below and what trips you can take from there?
Then click through the articles we have written because we have so much to tell you about these incredible locations. These are all mini travel guides with handy sightseeing tips, good restaurants, nice accommodations and, of course, a lot of pictures.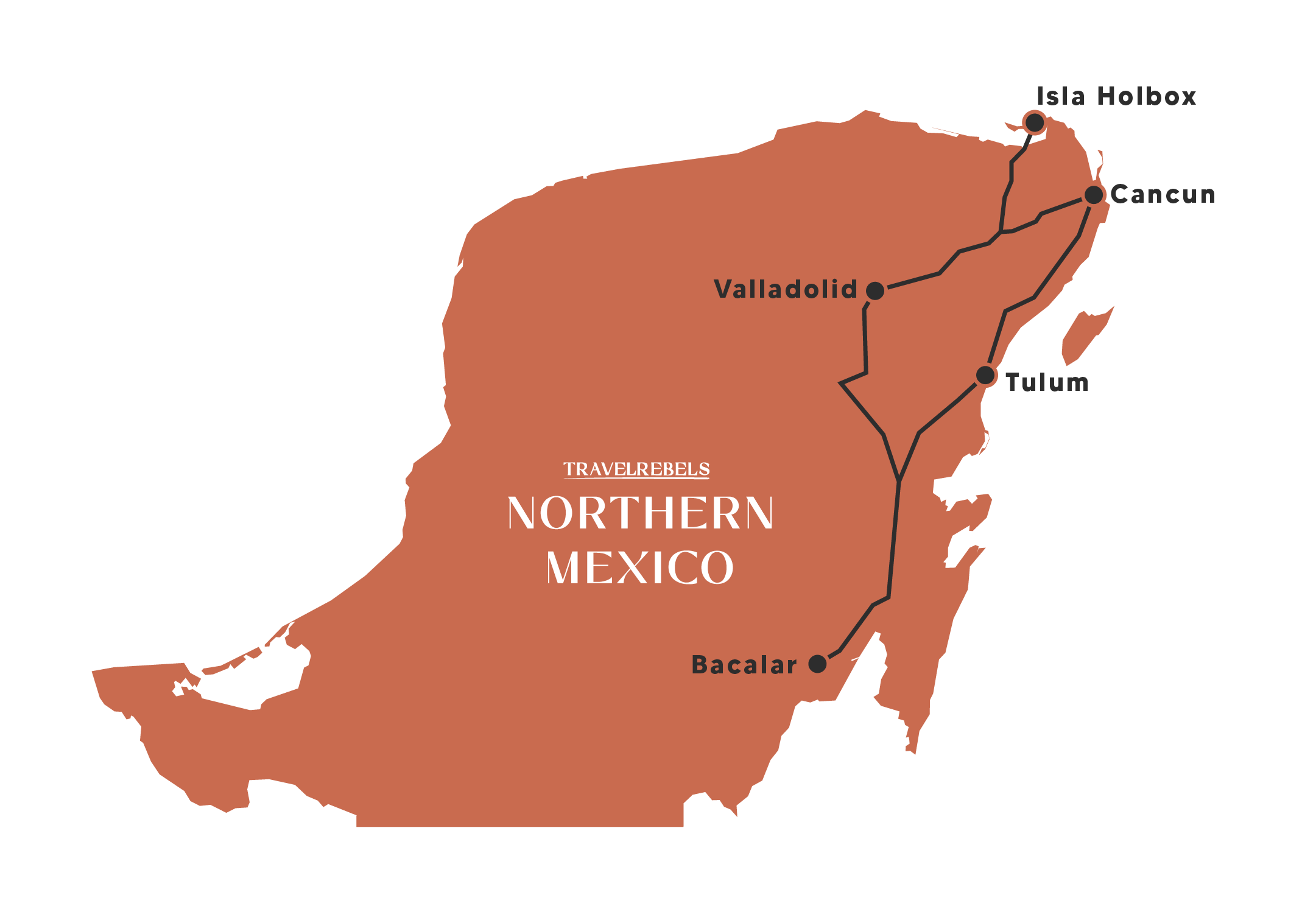 Cancun
Cancun is the starting point of your tour because you can often fly here very cheaply, because Cancun International Airport is the biggest and one of the busiest airports in Mexico. This is a huge city with lavish hotels, malls and nightclubs, therefore it is quite expensive and very touristy. So our advice is to leave Cancun behind as soon as possible and travel "Off the beaten path".
But of course, after a long flight you will want to relax a bit, so we recommend spending a night in Cancun and starting your travel the following day. If you are like us and enjoy staying in a cozy hostel then Nomads Hotel is a must. There is a large rooftop with a pool and bar. Also, It's right around the corner from the bus station, which is very convenient if you prefer traveling by bus.
Prefer to stay in a quiet hotel? Then we recommend Pecarí B&B. In the morning you get a nice breakfast and there is a small pool. The rooms are cozy with a nice bed and air conditioning.

Isla Holbox
On Isla Holbox you start your journey through Mexico right away. Isla Holbox is an island paradise where everything moves slower, and you come here mainly to relax. You'll find local beach clubs and breathtaking beaches that are absolutely stunning. If you like bird watching, there are several spots where you can spot flamingos and pelicans on the island. And between May and September, if you're lucky, you can even snorkel with whale sharks! Want to learn more about Isla Holbox? How to get there? and what to do while you are there, check out our article with things to do in Isla Holbox.
Travel time from Cancun to Isla Holbox: It's 2 hours by bus or car to Chiquilá, then by boat to Isla Holbox which takes another 15 minutes. If you have a rental car, you can park it in one of the parking lots in Chiquilá.
Valladolid
After enjoying a few days on Isla Holbox, it's time for a new adventure. Travel on to Valladolid, Yucatan's oldest colonial city full of colorful buildings. Valladolid feels much more authentic than many coastal towns in the region and it is the perfect place to explore some incredible spots.
For example, from here you can visit the world-famous Mayan temple Chichén Itzá or take a dip in Cenote Samulá. Besides these two special places, there are so many other remarkable places to discover in this area. Read all about the 10 best sights in Valladolid.
Travel time from Isla Holbox to Valladolid: 15 minutes by boat to Chiquilá and then another 2 hours by bus or car to Valladolid.

Bacalar
We love Bacalar! Laguna Bacalar is a huge freshwater lake near the border with Belize. Due to the constant supply of groundwater filtered through limestone, the water is extremely clear. You can seriously compare it to the water in the Maldives or Bora Bora. You can go for a dip, jump in a kayak, or even go sailing in the afternoon and admire the seven different shades of blue in Laguna Bacalar. Find out what else there is to do in our article with things to do in Bacalar.
Travel time Valladolid to Bacalar: 3,5 hours by bus or car.


Tulum
Tulum has miles of white sandy beaches filled with palm trees and really has something for everyone. There is so much to do here, from relaxing on the white sandy beaches filled with palm trees to partying the night away at a bar or a nightclub. Tulum has become quite popular in recent years, so prices have gone up compared to the rest of Mexico. Still, we found it to be a lovely place with lots of fun and an ideal place to end your trip with a little week of beach, nachos, and cocktails. In fact, we loved it so much that we stayed here twice for several weeks. Tulum is a place that has grown rapidly, particularly due to social media. As a result, you will see many things there that are beautiful to capture, such as artistic structures, temples, cenotes, and more. Want to know which hotspots are worth checking out? Then read our article with things to do in Tulum.
Travel time Bacalar to Tulum: 2.5 hours by bus or car.
From Tulum to the airport in Cancun
You can drive from Tulum to the airport just fine without having to spend your last night in Cancun. After all, it is only about 1.5 hours away.

Our favorite places to stay along this itinerary
During our travels, we always look for the most fun and unusual hotels, from gorgeous boutique hotels to cute bungalows on the beach, as long as they have something special that makes the trip extra fun. In Mexico, we found some wonderful places that we'd like to share with you. For each destination on this itinerary, we have two unique tips for you, which can be found in this overview of our favorite places to stay in Mexico.