North Italy is one of the most diverse parts of Europe. Here you'll find ancient cities full of history, a beautiful coastline with colorful villages, and the rugged mountain region of the Dolomites. We have been to North Italy twice and have created a super diverse travel route where you will visit places that will leave you amazed every day. Whether it's the famous Cathedral of Florence or the blue mountain lake Lago di Sorapis, this travel route allows you to relax and be active, ensuring you return home with the most beautiful memories.
Transportation for this travel route in Italy
There are multiple transportation options for this travel route. You can go by car or fly to Italy and combine train and car rentals. The costs will be similar. In Italian cities, having a car is impractical, and parking is expensive. Therefore, we chose to fly to Italy, visit the cities by train, and then rent a car for the Dolomites. We found this to be ideal. The train connections are excellent in North Italy, and a rental car gives you the freedom to explore the Dolomites. Before you go, be sure to read our tips for renting and driving a car in Italy to be well-prepared.

How many weeks do you need for this travel route?
The number of weeks you need largely depends on your travel style and what you want to see or experience. Our advice is to allocate around 3 weeks (19 days) for this travel route if you want to take your time and fully immerse yourself. If you have slightly less time, you can still manage it in 2 weeks. We found the Dolomites to be the highlight of our trip and spent a week there. Of course, you can visit fewer places and shorten your stay accordingly. The direction in which you follow this route is entirely up to you and may depend on flight ticket prices as well.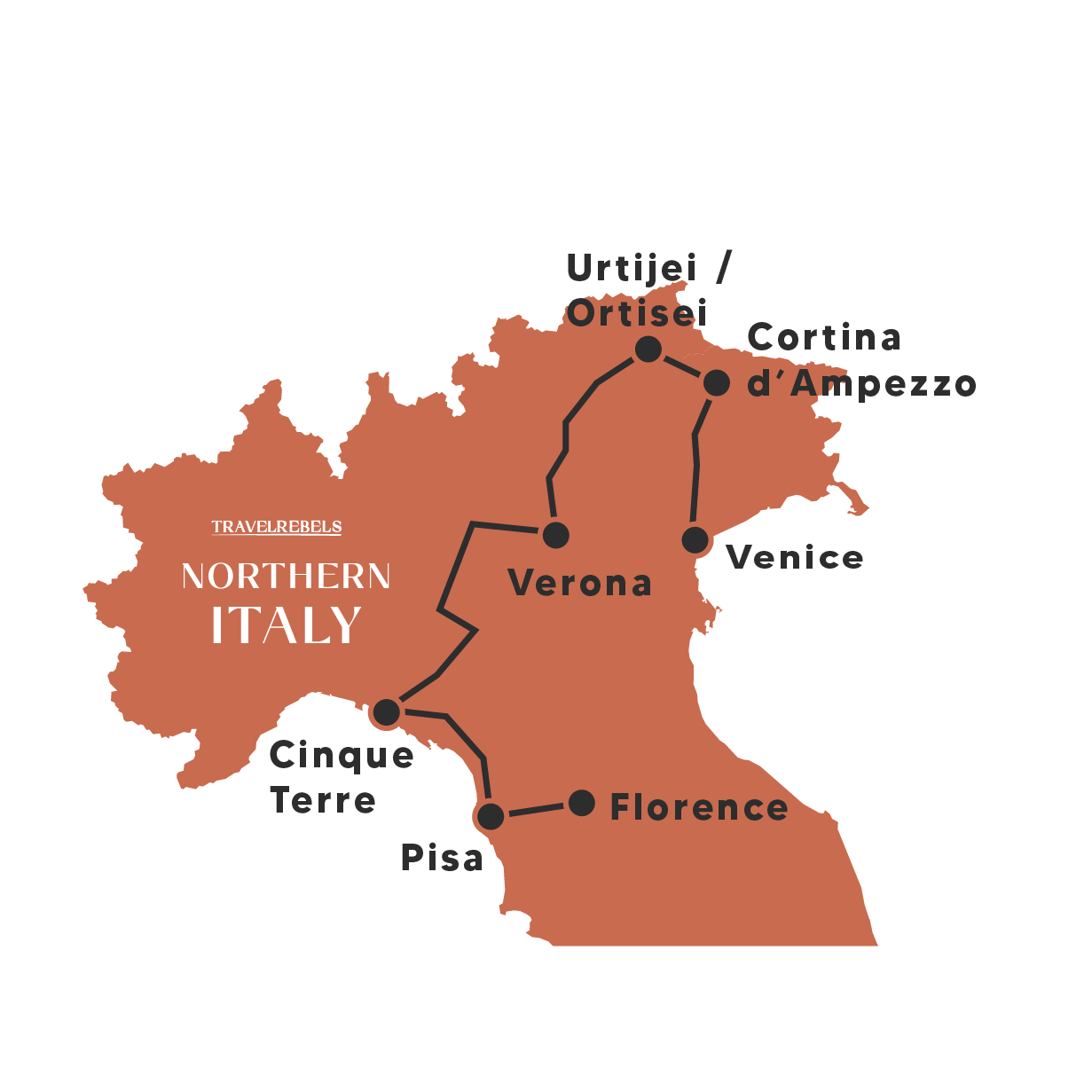 Florence
The charming city of Florence is the capital of Tuscany and was founded by none other than Julius Caesar in 59 BC. This artistic city breathes history and feels like a large open-air museum. Explore the museums, visit the world-famous Cathedral, and relax on a terrace with a delicious cup of cappuccino. Curious about what else Florence has to offer? Check out our 10 tips for the best attractions in Florence.
Pisa (as a stopover)
A travel route through North Italy wouldn't be complete without a visit to the Leaning Tower of Pisa. On the route from Florence to Cinque Terre, you can easily make a stopover in Pisa, whether by car or train. Walk to the iconic Leaning Tower, take that cliché picture, climb the tower, and then indulge in a true Italian gelato. Before you go, read our tips for Pisa to learn how to skip the long line and discover the interesting history of this iconic structure.
Cinque Terre
The 5 ancient Italian fishing villages of Cinque Terre are built against steep cliffs, and each house is painted in cheerful colors. The best way to experience the beauty of Cinque Terre is by taking a lovely walk. Between the villages, you'll find green mountains with terraces of olive and vineyards, offering breathtaking views of the villages. Of course, a relaxing day at the beach is also a must! Planning your trip to Cinque Terre can be a bit complicated because you have a choice of several villages, and they can only be reached by train from La Spezia. To make it easier for you, we have written a mini travel guide for Cinque Terre full of useful tips.


Verona
Italy is home to many beautiful cities, but the most famous ones are large and heavily visited. The charming Verona, in our opinion, is just as beautiful as Florence, for example, but it's more intimate and therefore much more relaxed. It doesn't have an impressive cathedral like Florence, but the narrow streets and small squares are very charming. Verona was an important city in Roman times, and after Rome, it's the city with the most Roman buildings. It's not very big, so you only need one full day to explore the city. We have created a fun walking route for Verona that will take you to all the beautiful spots in the city.

Urtijëi / Ortisei
Time for a completely different side of Italy! The Dolomites mountain range is breathtakingly beautiful and a paradise for nature lovers. Think crystal-clear mountain lakes, towering peaks, and green valleys. Whether you're an experienced hiker or just want to walk for a few hours, you'll find something for everyone here, and it's all equally beautiful. Some of the most beautiful spots are located right along the road. Urtijëi, also known as Ortisei, is a great base for visiting many of the Dolomites' attractions.

Cortina d'Ampezzo
Not all attractions are located near Urtijëi, so it's recommended to also spend a few nights in Cortina d'Ampezzo. From here, you can visit the Drei Zinnen, which is perhaps the most beautiful part of the Dolomites. In our article on where to stay in the Dolomites, you'll find a sample itinerary that shows which attractions you should visit from Urtijëi and which ones from Cortina d'Ampezzo.


Venice
Lastly (or firstly if you're following the route in reverse), a visit to Venice is on the itinerary. From here, you can often find cheap flights back home. Venice may be crowded, but there's a reason for that. Where else in the world can you find a floating city with 150 canals, 100 squares, and 400 bridges? There's something beautiful to discover around every corner. Go out early to beat the crowds and relax in the afternoon on a terrace, enjoying delicious food and drinks. Check out our tips for the most beautiful attractions in Venice so you don't miss a thing.

Our Favorite Places to Stay in Northern Italy
As always, we have searched for great places to stay in Italy. A good hotel can enhance your trip and give you that extra vacation feeling. Our list of favorite places to stay in Italy includes many hotels that offer something special. It could be a nice rooftop terrace, a lovely swimming pool, or just the perfect atmosphere that completes the hotel experience. We also considered the locations in the cities, so you'll always be close to attractions and restaurants.