Italy is home to many beautiful cities, but the most famous ones are often large and crowded. Charming Verona, in our opinion, is just as beautiful as Florence but on a smaller scale, making it much more relaxed. It may not have an impressive cathedral like Florence, but its narrow streets and small squares exude charm. Verona was an important city in Roman times, and after Rome, it boasts the most Roman structures. Nowadays, it is better known as the city of love because Verona is the setting for Romeo and Juliet, William Shakespeare's love story. Read all of our tips for Verona here!
Walking Route along the Sights of Verona
In Verona, you can easily explore everything on foot, and to make it even easier for you, we have mapped out this walking route that takes you to all the major attractions. The walk itself takes only one hour, but along the way, you can do various activities such as climbing a bell tower, visiting a museum, taking beautiful photos, and, of course, enjoying delicious food. Depending on what you choose to do and how often you stop, you can easily spend 3 to 6 hours here. Below, you'll find a brief description of each stop and its attractions. Verona is not very big, so one full day is enough to see everything. However, we recommend staying for two nights to experience Verona at your leisure and soak in the atmosphere. You can even extend your stay for a day trip to Lake Garda.
Tip: Another relaxed way to explore Verona is with this fun bike tour. It covers all the sights of Verona, and you'll also learn more about the city's fascinating history.

Scaliger Tombs
The route starts at the final resting place of the Scaliger family. This family ruled over Verona in the 13th and 14th centuries and had five remarkable tombs located in the heart of the city. These monumental Gothic-style tombs are a sight to behold.
The Squares of Verona
Just like in any city in Italy, Verona is home to several charming piazzas, or squares. The three main squares in Verona are Piazza delle Erbe, Piazza Brà, and Piazza dei Signori. Following our route, you will first come across the lively Piazza dei Signori, and just a few steps further, you'll find yourself on the bustling Piazza delle Erbe. This square hosts a daily market, a tradition that dates back to Roman times. It is surrounded by beautiful palaces and cozy cafés. This is the perfect place to start your day with a cappuccino and a croissant.
Torre dei Lamberti
When you're at Piazza delle Erbe, you can't miss the Torre dei Lamberti. This 84-meter (275-feet) high tower dates back to 1172 and was struck by lightning in 1403, which destroyed the top of the tower. It was later restored, and in 1779, the enormous clock was added. If you want to enjoy a view of Verona from the top of the tower, you can easily take the elevator up. The view will certainly not disappoint.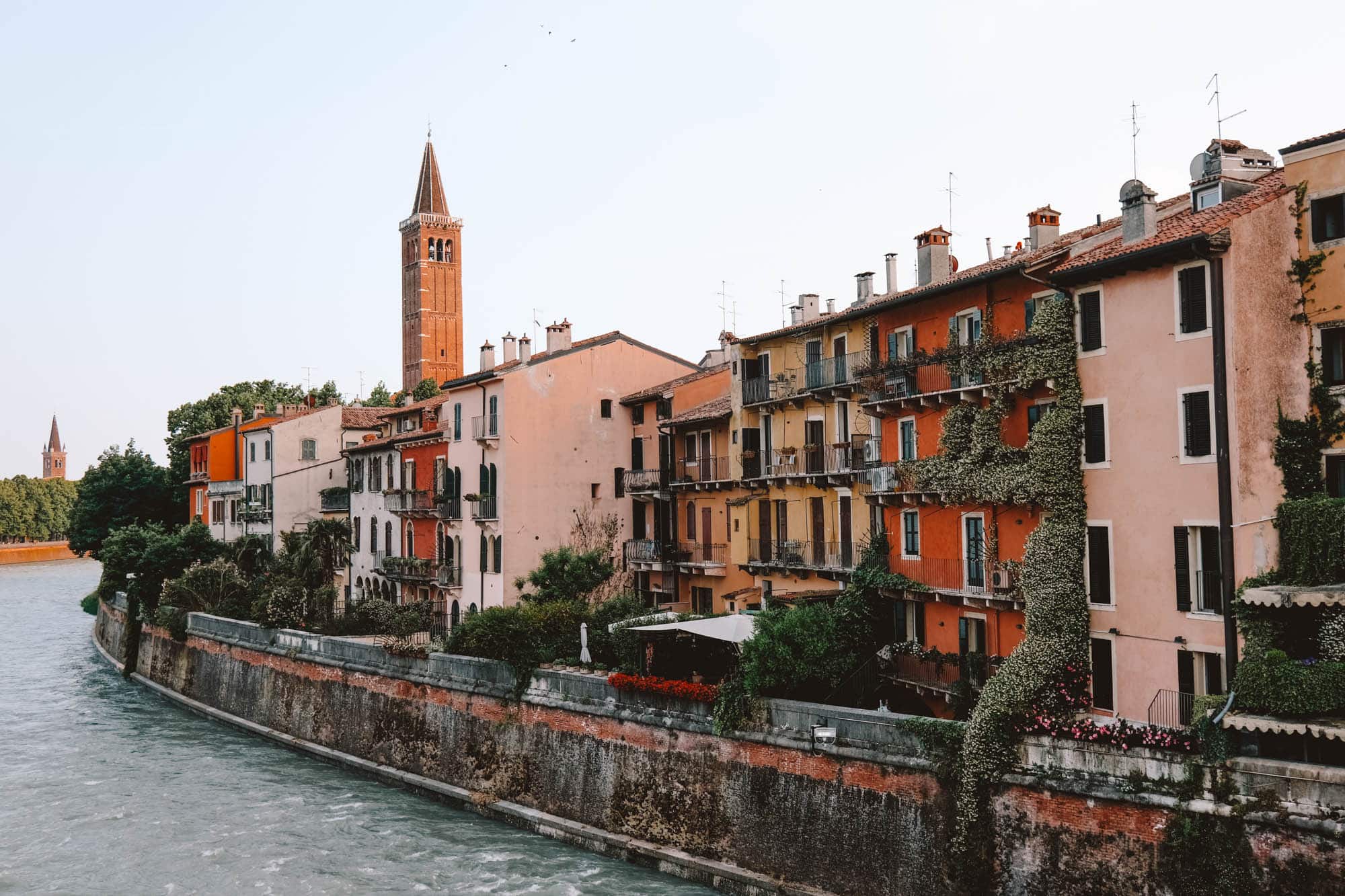 Casa di Giulietta
Casa di Giulietta, also known as Juliet's House, is one of the most visited attractions in Verona, even though it's purely fictional. Romeo and Juliet never existed except in Shakespeare's imagination. However, because the story is set in Verona, the city authorities felt that there should be a house where Juliet would have lived. They purchased the house from the Cappello family because their name resembled Juliet's surname (Capulet). The house originally did not have a balcony, which is significant considering the most famous scene from the story, so a balcony was added. They used an ancient sarcophagus to create the balcony, so when you stand on it posing, you're actually standing in a tomb.
In the courtyard, there is a statue of Juliet, and it is said to bring luck in love if you rub her right breast. Many people have done this, resulting in a hole in her breast. The original statue with the hole can be found inside near the entrance, while the replica is in the garden. All in all, we found it to be a rather peculiar place. You can pay an entrance fee to go inside, but you can also view the house, the statue, and the balcony from the outside for free.

Porta Borsari
Long ago, this Roman city gate served as the main entrance to Verona. It dates back to the 1st century AD and was located on the Via Postumia, a crucial Roman trade route through northern Italy. The white limestone gate is supported by massive pillars, and the top floor features twelve vaulted windows.

Verona Arena
This massive amphitheater dates back to 30 AD. It could accommodate up to 30,000 spectators who came to watch the brutal gladiator fights. The theater has endured many challenges over the years, including a severe earthquake, but it remains one of the best-preserved amphitheaters to this day. Nowadays, you can enjoy impressive opera performances here on summer evenings or take a stroll around the arena during the day.

Ponte di Castelvecchio
A castle is a must in a medieval city like Verona. Castelvecchio, literally translated as "old castle," is located by the river and features a massive stone bridge that served as an escape route in case of an attack. Nowadays, the castle is a museum, and the beautiful bridge is accessible to everyone.
Tip: If you're following our walking route and feel like having a delicious lunch along the way, you can walk to Elk Bakery or Ziga Bar after Ponte di Castelvecchio. Highly recommended!
Verona Cathedral
Four other churches have stood on the site of this cathedral before. Each time, a new one was built in the same location, and the current Romanesque-style structure dates back to the 8th century. It's worth taking a moment to stop and admire the beautiful entrance gate.
Ponte Pietra
Ponte Pietra is a bridge that has had its fair share of misfortune. It partially collapsed in 1007, 1153, 1239, and 1503 due to the turbulent waters of the Adige River. As if that weren't enough, the Germans blew up the bridge during their retreat from Verona. Restoration work only began in 1957. Let's hope it stands for a long time this time because it is truly beautiful!

The Viewpoint at Castel San Pietro
From Ponte Pietra, you can see the elevated Castel San Pietro. Climb the steps to reach the most beautiful viewpoint in Verona. The best time to do this is, of course, during sunset.
Save Money Tip: Use the Verona Card
For $22, you can purchase the Verona Card, which provides access to almost all the attractions and museums in Verona. Included in the card are the Verona Arena, the Castelvecchio Museum, Juliet's House, and Torre dei Lamberti, among others. If you plan to see many attractions in one day, this card will save you money and also allow you to skip the ticket lines. It's ideal!
The Best Restaurants in Verona
In Italy, it can sometimes be a challenge to find a good and healthy breakfast, but in Verona, you can always rely on Elk Bakery or Ziga Bar. Both are highly recommended for breakfast and lunch, offering delicious salads, bowls, smoothies, and avocado toast. Ziga Bar is entirely vegetarian. These restaurants are neighbors, so you can easily visit both and compare their menus. If you're in the mood for a hearty sandwich, Focacceria La Figaccia is the place to go. For dinner, Più Gusto Bio is a great choice. Everything on the menu is organic and vegetarian, and they can provide detailed information about the ingredients and products used. It's a delightful experience! If you're a meat lover, you'll probably enjoy the Argentine restaurant Guapo.
Our Favorite Places to Stay in Verona
Located in the heart of Verona's historic center, the idyllic Palazzo Fracastoro offers a fantastic setting. This charming hotel pays great attention to comfort and details. It exudes a romantic atmosphere, and the small-scale nature of the hotel creates a personal feel. With only three rooms, it tends to be fully booked well in advance. Another excellent hotel in Verona's historic center is Lady Verona Residence. It boasts a prime location near the river, and the spacious rooms are beautifully furnished. If you're looking for a budget-friendly option, StraVagante Hostel & Rooms is a great choice. It's just a 10-minute walk from Verona's train station and 15 minutes from the historic center.
| | | |
| --- | --- | --- |
| Palazzo Fracastoro | Lady Verona Residence | StraVagante Hostel & Rooms |