Monteverde is a unique natural area in Costa Rica. It's renowned for its many hiking trails and hanging bridges that allow you to explore the enchanting surroundings of the cloud forest. Due to its higher elevation, you'll find a completely different variety of plants and animals here compared to many other places in Costa Rica. Beyond the beautiful hikes, there are plenty of other enjoyable activities in Monteverde, such as ziplining, bungee jumping, or visiting the enormous butterfly garden. Whether you're seeking adrenaline-packed adventures or a chance to appreciate the beauty of Costa Rica's nature, Monteverde is the perfect destination for any nature lover. Here, you'll find information on what to do and tips for the best restaurants and unique hotels.
What Makes Monteverde Unique?
Out of all the forests in the world, only 1% are cloud forests. Cloud forests are found in tropical or subtropical regions and are often located at elevations of 1500 meters (4921 feet) or higher. Monteverde's cloud forest boasts high biodiversity. You'll find over 3000 different plant species, 100 mammal species, 400 bird species, 120 reptile and amphibian species, 490 butterflies, and thousands of insect species. Additionally, a veil of mist often hangs between the trees. This mist is created when warm air from lower areas collides with the mountain slopes and rises. As it rises, the moisture in the air condenses into tiny droplets, forming the mist. Without a doubt, Monteverde is a unique destination due to these factors!
How to Get to Monteverde?
A beautiful winding road through the mountains takes you to the village of Santa Elena, which serves as the base for exploring Monteverde. Most people travel from San José, La Fortuna, or Santa Teresa to Monteverde. Below, you'll find information on how to travel from these destinations to Santa Elena (Monteverde).
From San José to Monteverde
By local bus: A local bus departs from San José to Monteverde every day. This bus travels directly but makes several stops along the way, making the journey quite lengthy. Expect about 5 hours of travel time, depending on traffic. If you want to secure a spot on the bus, you can buy tickets in advance. Tickets at the bus station are slightly cheaper, but there's a chance the bus might be full.
By minivan: A comfortable way to travel this route is by minivan, which takes around 3.5 hours.
By rental car: This is about a 3-hour journey.
From La Fortuna to Monteverde
By local bus: Taking the local bus for this route might take longer due to the mismatched timings of transfers. In total, you'll spend about 5 to 7 hours on the road, depending on waiting times. Take the bus from La Fortuna to Tilaran and then transfer to the bus to Monteverde. Prior to your journey, inquire about the exact bus schedules at your accommodation.
By bus + boat: A fun and quick option to travel this route is with the bus and boat combination. You will be picked up by a van at your hotel in La Fortuna, and then you'll board the boat to cross the lake. On clear days, you can enjoy a beautiful view of the lake and the volcano. After the boat ride, the journey continues in a van to Monteverde. You can reserve this trip in advance, and during the booking, you can specify where you want to be picked up. The minimum number of people is two, and the trip takes about 3.5 hours.
By minivan: The journey from La Fortuna to Monteverde takes around 3.5 hours by minivan. Check out current departure times and reserve a spot in advance.
By rental car: Driving from La Fortuna to Monteverde takes about 3 hours. The route is approximately 100 kilometers (62 miles), but due to the mountainous roads, it might take a bit longer. Take your time and enjoy the beautiful scenery along the way!
From Santa Teresa to Monteverde
By local bus: In Santa Teresa, catch the bus to Paquera. Ask at your accommodation if there's a direct bus available; if not, you might need to transfer in Cobano. In Paquera, take the ferry to Puntarenas. Ferry tickets can be purchased on-site. In Puntarenas, it's best to take a taxi to the bus station (2.5 km), where you'll catch the bus to Monteverde. This journey takes about 2.5 hours.
By minivan: The journey from Santa Teresa to Monteverde takes around 4 to 5 hours by minivan. You'll be picked up at your hotel in Santa Teresa and dropped off at your hotel in Monteverde. Check current departure times and reserve a spot in advance.
By rental car: It's a 4 to 5-hour drive from Santa Teresa to Monteverde. Taking the northern route is recommended to avoid using the car ferry.
What to Do in Monteverde?
Depending on your interests, we recommend staying in Monteverde for at least two full days. Here are 12 great tips for things to do in Monteverde.
Visit Monteverde Cloud Forest
Exploring the cloud forest is one of the most exciting activities in Monteverde. There are two parks you can visit: Monteverde Cloud Forest and Santa Elena Cloud Forest. Both parks are easily accessible by rental car and bus. Buses depart several times a day from the main street in the village of Santa Elena to these parks. Both parks are stunning, but there are some important differences between them that you should know about. Here's a comparison between the two parks.
Monteverde Cloud Forest
Entrance fee is $25
Can get crowded, especially in the afternoon
Multiple hiking trails to spread out the crowds
Higher chance of spotting wildlife, including the rare quetzal – better chance with a guide
Features a beautiful hanging bridge, waterfall, and viewpoint
Monteverde Cloud Forest Reserve is one of the most visited cloud forests in the world. If you decide to visit this park, make sure to arrive early. In the middle of Monteverde Cloud Forest, you'll find a beautiful hanging bridge that you shouldn't miss. There's also a viewpoint and a dreamy waterfall. Signs throughout the park will guide you to these spots, so you won't get lost. Exotic birds, including the magnificent Quetzal, can be found in Monteverde Cloud Forest, but they're not always easy to spot. If you want a better chance at spotting wildlife, consider booking a guided tour. I explored Monteverde Cloud Forest on my own and unfortunately didn't encounter many animals.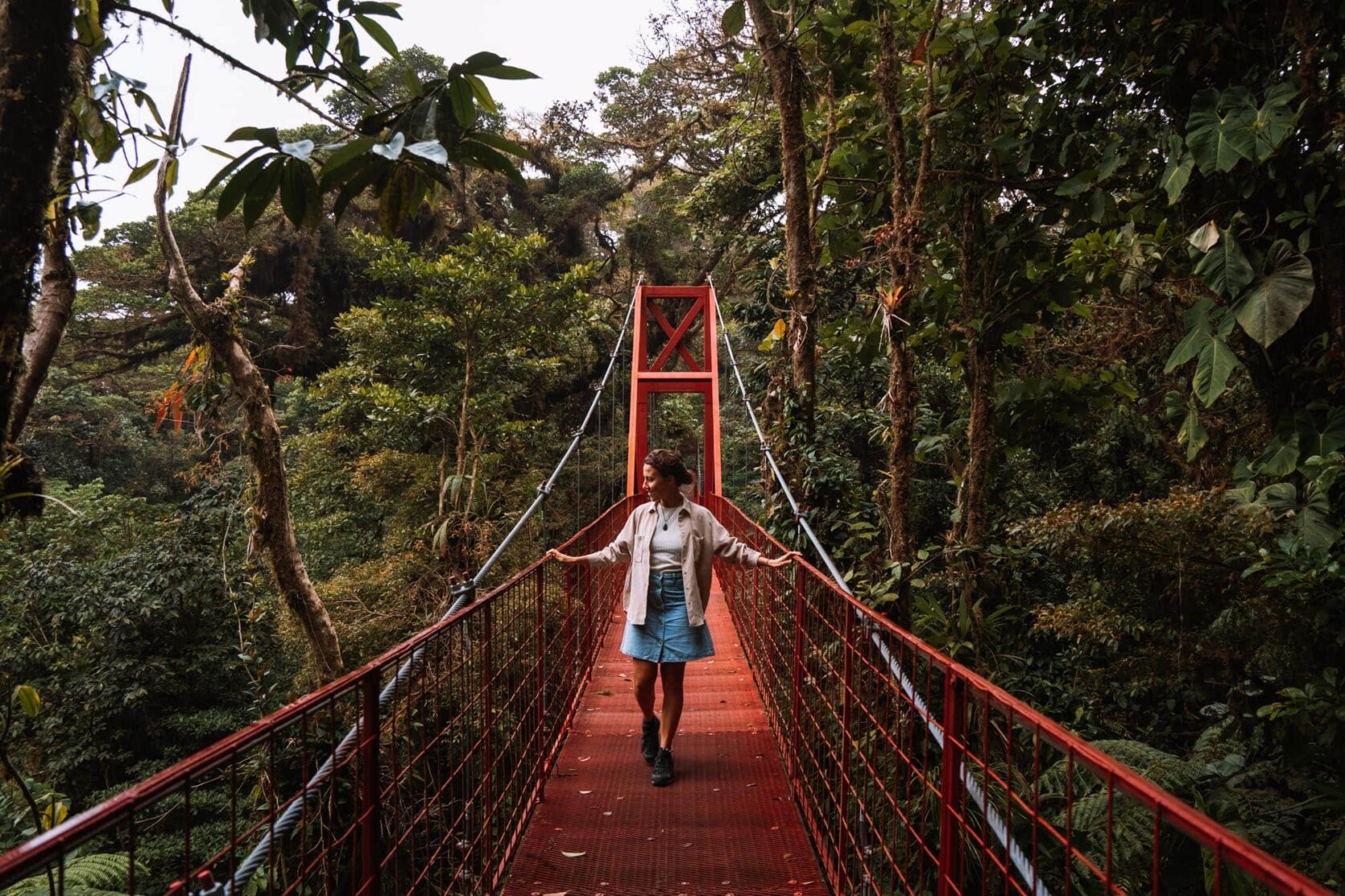 Santa Elena Cloud Forest
Entrance fee is $18
Less crowded on the trails
Lower chance of spotting wildlife
Beautiful hiking trails of various lengths, well-marked with signs
No hanging bridges, but a cool viewpoint
If you prefer to avoid the crowds, a great tip is to visit Santa Elena Cloud Forest. The flora here is just as stunning as in Monteverde Cloud Forest, although the chances of spotting wildlife are smaller. Be sure to walk to the viewpoint, as it offers an amazing panoramic view of the cloud forest and the surroundings. At the entrance, you'll receive a map with various hiking routes and points of interest. Signage along the hiking trails will guide you as well.
Spotting Hummingbirds at Colibri Cafe
Here, hummingbirds are flying all around you! Just before the entrance to Monteverde Cloud Forest, you'll find Colibri Café, and it's a great place to enjoy a cup of coffee. Monteverde is home to many hummingbirds, and in this café, they can enjoy the sugar water specially prepared for these birds. Hold onto your coffee cup tight, as the hummingbirds fly right past you.
Tip: Be cautious of coatis (raccoon-like animals). They have become quite bold here and will head straight for any food they spot. They can scratch, so keep your distance from these animals and avoid petting or feeding them.
Take a Coffee Tour in Monteverde
Did you know that drinking coffee was once banned in Europe? Due to the effects it had on people, it was seen as something satanic. It's hard to imagine that now, right? There are several places in the world where the conditions are favorable for growing coffee, and Monteverde is one of them. You can take a coffee tour here, where they'll show you the process from the ground to your cup of coffee. I joined this coffee tour, and it was the most enjoyable coffee tour I've ever done.
This eight-hectare farm has not only coffee plants but also an edible garden. Goats and chickens contribute compost and byproducts. If you're here between November and February, you can even pick some coffee beans yourself. This is the season when the coffee beans ripen. Of course, a tasting session of different coffee types is included. You'll notice the difference in taste when it's prepared using a traditional Costa Rican Chorreador. English tours are held daily at 9:30 AM and 2:00 PM, and they include shuttle service to and from your accommodation in Monteverde.
Spot Colorful Butterflies at Butterfly Garden
Monteverde is home to a variety of colorful butterfly species. Visiting a butterfly garden to observe them up close is a delightful experience. I visited the Butterfly Garden in Selvatura Park, and it was one of the most photogenic butterfly gardens I've ever seen. You can enter the butterfly garden only with a guided tour, which lasts about 45 minutes, and there's no need to make reservations in advance. If you don't want to travel all the way to Selvatura Park for butterflies, there's another butterfly garden in the center of Santa Elena where they offer guided tours.
Tip: Interested in seeing sloths as well? The other half of the Butterfly Garden is a Sloth Sanctuary. They provide a safe haven for sloths that can't currently live in the wild for various reasons.

Enjoy Beautiful Sunsets in Monteverde
Sunsets are always magical moments, and Monteverde offers several beautiful spots to enjoy the last rays of light. In the center of Santa Elena, Mirador Valle Escondido Preserve is a lovely viewpoint to watch the sunset. There are many benches here, as many people gather to witness the sunset. Many people even crawl under the barbed wire to sit on the stone plateau below for a front-row view. If you want to dine while enjoying the sunset, you can do so at Cafe Capucchino.
Night Tour in Monteverde
The night tour is a fantastic opportunity to experience the unique nature of Monteverde from a completely different perspective. Many of the animals that become active at night have specific characteristics that allow them to thrive in the dark. The guide who takes you on this nighttime adventure will help you spot animals and plants while sharing valuable information. This exciting nocturnal journey offers a chance to see frogs, reptiles, and other creatures in action at night.
Note: Contrary to its name, the tour actually starts in the early evening at 6:00 or 8:00 PM.
Ziplining in Monteverde
If you're seeking an adrenaline rush, ziplining in Monteverde is perfect for you! With ziplines stretching from one mountain to another over and through the Monteverde jungle, you're in for an exciting adventure. I went on this thrilling tour because it includes a variety of ziplines. In addition to the standard ziplines, this tour offers a Tarzan swing, a superman zipline (over 1000 meters! ; 3280 feet!), and abseiling. This variety adds an extra level of excitement and allows you to experience Monteverde's nature in a completely unique way.
Costa Rica's Highest Bungee Jump
If you're a true thrill-seeker and ziplining isn't challenging enough for you, consider taking the plunge from a height of 143 meters (469 feet) among the mountains of Monteverde! This bungee jump is the tallest in Central America and guarantees an extreme adrenaline rush. Its unique location and construction make it even more extraordinary. A carriage is suspended among the treetops at a height of 143 meters (469 feet), and you jump from here, experiencing a free fall of 60 meters (197 feet). You can definitely check this off your bucket list!
Walk on Monteverde's Hanging Bridges
Another exciting way to explore the unique Monteverde cloud forest is by taking a walk on the hanging bridges at Sky Adventures Monteverde Park. You'll embark on a approximately two-hour route through the forest, crossing several bridges, some of which are as long as 236 meters (774 feet) and as high as 70 meters (230 feet). While we visited both the hanging bridges in Monteverde and in La Fortuna, we found the ones in La Fortuna to be slightly more impressive. If you're also going to La Fortuna, we recommend visiting the hanging bridges there.

Learn About Poison Dart Frogs at Frog Pond
If you haven't had the chance to spot the colorful Costa Rican frogs, a visit to Frog Pond could be a fun experience! Here, you can observe over 25 different species of frogs, toads, and other amphibians in terrariums during an educational tour. The evening tour is particularly recommended, as most frogs are active during the nighttime. The number of frogs worldwide is rapidly declining, so a portion of the proceeds from these tours goes towards frog conservation and research.

Admire the Unique Ficus La Raiz Tree
In Monteverde, you can witness the breathtaking beauty of nature firsthand. Over time, some unique places emerge that can't be found anywhere else on Earth. The Ficus La Raiz is a tree whose roots have grown in such a way that they've formed a natural bridge. From the center of Santa Elena, you can walk to this spot and descend via the stairs to reach the Ficus La Raiz tree.

Best Restaurants in Monteverde & Santa Elena
After all these exciting activities, you're bound to get hungry! Fortunately, there are plenty of excellent restaurants and cafes to choose from. Here are my recommendations for Monteverde & Santa Elena.
The Open Kitchen – This stylish restaurant offers a variety of delicious dishes from different cuisines. You can find items like acai bowls, shakshuka, falafel, couscous, fish & chips, ceviche, and souvlaki on the menu. They serve breakfast, lunch, and dinner.
Stella's Monteverde – Enjoy your meal in a beautiful garden where tropical birds fly around. They serve tasty burritos, sandwiches, quiche, and salads among other options.
Orchid Coffee Shop – In this cheerful café, you can savor the best coffee and treat yourself to a sweet pastry. If you're not into sweets, their paninis are also quite delicious.
Sabor Tico – Visit this spot if you want to experience authentic Costa Rican cuisine. Expect dishes with beans, guacamole, rice, meat, and fish. The portions here are generous, and the prices are very reasonable.
Soda La Amistad – This soda is another great option for an affordable lunch or dinner. The staff is incredibly friendly.
Cafe Capucchino y Restaurante – You can enjoy delicious international breakfast, lunch, and dinner here from 6:00 AM to 8:00 PM. Apart from the great food, you can also relish the beautiful view, including sunset.
Taco Taco – As the name suggests, you can have delicious tacos here at an affordable price.
El Bosque Restaurante Tradicional – This restaurant offers traditional Costa Rican food and tasty paninis. The terrace is surrounded by nature, so you might spot animals while you dine.
Our Favorite Places to Stay in Monteverde & Santa Elena
If you're on a budget, Cabinas Vista Al Golfo is a great choice. It's not luxurious, but it offers good value for the price you pay. The staff is incredibly friendly and helpful when it comes to booking activities. For a mid-range hotel, consider La Casa de la Montaña. This B&B places you in the heart of nature, and you're likely to spot many animals from here. It's about a mile from the town and is run by a lovely family who go out of their way to make your stay enjoyable. If you have a more generous budget, Los Pinos Lodge is fantastic. You'll stay in a detached cottage with all the amenities. From your private terrace, you can already spot a lot of wildlife, and the lodge also offers exciting hiking opportunities.
| | | |
| --- | --- | --- |
| Cabinas Vista Al Golfo | La Casa de la Montaña | Los Pinos Lodge |