Rio Dulce means "sweet river" in Spanish, and this paradise destination in Guatemala is a haven for nature lovers. This picturesque river stretches for 43 kilometers (27 miles), flowing from Lake Izabal to the Caribbean Sea. At the beginning of the river lies the town of Rio Dulce, and it ends at the lively village of Livingston, which can only be reached by boat. Between these towns, you'll find beautiful natural landscapes with lush jungles, hot springs, water lilies, birds, and other wildlife. Step into a boat or kayak and explore this stunning area on and by the water. I'd love to tell you more about Rio Dulce and my tips about things to do.
How to Get to Rio Dulce?
Most people travel to Rio Dulce from Flores or Hopkins (Belize). Read below for information on how to get there from these destinations.
The bus from Flores to Rio Dulce takes about 4 hours. You'll make a stop at a restaurant for breakfast along the way. Check out the departure times and reserve your seat on the bus in advance.
From Hopkins (Belize) via Punta Gorda to Rio Dulce
Take the bus from the crossroads to this main road. It's just a few miles, so you can also take a taxi for convenience. Board the bus heading south to Punta Gorda. This bus ride takes about 3 to 3.5 hours. The boat from Punta Gorda to Livingston operates twice a day from Monday to Friday at 09:30 and 14:30, taking about an hour to reach Livingston. On Tuesdays and Fridays, the boat also departs at 11:00. Please note that there are no boats from Punta Gorda to Livingston on weekends. In Livingston, you can catch a boat to Rio Dulce. The last boat leaves at 14:30. If you miss it, you'll need to arrange a private boat through your accommodation.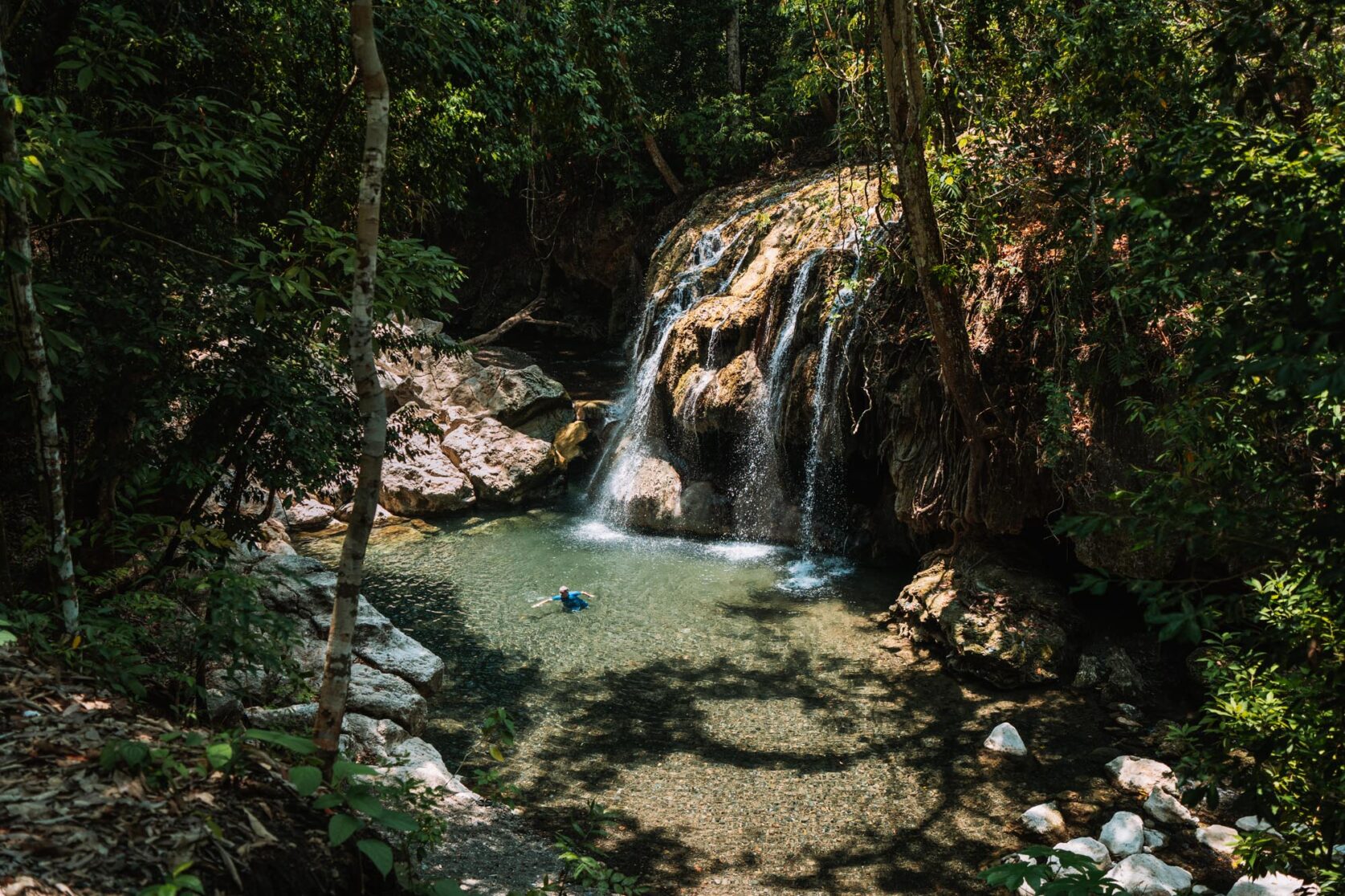 Important Information: How Transportation Works in Rio Dulce
The Rio Dulce river runs from the village of Rio Dulce to the town of Livingston. Some attractions are near the village of Rio Dulce, while others are closer to Livingston. If you want to travel between Rio Dulce and Livingston, or vice versa, it's always done via the river, as there are no roads connecting these places. Everything between these villages can only be reached by boat. There are two daily public boat services between Livingston and Rio Dulce. This is the most affordable option to get from one place to another. If you're staying at an accommodation by the river, you can inform them that you'd like to take the public boat, and they will reserve a spot for you on the boat. The boat will then stop at your accommodation to pick you up. You can inform the captain on the boat where you'd like to disembark. If you wish to travel at a different time, you can also arrange a private boat through your accommodation or at the docks. Keep in mind that private boats will cost more than the public ones.
What to do in Rio Dulce?
The beautiful natural area around the river offers many lovely places to visit. These are the most enjoyable things to do in Rio Dulce.
Must do: Exceptional Stay at El Hotelito Perdido
Let's start with an exciting tip for a unique accommodation in Rio Dulce. At El Hotelito Perdido, you can have a fantastic stay, and as far as we're concerned, this is the perfect base for exploring Rio Dulce. You'll find El Hotelito Perdido halfway between Livingston and the village of Rio Dulce, right on the riverbank. It's a delightful spot for a few relaxed days and to experience the beautiful river and surroundings at their best. This little paradise exudes a very cozy atmosphere, where you can meet fellow travelers and engage in fun activities. Start your day with some yoga, then take a kayak to explore Rio Dulce quietly, without disturbing the wildlife like motorboats do. It's a serene experience paddling through these green waterways, with white herons flying ahead. You might even encounter local fishermen casting their nets from their canoes. With a bit of luck, you might spot manatees!
In the evenings, you can join the hostel for a delightful family dinner, followed by a game or reading a book in your hammock. It's pure enjoyment here!
Explore Rio Dulce by Kayak
Of course, the main reason to visit Rio Dulce is the stunning river. One of the most enjoyable ways to explore Rio Dulce is by kayaking! In a kayak, you can paddle quietly, without disturbing the animals as a motorboat would. It's a serene experience as you glide through these green waterways, with white herons flying ahead. You might even come across local fishermen casting their nets from their canoes. With some luck, you might even encounter manatees!
Visit Livingston and Taste the Local Dish 'Tapado'
Livingston is a charming town located at the mouth of the Rio Dulce on the Caribbean coast of Guatemala. It's known for its Afro-Caribbean culture and vibrant atmosphere. This town was founded by the Garifuna people, an ethnic group descended from a mixture of indigenous tribes and enslaved Africans. They colonized various places, including the coast of Guatemala, coming from the Caribbean islands. To this day, Livingston is not connected to Guatemala's road network, making it accessible only by boat. This isolated location has allowed the Garifuna community to preserve their identity and culture, especially in local traditions, music, and delicious cuisine.
Tip: Tapado is a typical Garifuna dish that you must try in Livingston. It's a coconut soup with a whole fish and crab in it. It's delicious! Las Tres Garifunas is a great restaurant to have tapado.
Relax at Finca El Paraiso
In the Rio Dulce area, you can find many hot springs, but the best place to enjoy them is at Finca El Paraiso. Here, you can enjoy naturally heated water in several spots. There's a 12-meter-high (39-feet-high) waterfall with water originating from a hot spring, making it quite warm. This water flows into a pond where it mixes with cold water.
When you climb up the waterfall, you can walk to the source of the hot spring. Here, you can apply a clay mask. Usually, there's a guide who will show you the way and pick the right clay for you, in exchange for a small tip. It's not advisable to pick the clay yourself because the water here is so hot that you could burn your hands or feet.
How to get to Finca El Paraiso: From the village of Rio Dulce, you can take a microbus here to Finca El Paraiso. This bus departs regularly and takes about half an hour. On the way back, you can hail a microbus on the opposite side of the road, but going in the other direction. If you're staying at El Hotelito Perdido, it's nearly impossible to make a day trip to this waterfall by public boat because you'll only have about an hour there before you need to catch the last boat back. You can arrange a private boat, but it's quite pricey. However, you can visit all the other attractions from this lovely lodge, and below, we'll suggest an alternative hot spring you can visit.
Alternative to Finca El Paraiso: Hot Spring and Sauna Cave
If you can't visit Finca El Paraiso because it's too far from your lodge, you can also visit another hot spring along the river. Kayak to Centro Ecoturístico Agua Caliente, where you can have a drink and a meal at the restaurant. Additionally, you can relax in a natural hot water bath. For a small fee, you can visit some caves with a guide. One of these caves has a hot spring inside, turning it into a natural sauna.
Relaxing on Playa Blanca, Guatemala's Whitest Sandy Beach
In the mood for sun, sea, and white sandy beaches? Then hop on a boat for a relaxing day at Playa Blanca. Guatemala doesn't have many idyllic beaches, but this small beach on the Caribbean coast boasts stunning pearlescent white sand and is surrounded by palm trees. Perfect for a few hours of relaxation! Playa Blanca is only accessible by boat. You can book a tour from Livingston or negotiate with one of the fishermen in the harbor to take you there on their boat.
Kayak to Lampara Waterfall
If you're staying at El Hotelito Perdido or nearby, it's fun to kayak to the Lampara Waterfall. It's about 1.5 hours of paddling to the end of a narrow river branch, where you can disembark and, after a 15-minute walk through nature, reach the Lampara Waterfall.
The Lampara Waterfall is on private property, but for a few dollars, you can swim and relax by the waterfall for as long as you like. When you arrive with your kayak, you'll see a cottage on your left. You can call the owner Ceasar to let him know you're there, and he'll guide you.

Visit Siete Altares Waterfall
Siete Altares Waterfall gets its name from the seven beautiful natural pools that cascade down in tiers, ending in a natural swimming pool. You can climb up and down the rocky paths that connect the different levels or find a nice spot to swim. Siete Altares is located here on the coast, and you can reach it by boat.
Tip: Beforehand, inquire if Siete Altares is worth visiting during your stay. When the waterfall is dry, it can be quite disappointing. Normally, June is the best month to visit these natural pools, but during my visit in that month, the waterfall was almost completely dry.
Immerse Yourself in History at Castillo de San Felipe
You visit Rio Dulce mainly for its stunning nature, but you can also delve into history. Along the river, you'll come across several monuments, including Castillo de San Felipe. This Spanish fort was built in 1652 to defend the area against pirates. You can explore this fort from the inside and outside, discovering its various corners and corridors. The park around the castle also offers plenty of entertainment with eateries, hammocks, and swimming spots.

Best Restaurants in Rio Dulce & Livingston
Almost every accommodation in Rio Dulce serves food, but if you want to dine out, the following restaurants are recommended in Rio Dulce and Livingston.
El Viajero – This is a popular restaurant in the village of Rio Dulce. It's located by the water and serves local and international dishes, with a focus on seafood. After your meal, be sure to take a dip in the river. There are slides and ropes for swinging into the water.
Sundog Cafe – This restaurant offers a beautiful riverside setting in Rio Dulce. You can order various sandwiches, burgers, salads, pizza, and pasta here.
Mc Tropic – This small restaurant in Livingston is a paradise for those who love vitamins. They have a wide selection of fresh smoothies, and all dishes are prepared with plenty of vegetables.
Las Tres Garifuna's – A good local restaurant in Livingston where they serve dishes from the Garifuna cuisine, including the local dish 'tapado.'
Where to Stay at Rio Dulce?
As mentioned earlier, Rio Dulce is both the name of the village and the river. You can choose to stay in the village, but for the best experience, consider staying at one of the special lodges located along the river. Here, you'll be immersed in nature, and from there, you can visit the most beautiful places by boat or kayak. Below, we recommend the three most beautiful lodges by the river.
Our Favorite Places to Stay at Rio Dulce
Our favorite accommodation in Rio Dulce is, of course, El Hotelito Perdido, which we mentioned earlier in this article. This small paradise has a very cozy atmosphere, where you can meet many fellow travelers and engage in fun activities. They offer both dormitories and double rooms. If you're looking for more luxury, then Boatique Hotel and Marina is fantastic! This lodge is also located directly on the river, and you'll stay in an incredibly beautiful bungalow. It's modern yet perfectly in tune with the region's style. There's a lovely swimming pool, free kayaks to borrow, and they serve delicious food. If you're traveling on a small budget, they also have dormitories here. Within walking distance of the village of Rio Dulce, you'll find Tortugal Boutique River Lodge, where you can also expect a delightful stay. Most bungalows here even offer views of the river. The owner, Angela, is incredibly hospitable and will make you feel right at home in Rio Dulce.
| | | |
| --- | --- | --- |
| El Hotelito Perdido | Boatique Hotel and Marina | Tortugal Boutique River Lodge |