Lake Atitlan is a fantastic destination in Guatemala because it's one of the most beautiful lakes in the world. Surrounding this crystal-clear lake are three massive volcanoes named San Pedro, Atitlan, and Toliman. You can imagine that these volcanoes provide the most breathtaking views. Around Lake Atitlan, you'll find several villages, each with its own character. Whether you're looking for camaraderie, tranquility, nature, or culture, Lake Atitlan has something for every type of traveler. Here are all our tips for Lake Atitlan.
How to Get to Lake Atitlan?
Most people travel from Antigua, Lanquin (Semuc Champey), or El Paredon to Lake Atitlan. You always first travel to the village of Panajachel. From there, you take a boat to your final destination if you're staying in another village.
From Antigua to Lake Atitlan
The bus from Antigua to Lake Atitlan takes 2.5 to 3 hours. Check out current departure times and reserve your seat in advance.
From Lanquin (Semuc Champey) to Lake Atitlan
From Lanquin, there's a daily bus to Lake Atitlan. This is about a 10-hour journey, and you can book it at your accommodation. Take a motion sickness pill beforehand if you get car sick easily. The route has many curves and bumps.
From El Paredon to Lake Atitlan
Every morning, a shuttle departs from El Paredon to Lake Atitlan. The total travel time is 3.5 hours, and you can book it at your accommodation.
The Different Villages Around Lake Atitlan
Around Lake Atitlan, there are several small villages, each with its own unique character. You can easily visit multiple villages by boat in a single day. Below, you can read about the differences between these villages.
Panajachel – This is the largest village and the place you arrive when traveling to Lake Atitlan by bus. It is considered the gateway to Lake Atitlan. In Panajachel, you'll find most hotels, restaurants, markets, and shops, but it's not the most charming base.
San Pedro – This is a lively village with a bohemian atmosphere, especially popular among backpackers. It has a relaxed and laid-back vibe, with many budget accommodations, good cafes, and cozy bars. There's often a party going on in the evenings.
San Marcos – This is a tranquil and spiritual village known for its holistic and wellness activities. It's a popular destination for yoga retreats and personal development. Even if you're not into that, San Marcos is a pleasant base for Lake Atitlan. It exudes a peaceful atmosphere, and from here, you have a stunning view of the lake and the surrounding volcanoes. Despite its small size, you'll find many excellent eateries here.
San Juan – This village is very charming and colorful, with a rich culture. The village is known for its textile and weaving craftsmanship, where you can see women making colorful fabrics in traditional ways. You'll find numerous art galleries, workshops, and souvenir shops with beautiful handcrafted items.
Santa Cruz – This is a small and traditional village. It's less crowded than other villages and offers a glimpse into the local Mayan culture and daily life. Santa Cruz is also known for its beautiful hiking trails and stunning eco-lodges. Here, you can escape the hustle and bustle and connect with nature. Due to its central location, it's easy to visit other villages from here.
Tip: At the bottom of this article, we recommend which of these villages are the best to stay in, with some suggestions for unique hotels and hostels. Click here to go directly to that section.
Transportation Between Villages
Water taxis (known as "lanchas" in Spanish) operate between the villages. Try to purchase a round-trip ticket at the pier as it is cheaper than a one-way ticket. However, this option may not be available from every village. For instance, San Marcos doesn't have ticket sellers, but San Juan, San Pedro, and Panajachel do. If you plan to visit multiple villages in one day and use the boat frequently, inform the ticket sellers, and they can provide you with a cost-effective ticket. In other cases, you pay the captain after your boat ride.

What to Do at Lake Atitlan?
There's more than enough to keep you entertained around Lake Atitlan for a few days. Here are the top 10 things you shouldn't miss, in my opinion.
Enjoy Phenomenal Sunsets at Lake Atitlan
The sun, a lake, and a stunning landscape of mountains and volcanoes – the perfect ingredients for a spectacular sunset! No matter which village you're staying in, be sure to catch the lakeside sunset. The sky might be adorned with a beautiful palette of orange, red, and pink. Especially when you're perched a bit higher on a hill, this is a breathtaking view to savor. Consider getting a nice drink and some snacks to enhance the experience.
During the rainy season, it can get a bit misty in the late afternoon, which means a beautiful sunset isn't always guaranteed. In that case, try waking up early to witness the sunrise, which can be equally stunning! Watching this colorful spectacle as the world awakens, with only the sound of birds around you, is sure to bring a moment of pure joy.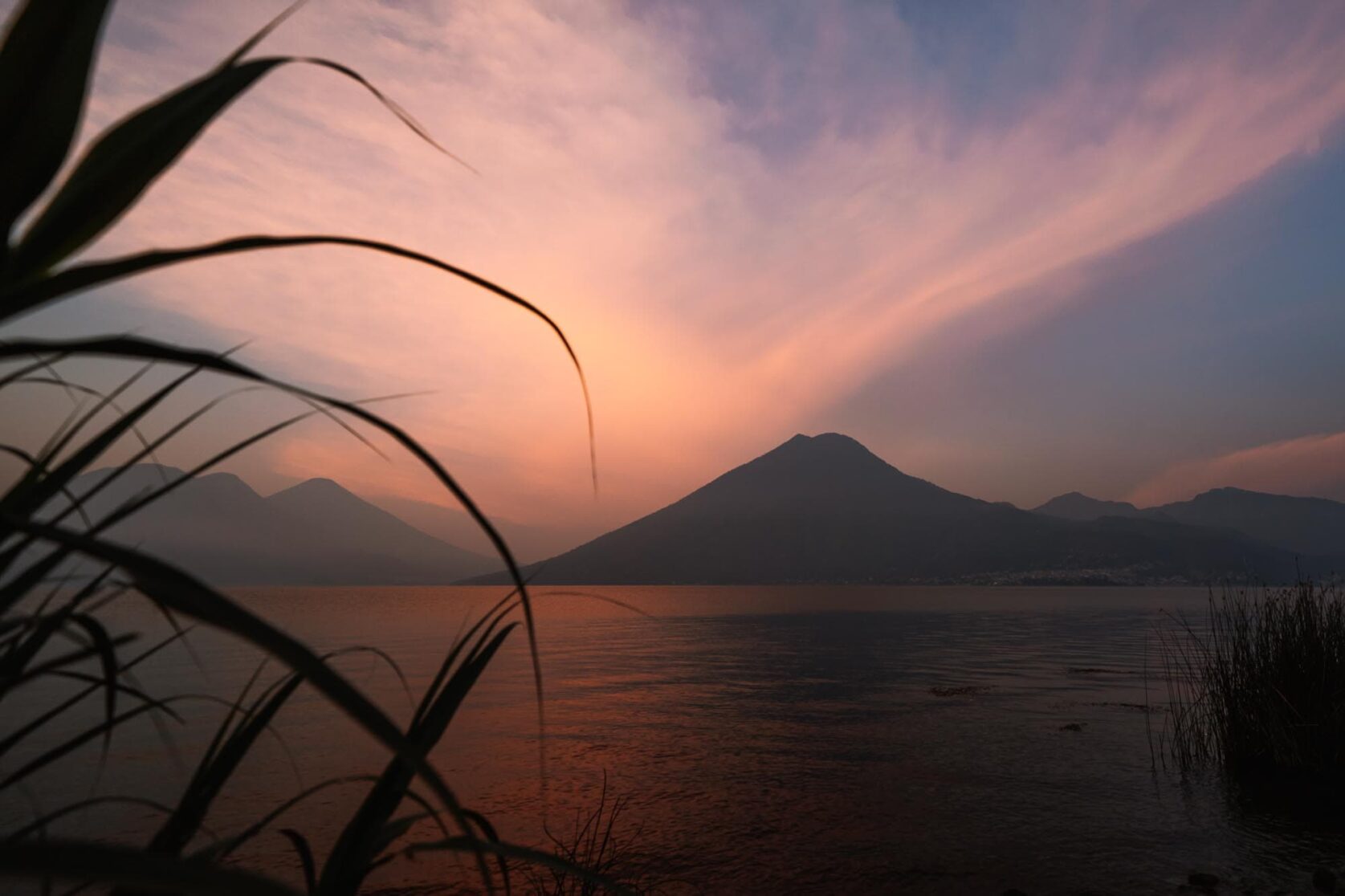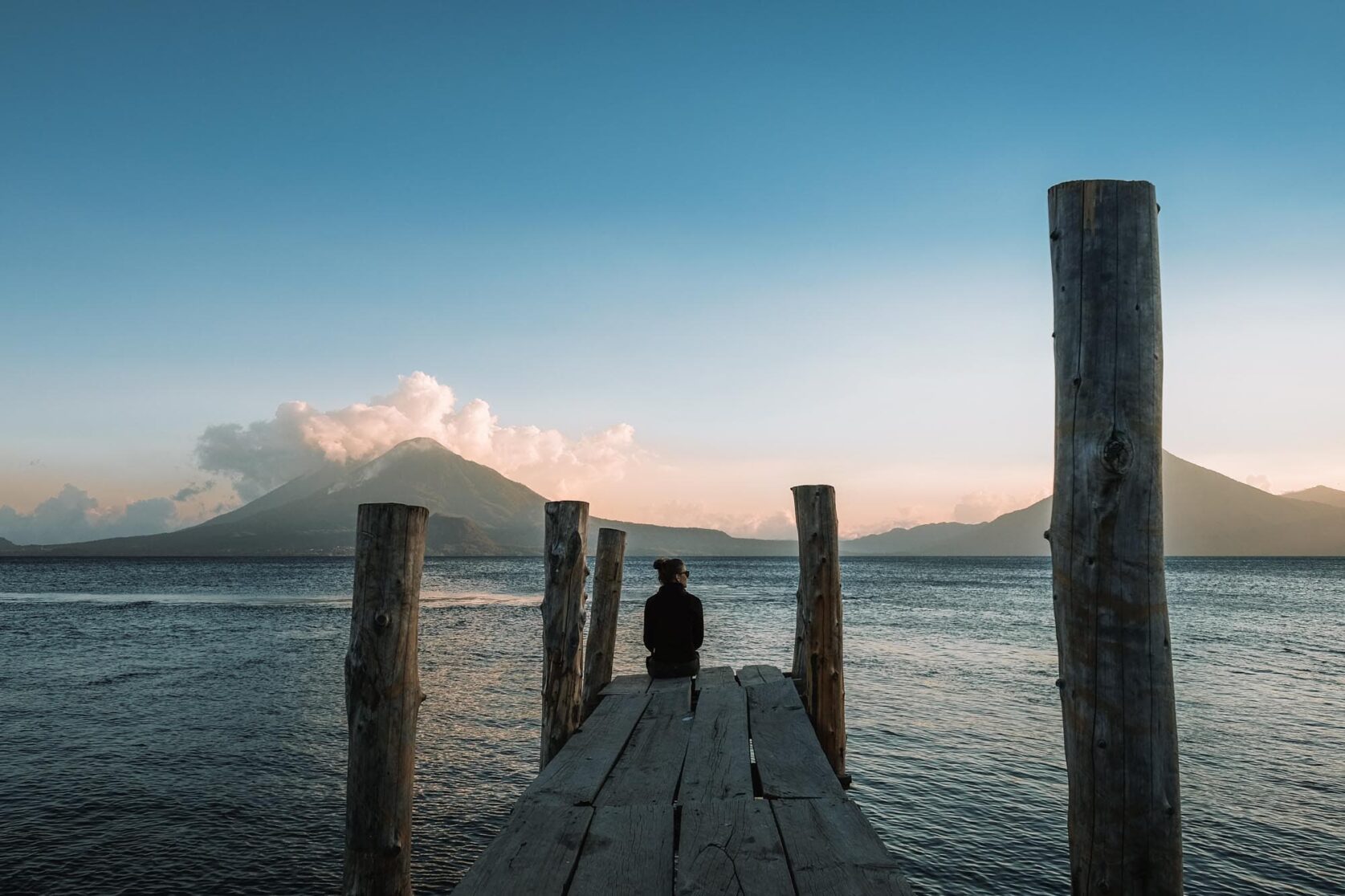 Shopping on Calle Santander in Panajachel
Calle Santander is a long shopping street that runs from the center of Panajachel all the way to Lake Atitlan. Here, you'll find many stalls with beautiful souvenirs, clothing, jewelry, art, and much more. Don't forget to visit the Artisan Market as well. They have gorgeous rugs, pillow covers, and other locally made handicrafts.
Hike and Relax at Cerro Tzankujil Nature Reserve
This nature reserve is located on a hill in the village of San Marcos, and from here, you can enjoy panoramic views of Lake Atitlan. You can take beautiful walks along the well-maintained paths with various types of tropical plants, and there are several boardwalks and piers along the lake. This is the perfect spot to spend an afternoon swimming. There's a 12-meter-high (39-feet-high) platform from which you can jump for a refreshing dive. An adrenaline rush guaranteed!
Explore the Hippie Village of San Marcos
San Marcos is known as the hippie village of Lake Atitlan due to its wide range of spiritual activities. From the pier, you can easily access the "hippie highway" where you'll find charming boutiques and cozy restaurants on both sides. You'll see posters in various places listing the activities available in San Marcos. You can opt for something low-key like a yoga class or explore the spiritual side with a cacao or ayahuasca ceremony. If you prefer to simply enjoy a meal in San Marcos, there are many excellent restaurants in the village. Further in this article, you'll find tips for the best places to eat.
Take a Yoga Class or Other Activities at Eagle's Nest
Eagle's Nest is an ecological resort in San Marcos. It's popular among spiritual travelers, artists, and those interested in personal growth. Yoga classes take place daily on the spacious yoga deck with stunning views of the lake. Additionally, they organize activities or workshops almost daily, ranging from cozy pizza and game nights to healings, ceremonies, and ecstatic dance evenings. Check Eagle's Nest's schedule to see what's happening in the coming weeks. You can stay here, but it may not necessarily be a top recommendation.

Paddleboard on Lake Atitlan
One of the most enjoyable activities at Lake Atitlan is paddleboarding! Get on a board and paddle across the calm waters while enjoying the view. In Santa Cruz, you can paddleboard at SupAtitlan, in San Marcos at Venga Atitlan, and in Panajachel at GuateSup.
Visit the Chichicastenango Market
The Chichicastenango Market in the village of Chichicastenango is the largest traditional market in Central America. Hundreds of locals from surrounding villages come here to sell their products. It's a delightful bustle of colors and scents. The market offers a wide range of products, including textiles, pottery, woodwork, traditional clothing, jewelry, and much more. The Chichicastenango Market is not just a place to shop; it's also an important hub for the local community. As you stroll through the streets of this market, you get a glimpse into the indigenous traditions and lifestyle of the Mayans.
How to Get to the Chichicastenango Market? This market is only open on Thursdays and Sundays and is located about 140 kilometers (87 miles) from Lake Atitlan. You can book a shuttle from the villages, or you can get there on your own using the chicken bus. From Panajachel, it takes around 2 hours by direct bus or with a transfer in Sololá. If you're departing from San Pedro, you'll need to transfer twice at Kilometro 148 and Los Encuentrosen.

Enjoy the Most Beautiful View of Lake Atitlan at Indian Nose
From the top of the mountain peak known as Indian Nose, you can savor one of the most stunning views of Lake Atitlan. This viewpoint is located near the village of San Juan and gets its name from the fact that its contours resemble a face profile from a distance. The hike to Indian Nose is recommended especially during the early morning hours, as it offers a fantastic opportunity to witness the sunrise. Make sure to bring a warm sweater as it can be chilly when the sun has not yet risen. The ascent takes about 40 minutes. The beginning of the trail is relatively easy, while the last part involves a bit more climbing with high steps. There are two different hiking paths to the viewpoint. The route starting from the village of Santa Clara is the best and quickest way up.
Tip: Due to stories of tourists occasionally being targeted during this hike, it is discouraged to do this walk alone. If you want to avoid any risk, it's best to climb the mountain with a guide. The advantage of a tour is that it typically includes transportation to the starting point of the hike and often provides a welcome cup of coffee at the top of the mountain. You can arrange the tour on-site at your accommodation or at a tour agency in a village.

Take a Boat to the Artistic Village of San Juan
San Juan is the most colorful and creative village around Lake Atitlan. When you walk up the main street, you'll stroll beneath a canopy of colorful umbrellas, with paintings, handicrafts, and clothing on display to your left and right. In some clothing stores, you can even observe how these items are made, from spinning the wool to dyeing the yarn and weaving the most beautiful fabrics. As you continue to the vibrant street Calle de los Sombreros, you can admire some beautiful murals.
The prices of clothing, artwork, and souvenirs in San Juan are somewhat higher than in other places. This is because everything here is genuinely handmade, as opposed to potentially machine-made items in other locations. As a result, the clothing and textiles are of better quality than in many other places in Guatemala.
Best Restaurants at Lake Atitlan
Below are the best restaurants in San Marcos, San Pedro, and Panajachel.
Best Restaurants in San Marcos
Il Giardino – This is a vegetarian restaurant with delicious food and a charming garden. The cuisine is a mix of Italian, Eastern, and local flavors.
Circles Cafe & Bakery – A favorite spot for breakfast and lunch. They bake the tastiest bread and serve delightful coffee and pastries.
Samsara Garden – In this vegan restaurant, you can enjoy breakfast, lunch, and dinner. Everything is prepared with lots of vegetables or fruits, and there are unique dishes on the menu.
Vida – A cozy restaurant for lunch, dinner, and drinks.
Best Restaurants in San Pedro
Pita Sabij – Here, you can relish Middle Eastern cuisine. The menu includes falafel sandwiches, shawarma (including a vegetarian option), and kebabs. From the terrace, you have a beautiful view of Lake Atitlan.
Sababa Restaurant – In the same street, you'll find this lovely restaurant with delicious local and international cuisine.
The Fifth Dimension – Delicious vegan pizzas!
Best Restaurants in Panajachel
Deli Jasmin – Here, you can dine in a beautiful courtyard with plenty of plants. It's located on the main street in Panajachel, but you won't notice the hustle and bustle in the garden. The menu is extensive, catering to all tastes.
The Little Spoon – This trendy restaurant offers delicious smoothie bowls on its menu, as well as avocado toast, tacos, paninis, burrito bowls, and much more.
Guajimbo's – If you're in the mood for meat, head to this Uruguayan steakhouse.
Where to Stay at Lake Atitlan?
Panajachel is the largest village at Lake Atitlan, but it may not be the most charming place to stay. Therefore, we recommend staying in one of the smaller villages. The most delightful villages are located close to each other on the northeast side of Lake Atitlan. These are Santa Cruz, San Marcos, and San Pedro. You can easily take a boat from one village to another, so it doesn't matter too much which of these villages you choose as your base. In these villages, you'll find some beautiful hotels and cozy hostels where you can enjoy lake views from your room. So, choose your accommodation based on your preferences, and visit the other villages by boat during the day. Below, we recommend the four most charming hostels and hotels in these lovely villages.
Our Favorite Places to Stay Around Lake Atitlan
If you enjoy meeting other travelers during your journey, La Iguana Perdida in the village of Santa Cruz is the place to be! Every evening, they organize a communal dinner, often followed by live music. It's located right on Lake Atitlan, offering breathtaking views. Casa AHAU is perfect for those on a budget who want to stay in the lively San Marcos. The owners are incredibly welcoming and make you feel at home right away. There are many common areas where you can relax, play games, do yoga, or read a book. If you have a bit more budget to spare, it's fantastic to spend a few nights at Atitlan Sunset Lodge. The location is simply fantastic; from your spacious room, you have a phenomenal view of Lake Atitlan and the majestic volcanoes beyond. Hotel La Casa del Mundo is perched on a cliff, and here, too, you'll be treated to a stunning view. There are cozy seating areas everywhere (and a hot tub!) for pure enjoyment. The decor is delightfully authentic with cheerful prints and numerous plants.
| | |
| --- | --- |
| La Iguana Perdida | Casa AHAU |
| Atitlan Sunset Lodge | Hotel La Casa del Mundo |