El Paredon is an upcoming beach destination in Guatemala with an expansive sandy beach and a delightful tranquilo atmosphere. This village is just a two to three-hour drive from Antigua, making it easily accessible during your journey through Guatemala. When I walked around, I got the feeling that the popular coastal towns Santa Teresa in Costa Rica and Puerto Escondido in Mexico must have looked like this in their early years. If you want to experience the charm of this undiscovered village and be able to say you were there when it made its mark on the map, then put El Paredon on your Guatemala travel itinerary! Read all my tips for El Paredon below.
How to Get to El Paredon?
Most people travel to El Paredon from Antigua or Lake Atitlan. Below, find out how to get there from these destinations.
From Antigua to El Paredon
From Antigua, there are direct shuttles to El Paredon. The journey takes about 2 to 3 hours, and you can usually book it at your accommodation. The local chicken bus is cheaper, but you would need to change three times, and it stops frequently, making it a 6-hour journey. If you prefer this option, the route is as follows: Antigua > Escuintla > Puerto San Jose > El Paredon.
From Lake Atitlan to El Paredon
Every day at 13:00, there's a direct bus from Panajachel to El Paredon. The total journey takes 3.5 hours and can often be booked at your accommodation.
What to Do in El Paredon?
El Paredon is primarily a place to relax and enjoy the laidback atmosphere. Besides relaxation, there are certainly some enjoyable activities to do. Below, you'll find my top tips for El Paredon.
(Learn to) Surf in El Paredon
The main reason more and more people are coming to El Paredon: it's a fantastic place to surf. The wide beach offers consistent waves throughout the year, suitable for both beginners and experienced surfers. Especially in the early morning and late afternoon, the waves are calmer and perfect for beginners. You can rent surfboards at almost any hostel or hotel, and lessons are available for those looking to improve their skills.
Release Baby Turtles
Did you know that in Guatemala, turtle eggs are considered an aphrodisiac? The eggs are eaten raw with some pepper, salt, and hot sauce, believed to have libido-boosting effects. It is even legal in Guatemala to poach the eggs, which is detrimental to the population of this endangered species.
El Paredon's beach is a nesting ground for various sea turtle species. One of the most important activities in the village is focused on the conservation of these beautiful creatures, achieved by buying eggs from poachers. This initiative by The Driftwood Surfer Hostel is the best option for protecting the turtles, as long as poaching remains legal in the country. The turtles survive, and the poachers can support their families with the money.
Yearly, more than 60,000 eggs are repurchased here! The eggs are immediately taken to a protected hatchery and buried in the sand, taking about 48 days to hatch. Early in the morning around 6:00, the eggs hatch, and the baby turtles are released immediately to prevent unnecessary energy expenditure. The baby turtles must cover the last 5 meters (16 feet) to the sea themselves to feel the Earth's magnetic field. Turtles always return to the place where they were born, allowing them to find their way back.
If you want to witness this beautiful initiative, you can gather at 5:45 in front of The Driftwood Hostel from mid-September to mid-December or walk directly to the hatchery. You don't need to book anything; just bring some cash for a donation. At 6:00, the baby turtles are released, and you can ask questions to the organization. Do not touch the baby turtles as it reduces their chances of survival. The sight of all those little turtles venturing into the world is something you must see.
Play a Game of Beach Volleyball
On El Paredon beach, besides relaxing and surfing, you can also play a game of beach volleyball in the "front yard" of The Driftwood Surfer Hostel. Especially in the late afternoon, travelers gather here for some fun in the sand. Even if you're not staying at the Driftwood Surfer Hostel, you're welcome to join a game. It's also a great place to watch. Find a spot in the sand, on a bench, or grab one of the hammocks next to the field. When the sun sets, you're in the perfect place to enjoy the sunset. If you'd like to stay longer, you can also sign up for the communal buffet prepared at Driftwood every evening.

Watch the Sunset on El Paredon Beach
The sunset brings almost everyone in the village together on El Paredon beach. Everyone wants to witness this colorful spectacle. The sun doesn't set into the sea all year round but shifts more inland at some point. However, the sky still turns warm colors.
Tip: Another beautiful place to watch the sunset is from Boca Barra. To get there, walk to the river via the main street. There are boats by the river that can take you to Boca Barra.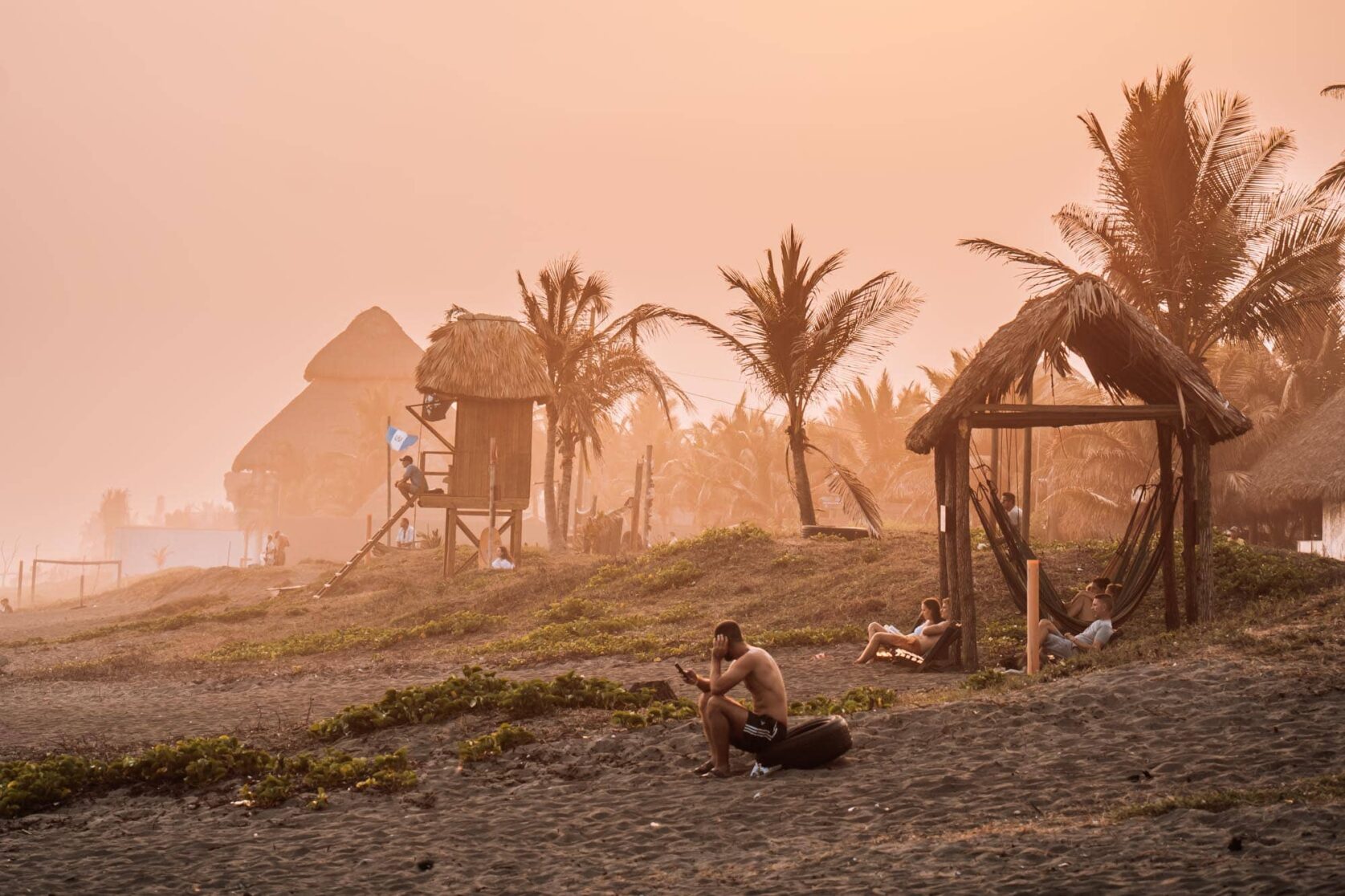 Participate in Activities by La Choza Chula
La Choza Chula is a non-profit organization dedicated to the local community through social and environmental projects. They offer various activities, all led by locals. The proceeds from these activities go towards education, healthcare, and environmental conservation in El Paredon. So, it's a good reason to participate in one or more of their fun activities.
Tip: You can book all the activities I describe below with La Choza Chula.
Create Your Own Bracelet with the Bracelet Making Class
The first thing La Choza Chula started with from their small "shack" (which means choza) was making and selling bracelets. Meanwhile, their store has grown larger, and many more products are offered. Weaving colorful clothing and making jewelry is an important part of Guatemalan culture. Would you like to create your own souvenir? You can take a 1.5-hour class in bracelet knotting. After choosing your colors, you'll learn how to make the knots that give the bracelets their special shape. How fun is it to take home a self-made souvenir!
Stay a Night at a Homestay
Would you like to learn more about the local life of Guatemalans? Then you can also spend a night at a homestay. You'll be welcomed into the home of a local host family, where you become a part of their daily life. It's helpful if you know a few words of Spanish, but even with gestures and signs, you'll quickly learn a lot about life here. You can arrange this with La Choza Chula.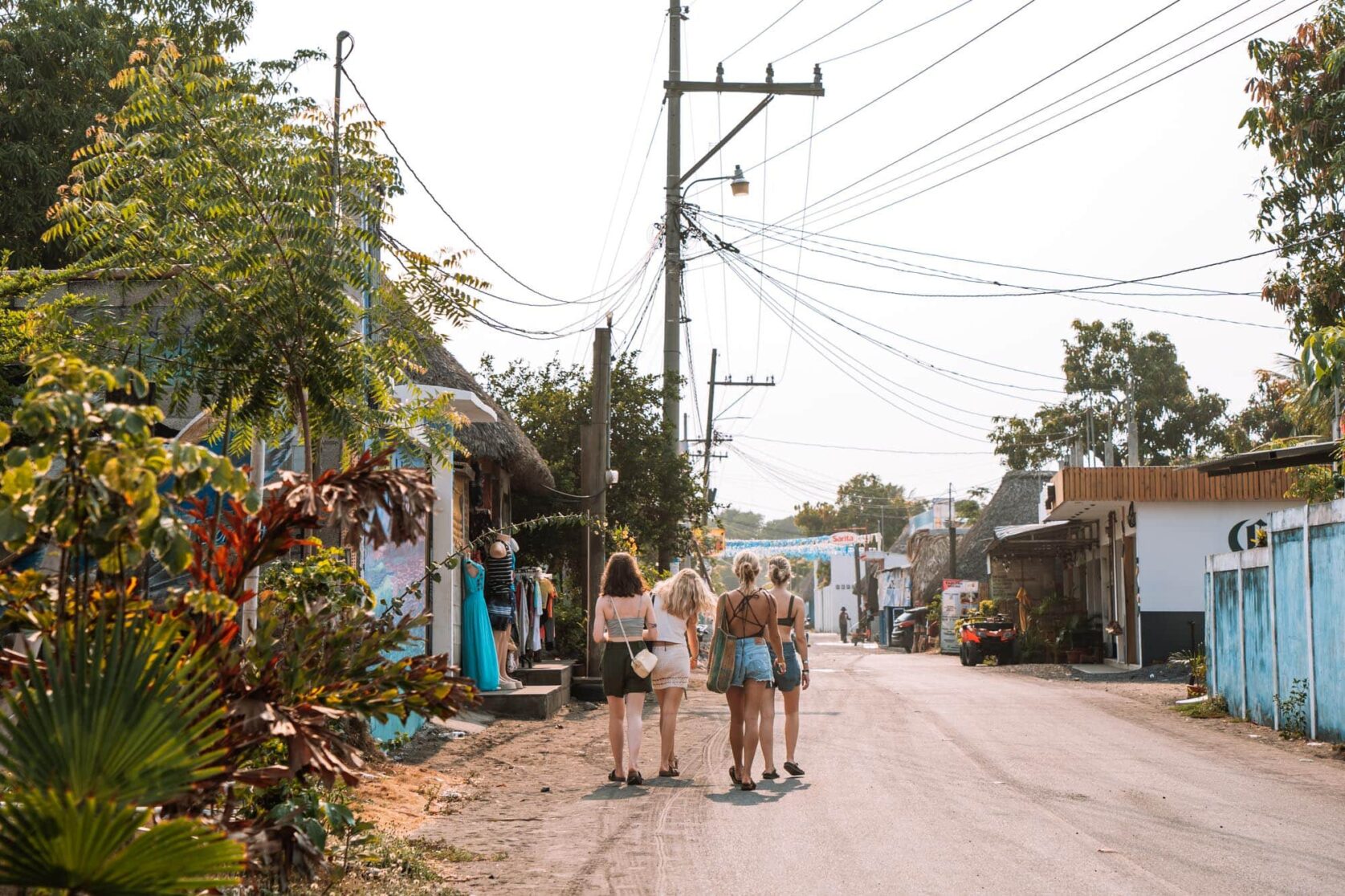 Take a Boat Tour through the Mangroves
El Paredon literally means the wall. This name was given to the village because there is a large sandbank parallel to the ocean for several miles with a river behind it. During high tide, so much saltwater enters the river that sea turtles can live in the river all year round. There are only three rivers in the world like this. It's fun to take a boat tour on the river and through the beautiful mangroves. There's a good chance you'll spot sea turtles! You can also arrange this tour with La Choza Chula.
Experience Guatemalan Cuisine
I took a cooking class at a family's home, and it was a lot of fun! You'll learn how to make tortillas and empanadas from scratch. You'll notice that it takes some practice to get them into their perfect round shape. Along with the salad you'll make, you'll prepare a delicious homemade lunch. And this tour is also offered by La Choza Chula.
Best Restaurants in El Paredon
Despite El Paredon being visited by travelers for only a few years, there are plenty of good restaurants to be found. The following places are worth a visit.
Chef in Flipflops – These chefs come up with a new menu every week, which you can find on their Instagram. They make a celebration out of every dish. Check their opening hours on their Instagram in advance as they may vary.
Soulfood Kitchen – For delicious Indian curries and Thai dishes, this is the place to be.
Driftwood Surfer Hostel – They have a buffet every day, with a different cuisine every night, and non-guests can also join. Sign up on the hostel's list before 3:00 PM.
Banana Surf – For the best coffee, head here.
Pakalolo – You can satisfy your sweet tooth with some super tasty ice cream.
Be Good & Café – You can have breakfast or lunch in a beautiful garden setting. They offer delicious dishes like fruit bowls, croissants, and hummus. Check their opening hours in advance as they may be closed on certain days or hours.
Our Favorite Places to Stay in El Paredon
If you prefer to stay in a social and lively hostel, The Driftwood Surfer Hostel is the right place. It's right on the beach, and there's something fun to do every night, such as game nights, pub quizzes, or a party (which ends at 00:00). You can join a buffet every evening, and there's a nice pool to cool off during the hot hours. If you're looking for a quieter and budget-friendly accommodation, Calypso Cabanas offers simple yet idyllic bungalows made of natural materials. There's a hammock, a lovely outdoor shower, and a comfortable bed. If you want to pamper yourself with a luxury stay, Swell exudes luxury and comfort. The design is amazing, and they serve delicious food in the restaurant.
| | | |
| --- | --- | --- |
| The Driftwood Surfer Hostel | Calypso Cabanas | Swell |