Thailand is one of the most popular long-haul travel destinations. This is of course due to its affordability, but also because of its beautiful islands, relaxed culture, and delicious food. A trip to Thailand is easy to plan on your own, even if you don't have much travel experience. Thailand is very safe and the perfect entry point for exploring Southeast Asia. We have been to Thailand many times and we're here to share our ideal travel itinerary with you. With this itinerary (with tips) for Thailand, you will experience the fascinating Thai culture, relax on the most beautiful tropical beaches, trek through the jungle, and visit ancient temples. In short, it's the perfect mix of everything Thailand has to offer!
Planning Your Route in Thailand
When traveling through Thailand, you will likely want to visit both the north and the south. Bangkok is centrally located and from there, you can go in any direction. We recommend traveling from Bangkok to the north of Thailand first, and then enjoying the islands and beaches in the south. This way, you end your journey with some extra relaxation. Of course, you can also completely rearrange our travel itinerary through Thailand if you prefer a different approach.
Transportation in Thailand
Transportation in Thailand is very well organized. There are special buses for travelers between popular destinations, but regular public transportation is also excellent. You can buy a bus ticket in any hotel or hostel, which includes pick-up at your hotel. You can also book all your transportation online via 12go.asia if you don't want to negotiate and want to be sure of a fair price. In addition, the train connection between Bangkok and Chiang Mai is excellent. You can comfortably travel long distances on the night train. Alternatively, you can choose to take a domestic flight for longer distances. This often costs no more than a few tens of dollars, and AirAsia is one of the cheapest airlines in Thailand. We will mention which mode of transportation we recommend and what the approximate travel time will be for each destination in this travel itinerary.

The 3-4 Week Travel Itinerary for Thailand
If you want to visit both the north and south of Thailand, it's best to allocate at least 3 weeks. If you want to follow our travel itinerary exactly, you should plan for 3.5 to 4 weeks depending on your travel pace. We also have a separate article on each destination on this travel itinerary, where we share all our tips for the best activities, our favorite restaurants, and nice hotels & hostels to stay in. We also share lots of our photos, so you can get a good idea of each destination. This way, you can make a good estimate of how many days you want to spend in each place.
If you need to shorten this travel itinerary, we recommend choosing between the west or east coast. If that's still too difficult, we suggest choosing between Kanchanaburi or Ayutthaya. Please note that upon arrival in Thailand, you will receive a free visa for up to 30 days. If you plan to stay longer, you must apply for a visa before your trip.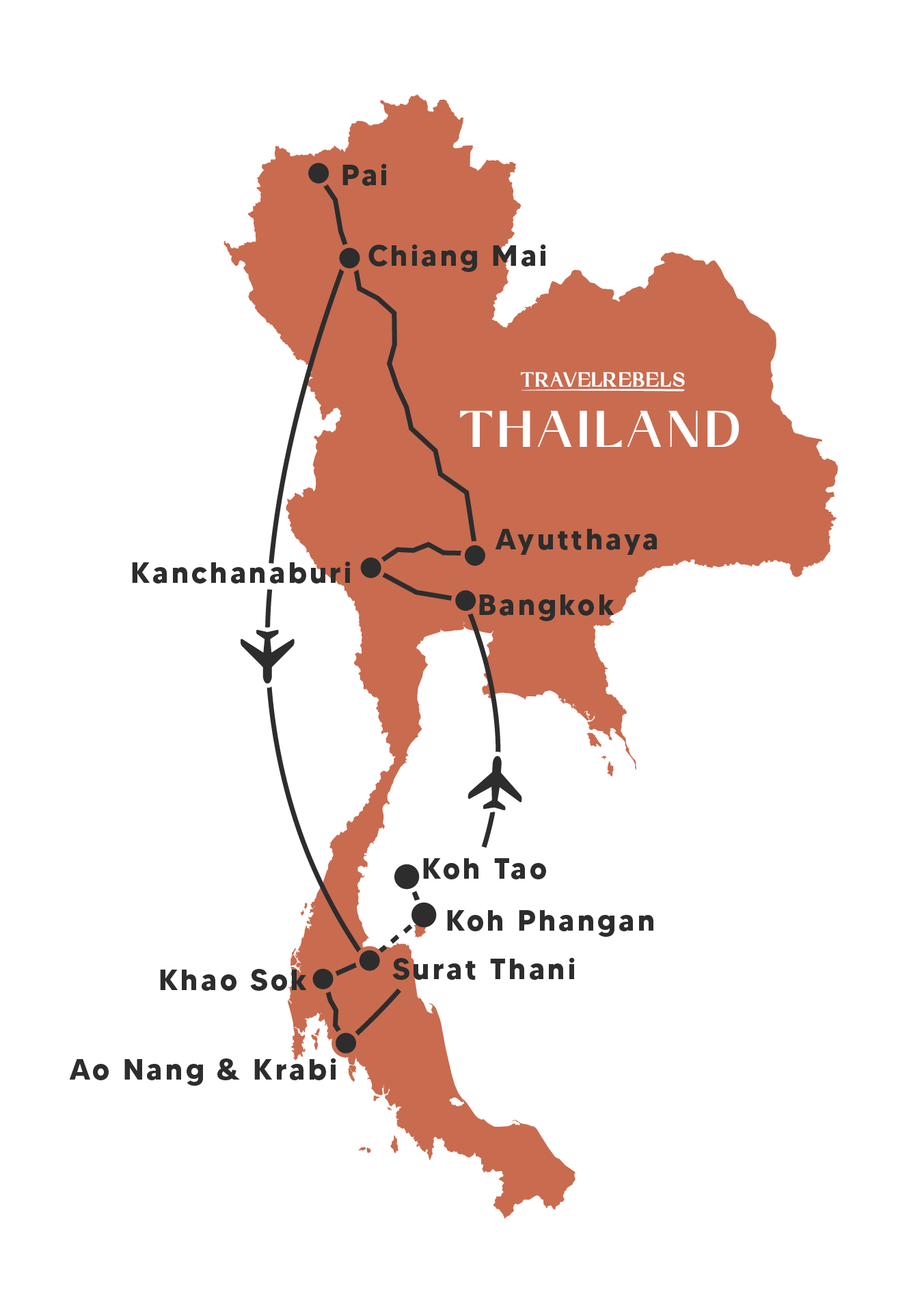 Bangkok
Your journey through Thailand naturally begins in the lively capital city of Bangkok. It's the perfect place to get accustomed to Thai culture, food, and the warm climate for a few days before exploring the rest of Thailand. There are plenty of fun things to do in Bangkok, so be sure to spend some time here before moving on. Explore the busy Chinatown, visit the green suburbs on a bike tour, enjoy a cocktail at a hip rooftop bar, and admire the beautiful temples. You'll definitely be amazed by Bangkok! Check out all of our tips for visiting Bangkok if you're curious about what else there is to do.
Tip: Bangkok is the most heavily visited city in the region, as it serves as the starting and ending point for many travelers exploring Southeast Asia. The best hotels and hostels fill up quickly, so it's a good idea to book your accommodation for the first and last days of your trip as soon as possible (after booking your flight). If you're looking for a fun atmosphere, the Here Hostel is the best choice. They offer both dormitories and double rooms, and the design and atmosphere are fantastic! There are also cozy spots where you can easily meet other travelers, as well as a swimming pool. If you book here, you can cancel for free up to two days before your arrival. If you prefer to stay in a charming Thai-style hotel, the Villa Phra Sumen Bangkok is a nice place with a swimming pool.

Kanchanaburi
After arriving in the city of Bangkok, head to the beautiful Kanchanaburi to learn about Thailand's tumultuous history and visit some impressive sights. A visit to Kanchanaburi offers a perfect mix of history, culture, and nature. Admire the most beautiful temples, climb the Erawan Waterfalls, and visit a museum to learn about the terrible events that took place here. Before going to Kanchanaburi, watch the Oscar-winning movie "The Bridge on the River Kwai" to get a better understanding of what happened here. Check out all our tips for Kanchanaburi to see which places you can't miss.
Travel time from Bangkok to Kanchanaburi: 3 hours by train or 3 hours by bus


Ayutthaya
For 400 years, Ayutthaya was the capital of Thailand until it was heavily attacked by the Burmese in 1767. The city was almost completely destroyed and plundered. The temples were overtaken by the jungle and remained hidden for a long time. Nowadays, there are still many ruins from this bygone era to discover in Ayutthaya. It's fun to rent a bike and spend a day temple hopping. One day is enough to visit the most beautiful temples because you will surely be temple-tired after that. Want to know which temples you can't miss? Check out our article on the most beautiful temples in Ayutthaya.
Travel time from Kanchanaburi to Ayutthaya: 3 hours by minivan
Chiang Mai
From Ayutthaya, take a night train to the north of Thailand to reach Chiang Mai, a wonderful city with plenty to do. You can climb the Sticky Waterfall, zipline through the jungle, or enjoy an evening at a hilarious ladyboy cabaret. The city also has a great atmosphere with many fun night markets, bars, and good restaurants to explore. If you are interested in the best restaurants, hotspots, and attractions, read our tips for Chiang Mai.
Travel time from Ayutthaya to Chiang Mai: about 14 hours by (night) train
Pai
After spending a few days in Chiang Mai, it's time to travel to one of our favorite spots in Thailand. Pai is a lovely small village surrounded by mountains and green rice fields that should definitely be on your Thailand travel itinerary. Rent a scooter and explore the waterfalls, hot springs, viewpoints, and more. Pai is a place where many travelers end up staying longer than they had planned due to the laid-back atmosphere and breathtaking surroundings. There are many great shops in the center of Pai and live music can be found somewhere in the evening. To learn more about what to do in Pai, check out our tips for Pai!
Travel time from Chiang Mai to Pai: 3 hours by bus or 4 to 6 hours by scooter

Koh Tao
Now that you're halfway through your Thailand travel itinerary, it's time for some sun, sea, and sand! Koh Tao is the perfect place to experience an amazing underwater world. Known as one of the best places in the world to get your diving certification due to its low prices and beautiful dive spots, Koh Tao has plenty to offer even if you don't want to dive. Look for hidden beaches where you can snorkel and climb the island's most beautiful viewpoints. Koh Tao may not be a large island, measuring only 7.5 kilometers (4.7 miles) in length and 3.5 kilometers (2.2 miles) in width, but this proximity of its highlights makes it an ideal destination. For more information about these attractions, be sure to check out our tips for Koh Tao.
Travel time from Pai to Koh Tao: Travel from Pai to Chiang Mai and take a flight to Surat Thani. From Surat Thani, take a bus and boat to Koh Tao. Book a bus+boat combination ticket in advance to ensure that the transfers are well-coordinated.
Koh Phangan
An hour's boat ride from Koh Tao is the neighboring island of Koh Phangan. This is a typical bounty island with countless palm trees, white beaches, clear blue water, and something for everyone. From fun beach parties where you can dance until early morning, to escaping the crowds on the beautiful beaches in the quiet part of the island. Koh Phangan is also not as crowded as Koh Samui or Phuket. Read all our tips for Koh Phangan.
Travel time from Koh Tao to Koh Phangan: From Koh Tao, take a boat and you will arrive at Koh Phangan in about one hour.

Khao Sok National Park
After relaxing on the islands, it's time to be active again. According to many, Khao Sok National Park is the most beautiful national park in Thailand, and we agree. It is one of the largest and oldest rainforests in the world, dating back 160 million years! This is the most beautiful place to admire Thailand's jungle. In Khao Sok National Park, you will find the famous Cheow Lan Lake, a reservoir surrounded by limestone cliffs that can reach up to 900 meters (3000 feet) high. You can spend the night in a floating bungalow here, falling asleep to the sounds of the jungle in the background and waking up to a beautiful sunrise. Want to learn more about how to sleep here? Check out all our tips for Khao Sok National Park.
Travel time from Koh Phangan to Khao Sok: This journey takes about 7 hours in total. Buy a boat+bus combination ticket to ensure a smooth journey.
Krabi & Ao Nang
The last destination is perfect for ending your Thailand travel itinerary. In the province of Krabi, you will find the coastal town of Ao Nang, from where you can visit all kinds of beautiful places. You can spend a day island hopping and visit the most beautiful uninhabited islands, hike to spectacular viewpoints, or just relax on the beach. The surroundings and attractions of Ao Nang are amazing! Be sure to check out our tips for Krabi and Ao Nang to get a good idea of what this place has to offer.
Travel time from Khao Sok to Krabi & Ao Nang: 5 hours by minivan.

Back to Bangkok
The Thailand travel itinerary comes to an end. It's always nice to plan one more day in Bangkok for some shopping or to relax by the pool before flying back home.
Travel time from Krabi to Bangkok: 1.5-hour flight or approximately 13 hours by bus.
Our favorite places to stay in Thailand
Do you want to sleep in the most beautiful hotels or the most cozy hostels during your trip through Thailand? We always look for the most fun hotels and hostels and have listed our favorites for Thailand. These are all special places where you will definitely have a great time! Check out our tips for unique accommodations in Thailand.