If you're planning a road trip through South Africa, you're probably looking for practical tips, beautiful places, and unique activities. We have created the ultimate travel itinerary for South Africa, where safaris, activities, and scenic stops complement each other, ensuring you get the authentic South African experience. You'll get a taste of South African culture, visit vibrant Cape Town, go on various safaris, and explore the most beautiful beaches in South Africa!


How many weeks do you need for this travel itinerary?
To complete this entire travel itinerary, you'll need about 3 weeks. If you have less time, we recommend skipping the Garden Route portion, which will save you approximately 1 week. If you want to spend extra days in Cape Town due to its many attractions, plan for about 3.5 weeks for this route.

Travel direction and transportation in South Africa
By far, most people travel from Johannesburg to Cape Town or vice versa. In our opinion, starting in Johannesburg is the best option because Cape Town is more enjoyable, allowing you to relax and unwind at the end of your journey. Bustling Cape Town offers a delightful cultural mix, with mountains and beautiful beaches for escaping the city. Almost everyone travels through South Africa by renting a car, which we consider essential. Before renting a car, be sure to read our tips for renting and driving a car in South Africa.
The ideal travel itinerary for South Africa in 3 to 4 weeks
Below you'll find the map of South Africa with the recommended travel itinerary. To give you a good idea of the destinations, we'll provide information about the attractions in each destination. If you want to know exactly what to do and get a better impression of a specific destination, you can click through to the corresponding article. For each destination on this travel itinerary, we've written a separate article with our best tips for attractions, activities, great restaurants, and unique hotels.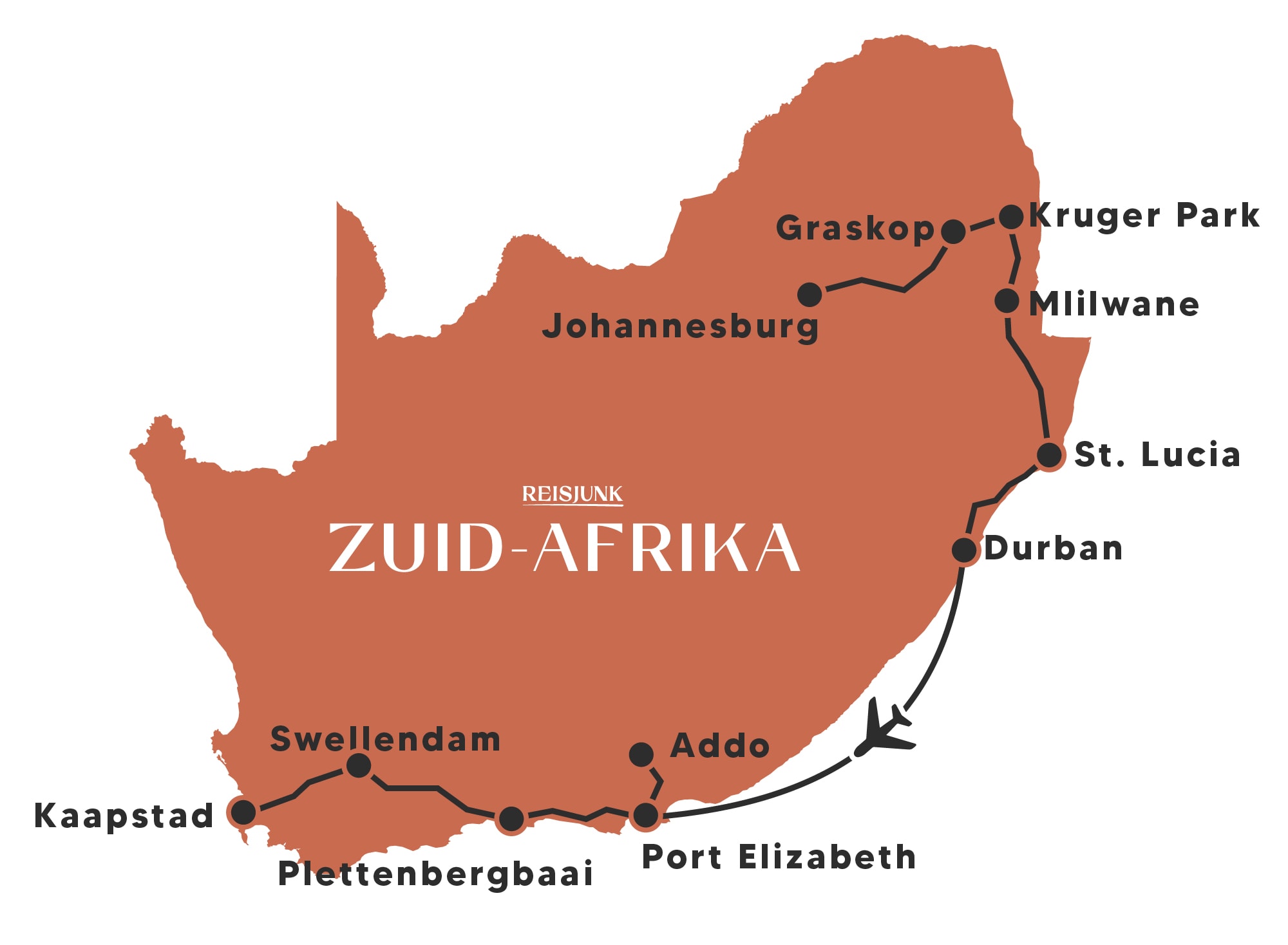 Johannesburg
Your journey through South Africa begins in Johannesburg, which unfortunately is also the least safe destination on the itinerary. Therefore, it is not recommended to venture into the city, but of course, it's still nice to spend a night here and recover from the flight before continuing your journey. Before COVID, Maboneng was an up-and-coming neighborhood, and many websites still describe it as a fun and safe area. However, during COVID, the neighborhood has deteriorated and has not recovered. So, it is NOT recommended to stay here. For a relaxed and secure start to your trip, we recommend the hotel below.
Tip: Do you have an early or late flight? Then it's nice to stay close to the airport. Premier Hotel O.R. Tambo is the best hotel located right next to the airport. Here you will sleep in a comfortable room, there is a swimming pool and in the morning you can sit down for a delicious, extensive breakfast buffet. This is perfect if you want to travel straight through the next day and don't feel like going all the way to Johannesburg.

Graskop and the Panorama Route
From Johannesburg, it's about a 5-hour drive to Graskop. This town is the perfect base for exploring the Panorama Route and is also conveniently located near Kruger National Park. The Panorama Route is known as one of the most beautiful routes in South Africa, and you only need a day to see everything. The route itself is enjoyable, but it's the beautiful stops along the way that will surprise you. On the drive from Johannesburg to Graskop, you can already visit two stops: Lone Creek Falls and Mac Mac Falls, both beautiful waterfalls. The next day, you have about 60 kilometers (37 miles) to drive, with numerous stops featuring waterfalls and viewpoints. Also, check out our article on the most beautiful stops on the Panorama Route.


Krugerpark
You've just arrived in South Africa, but it's already time for the next highlight of your trip: a safari in Kruger National Park! Kruger Park is half the size of the Netherlands and is famous for its diverse wildlife. There's a good chance that you won't see as many animals anywhere else in South Africa as you will here. There are various options to visit Kruger Park, and it takes some research to decide what kind of safaris you want to experience, how many days you want to allocate, and where to stay. To make it easier for you, we have written an article with tips for visiting Kruger National Park. There, you'll find essential information and details about the different possibilities.


Swaziland (Mlilwane)
A visit to Swaziland is a nice addition to your trip. You'll pass through Swaziland on your way to the south, and it's even shorter to drive through Swaziland than to go around it. It's incredibly enjoyable to spend one or two nights at Mlilwane Wildlife Sanctuary. This is not just an ordinary lodge; it's truly unique. It is located in the middle of a national park, and you can stay in traditional huts or luxury houses with fantastic views. Animals like zebras and warthogs (Pumbas) roam around your accommodation. In the evening, you can relax by the campfire, and during the day, you can enjoy activities such as cycling through the national park. There are no dangerous animals here, and it's very enjoyable to spot zebras, monkeys, and impalas while biking. We stayed there for one night, cycled in the morning, and then continued our journey. Keep in mind that for this accommodation, it's important to book well in advance to secure your spot because it's quite popular.

St. Lucia
After all the impressions of the past week and covering a considerable distance, it's wonderful to spend a few days in one place and take it easy. St. Lucia is the perfect destination for that. This village is a green oasis tucked between a river and the ocean. There's plenty to do, and you can also enjoy a day at the beach. What makes St. Lucia unique is that nowhere else in the world can youget as close to hippos as here. Sometimes, they even walk through the streets of the village in search of fresh grass. Curious about all the things you can do there? Check out our tips for St. Lucia.

Flight from Durban to Port Elizabeth
Once you're fully rested in St. Lucia, you have two options. If you have the time, you can fly from Durban to Port Elizabeth and drive along the Garden Route to Cape Town. If you have less time, you can fly directly from Durban to Cape Town and skip the Garden Route.
The Garden Route
The Garden Route starts in Addo and takes you along the coast, passing through beautiful towns, beaches, and national parks on your way to Cape Town. You'll need about 6 days for the Garden Route to see everything without rushing. Some highlights include snorkeling with seals, expansive beaches, hiking in national parks, and a safari in Addo Elephant Park where you can spot large herds of elephants. There's so much to see that it's too much to describe here. Therefore, it's better to read our article about the most beautiful stops on the Garden Route to decide if you want to include it in your trip through South Africa.



Cape Town
Your journey ends in the most exciting city in South Africa. Cape Town is our favorite city in the world, primarily because there's so much to do and see. We recommend spending at least 6 days there, but more is certainly advisable. Take a helicopter ride and see Cape Town from the air, hike up Table Mountain, and explore the most beautiful botanical garden you've ever seen. Check out our article on what to do in Cape Town and end your trip with unforgettable experiences!

Our Favorite Places to Stay in South Africa
If you've used our website before, you know that we always look for unique accommodations to make your trip extra special and provide great value for your money. In South Africa, we've discovered many hidden gems that we'd love to share with you. Check out our list of favorite places to stay in South Africa for a selection of hotels, guesthouses, and lodges that will make your trip unforgettable.