If you want to experience South America, then Peru is the perfect destination for you. A trip through Peru will take you to colonial cities, bustling local markets, the rugged Andes Mountains, vast desert landscapes, and villages where time seems to stand still. Add to that the famous highlights such as Machu Picchu, Rainbow Mountain, and the mysterious Nazca lines, and you'll understand why Peru is on the bucket list of many travelers. We have been to Peru multiple times and created the ultimate travel itinerary based on our experiences, which will take you to the most beautiful places in Peru. It's a fantastic journey where you will taste the diversity of Peru every day!
How many weeks do you need for Peru?
Unless you have two months, you will have to make choices because Peru is a very large country, and you can't see everything. We traveled the below itinerary for Peru in 3.5 weeks. If you want to take it a bit slower, it can be nice to plan for 4 weeks. Don't go overboard and try to add more because the distances in Peru are significant, and even with our itinerary, you'll spend a lot of time on the bus. That's just unavoidable in Peru. Fortunately, the buses are very luxurious!


Transportation for this itinerary through Peru
Due to the long distances, renting a car in Peru is not recommended. The buses in Peru are incredibly luxurious with large seats, Wi-Fi, and even a screen like on a plane. The bus is, therefore, the ideal way to get around in Peru. Some websites recommend the hop-on-hop-off bus company Peru Hop, but it's always more expensive. Besides, not all routes are included, such as those to Huaraz and the Colca Canyon. It's much better to book your bus rides in advance via Bookaway.com. Here, you can easily compare prices and schedules of different bus companies and reserve your rides.

The ideal itinerary for Peru in 3 to 4 weeks
Below you will find the map of Peru with the travel itinerary that we can recommend to everyone. To get a good idea of the destinations, you can read more about these places later on, such as what to do or see there. If you want to know more about a specific destination, you can click through to the article about it. We have written a separate article for every destination on the itinerary with our best tips for the sights, activities, good restaurants, and our favorite hostels and hotels. This way, you will get a good idea of what to do and then decide for yourself how many days you want to stay.
Lima
A trip through Peru almost always starts in Lima unless you enter Peru from a neighboring country. Unfortunately, this is not a very exciting city, but there is plenty to do to recover from your flight for a day. During the day, visit the colorful Barranco district to spot the best street art and have a delicious dinner at Panchita in the evening. Order a Lomo Saltado and get acquainted with Peruvian cuisine on your first day. For more fun things to do, you can read our article with tips for Lima.
The safest district to stay in Lima is Miraflores. Here you will find many restaurants, shops, and hotels. We found Selina Miraflores a very nice base for Lima. A lot of attention has been paid to the design, and there are cozy places to sit in the evening. They have very beautiful and luxurious double rooms, but also a nice dorm and simpler double rooms. So there is something beautiful here for every type of traveler. It's quite popular, so it's wise to book your accommodation as soon as possible after booking your plane tickets. When you book here, you can cancel for free up to 3 days in advance. Quite handy!

Huacachina
After a day in Lima, you jump on the bus to Ica and from there it's only 10 minutes by taxi to the oasis village of Huacachina. The oasis is surrounded by huge sand dunes, and if you leave Lima at 09:00, you can go sandboarding and racing through the dunes that same afternoon! Book a tour as soon as you arrive at your hotel in Huacachina because the buggies leave for the desert at 16:00. These futuristic vehicles race through the desert at high speeds, and before you know it, you are standing on top of a huge sand dune. You put your board with the tip over the edge and lie on your stomach while holding the ropes at the top of the board. You get a push to come over the edge and then slide down at high speed.
If you're a bit less adventurous, you can also climb the sand dune on the edge of the village and watch the sunset from here. The view is fantastic! Want to know what else to do in Huacachina? Check out all our tips for Huacachina.
Travel time: The bus ride from Lima to Ica takes 4.5 hours, and then it's another 10 minutes by taxi to Huacachina.

Day Trips: Nazca and Paracas
Nazca and/or Paracas are often on the itinerary of many travelers to Peru. While both are definitely worth a visit during your trip, they are not worth staying overnight. That's why you should visit either one of these places as a day trip from Huacachina. In Nazca, you'll find the Nazca Lines. These dozens of gigantic figures of animals, insects, spirals, and triangles are only visible from the air. That's why you can take a flight over the Nazca Lines. Check out our tips for a flight over the Nazca Lines before you go. In Paracas, you can take a boat tour to the stunning Ballestas Islands, which are part of the Paracas National Park. This protected nature reserve is a safe haven for animals like sea lions, penguins, Peruvian boobies, and pelicans. The boats depart at 08:00 and 10:00.
Travel time: From Huacachina, take a taxi for 15 minutes to Ica. From Ica, take the bus and it takes 3.5 hours to Nazca or 1.5 hours to Paracas.
Arequipa
Arequipa, also known as the White City, is one of the most beautiful cities in Peru. This colonial city is called the White City because most buildings are made of silvery-white sillar, a volcanic rock ejected by the Misti volcano. From Arequipa, you can see this snowy volcano. The sun shines almost always in Arequipa, it rarely rains and it's usually around 23°C during the day. That's great because many other destinations in Peru are much cooler! It's a nice city to acclimate to the altitude before heading into the mountains. Here you can read about what to do in Arequipa.
Travel time: Take a taxi to Ica and then the bus to Arequipa. This is a long 13-hour trip, so it's nice to take the luxury night bus that departs between 8 pm and 10 pm.

Skip: Puno / Titicaca Lake
During our first trip to Peru, we visited the town of Puno, the base for a visit to Lake Titicaca. Here you can find the floating villages of the Quechua and Uros Indians. It sounds interesting, but we found it extremely disappointing. It's extremely touristy and mainly a kind of bland show they put on for tourists. It felt anything but authentic and, in our opinion, not worth traveling to.

Colca Canyon
After a day or two to acclimate to the altitude, it's time for your first trek. The Colca Canyon is the second deepest canyon in the world and here you can taste the real Peruvian culture. Life in the villages is wonderfully authentic and it seems like time has stood still here. We did an incredibly beautiful trek here where you come across the most beautiful landscapes and relax in the hot springs down in the canyon. Here you stay in a simple cottage by the river, right in the middle of the Colca Canyon. Curious about this trek? Read all about this amazing trek through the Colca Canyon.
Travel time: From Arequipa, it's a 6-hour bus ride and Reyna, Milagros, and Andalucia are the bus companies with a direct connection. You cannot order tickets online, but you have to buy them at the bus station in Arequipa.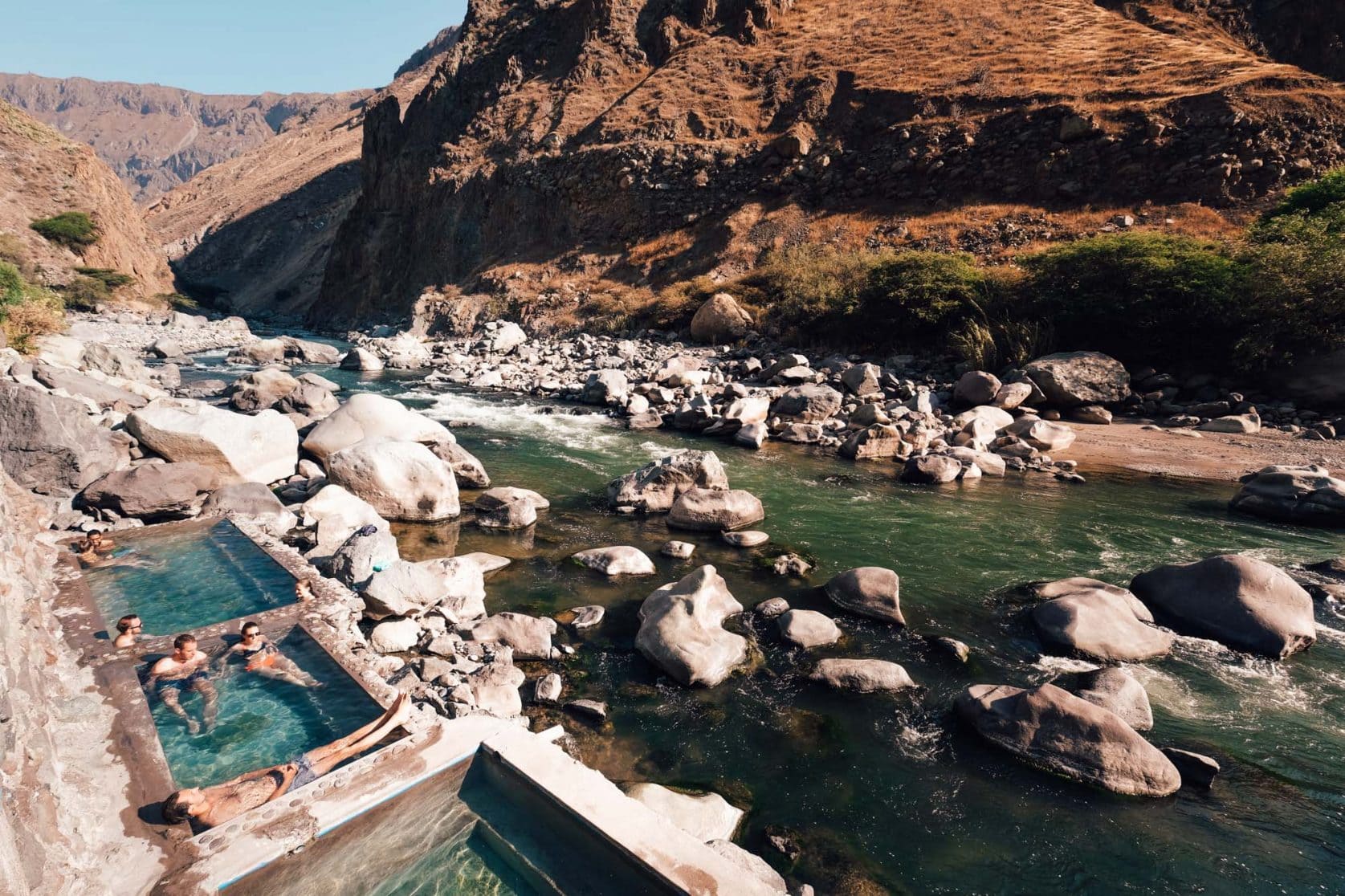 Cusco
After all that traveling, it's time to stay in one place for a bit longer, and there's no better place to do that in Peru than in Cusco. This ancient city has a rich history and many cozy spots. If you feel like being active, you can make all kinds of great day trips from here, such as to the Rainbow Mountain, the salt terraces of Maras, or Humantay Lake. If you're in the mood to take it easy and explore the city, there's also plenty to do in Cusco itself. Check out our tips for Cusco for more information.
Travel time: The bus ride from the Colca Canyon to Cusco takes 9 hours. Read more about this trip at #9 in the article on tips for the Colca Canyon because this trip is different from other bus trips.
Machu Picchu
When you think of Peru, you think of Machu Picchu. This ancient Inca city is almost 600 years old and is located atop a huge mountain, in the middle of the jungle. You can get there by making an awesome multi-day trek or by taking the train to the village of Aguas Calientes. If you take the train, it's a good idea to stay overnight in Aguas Calientes so that you can see Machu Picchu at sunrise the next day. This is a fantastic experience because there are 10 times fewer tourists and the light is fantastic. When visiting Machu Picchu, there are a number of things to keep in mind. That's why we wrote a comprehensive article about everything you need to know before going to Machu Picchu.
Travel time: Four-day trek or 1 hour by taxi or bus to Ollantaytambo and then another 1.5 hours by train to Aguas Calientes. From there, it's another 20 minutes by bus to the entrance of Machu Picchu.

Huaraz
This is our favorite destination in all of Peru, mainly because of the breathtaking scenery! Whether you're an experienced hiker or have never done a trek before, there are beautiful hikes for everyone here. You are surrounded by snow-capped peaks and between the mountains, you will find the bluest glacier lakes. It's a bit of a detour to get here, but it's well worth it. A day hike that you absolutely can't miss is the Panorama Hike to Laguna 69. Learn more about Huaraz and the treks you can do here in our article with tips for Huaraz.
Travel time: The flight from Cusco to Lima takes 1.5 hours. Then you can take a day or night bus to Huaraz, which is an 8-hour ride.


Our favorite places to stay in Peru
During our travels through Peru, we searched for the nicest hostels and hotels to stay in. For each destination, we've listed these cool accommodations, and there's something for every budget. These are places that will make your trip through Peru even more enjoyable and comfortable. Here you can find our favorite places to stay in Peru!