Panama is one of the most beautiful countries in Central America. Here you can enjoy white sandy beaches with crystal clear water, spot wildlife in lush rainforests, surf perfect waves, and explore the lively Panama City. The locals are friendly, and they are quite laid back. What more could you ask for on a trip? Our diverse travel route for Panama ensures that you visit the best places, stay in the finest accommodations, and don't miss a thing. With our tips, you can plan your trip through Panama in no time.
Transportation for this Panama itinerary
When it comes to transportation, there are two options for traveling in Panama: public transport or renting a car for a road trip. While public transport can take you to all the destinations on our itinerary, some places may require four to five bus transfers. If you have the option, we recommend renting a car for part of your trip. With a rental car, you can easily visit destinations that are harder to reach, and for the remaining parts of your itinerary, you can take the bus. Check out our tips for renting and driving a car in Panama to determine which parts of your trip a rental car would be helpful for.

How many weeks do you need for this itinerary?
Whether you have two, three, or four weeks to explore Panama, our route is easily adjustable, allowing you to skip one or more destinations. However, if you're keen on following our entire travel route, we recommend taking at least three weeks to cover it. Adding a few extra days or even a week is highly recommended if you have the opportunity, giving you ample time to explore each destination. Below, we've briefly described all the travel destinations on our route, but feel free to click through to the article about a specific destination to learn how to get there, what there is to do, and our tips for good restaurants and accommodations. This way, you can get a good idea of each destination and decide for yourself how many days you want to spend at each one.
Tip: Do you want or need to shorten this itinerary? Then as a first step, we would skip the San Blas islands because you already need two travel days for them, apart from the days you would spend there. If you still need to skip something, we recommend choosing between Playa Venao or Santa Catalina.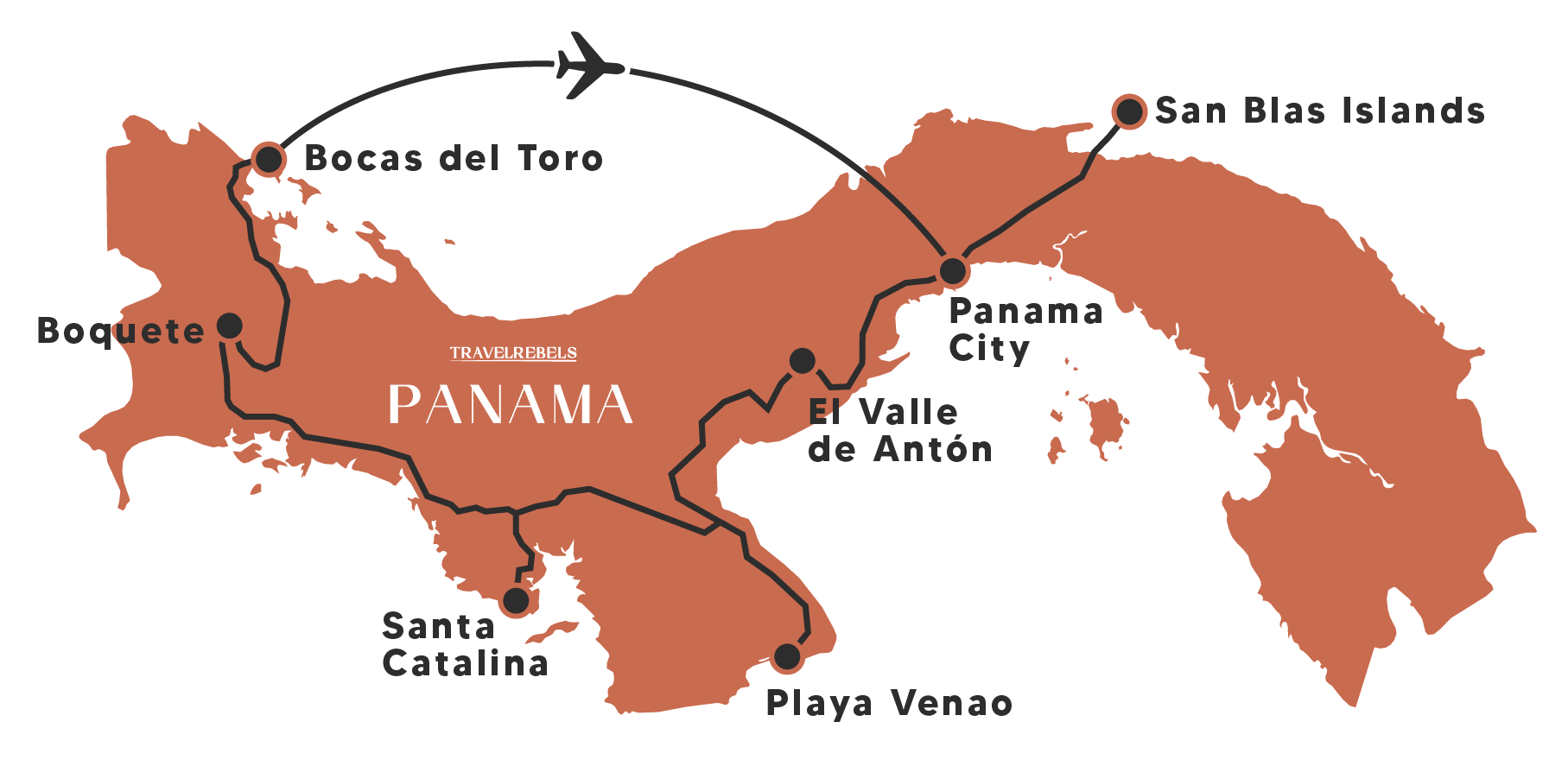 Panama City
Panama City is an excellent starting point. Unlike many other capital cities in Central America, Panama City is a nice place to begin your trip. It's modern, safe, and offers plenty of interesting sights to explore while adjusting to the time difference and tropical temperatures. On your first day in Panama, take a stroll through the small rainforest of the Metropolitan Natural Park where you can spot coatis, sloths, and other wildlife. Then, visit the fish market to try some delicious ceviche. Of course, a visit to the Panama Canal is a must-do, and you can end your day at one of the rooftop bars with a view of the Panama City skyline. Check out our article with things to do in Panama City to learn about other exciting activities to do while you're there.

San Blas islands
If you have the time and budget, be sure to visit the San Blas Islands. This archipelago comprises 357 tiny islands that are part of the Kuna Indians' territory. Only about 50 of the islands are inhabited, so most of them have nothing more than a few palm trees. On the San Blas Islands, you can enjoy activities such as snorkeling, sailing, kayaking, and drinks by the campfire. However, visiting the San Blas Islands requires some planning and it is not cheap. Read all our tips for visiting the San Blas Islands to learn more about this beautiful destination.

El Valle de Anton
El Valle de Anton is a charming mountain village in the heart of an extinct volcano crater, located just a two-hour drive from Panama City. The old crater edges from rolling green hills, offering beautiful hiking trails that have stunning views. If you're still in your home country's time zone, make sure to wake up early and catch the sunrise from one of the mountain tops. After a morning of hiking, unwind in the hot springs and explore the butterfly garden, where you can spot colorful butterflies. Our article with things to do in El Valle de Anton describes several hikes to choose from, including the most beautiful ones.

Playa Venao
The next destination on our itinerary is the small coastal town of Playa Venao. It's the atmosphere that draws many travelers here, especially in the evening when there's always a party somewhere, and you can dance under the clear starry sky with your feet in the sand. Apart from that, you can indulge in activities such as surfing, yoga, horseback riding on the beach, and taking refreshing dips in the sea at Playa Venao. To learn more about the various hotspots, check out our article with the best things to do in Playa Venao.
Santa Catalina
Santa Catalina is an up and coming travel destination in Panama. This small fishing village offers some of the best surf spots in Central America and serves as the perfect place to relax while getting ready for a visit to the Coiba National Park, which has a rich underwater world. While diving or snorkeling, you can encounter turtles, sharks, rays, whales, and even whale sharks. The island's beaches are pure white, adorned with swaying palm trees. Make sure to plan a day trip to Coiba National Park when visiting Santa Catalina. To learn more about other exciting activities in Santa Catalina, check out our article with things to do in Santa Catalina.


Boquete
After the laid-back beach destinations, the route continues towards Boquete, where you can explore the rich jungle of Panama. It's time for some action after all those cocktails on the beach. Hike through the rainforest to various waterfalls, where you'll come across some of the most extraordinary tropical plants. With a bit of luck, you might even spot a quetzal, considered to be the most beautiful bird in the world. Boquete is a paradise for nature lovers. In addition to several beautiful hikes, you can also visit a coffee plantation or go do other outdoor activities such as rafting, zip-lining, or bouldering. Check out our article with the best things to do in Boquete to get an overview of the most beautiful hikes and activities.
Bocas del Toro
We've arrived at the last destination of our Panama itinerary. Fortunately, Bocas del Toro offers the perfect opportunity to unwind before heading back to Panama City. This beautiful archipelago has a range of islands where you can spend your final days. Choose a beachfront villa to relax and soak up the sun, or explore the lively scene on the main island of Colón. Bocas del Toro truly has something for everyone – whether you're biking to secluded beaches, searching for red poison dart frogs in the jungle, or sipping cocktails at a floating bar. Be sure to check out our article with things to do in Bocas del Toro to discover more about the many islands.
Our favorite places to stay in Panama
We've had the pleasure of visiting Panama twice and have searched the country for the best places to stay. Whether you're seeking a cozy hostel, a beachfront bungalow, or a beautiful eco-lodge hidden in the jungle, we've found some amazing options for every type of traveler. Check out our comprehensive guide with the most beautiful hotels in Panama! These accommodations offer both lovely double rooms and the option to stay in a dormitory.