Want to experience the ultimate vacation vibes in Panama? Then be sure to stay a few nights at Bambuda Lodge in Bocas del Toro. This awesome spot on the water is beloved for its unique location, social atmosphere, and relaxing tranquillo vibe. Float on an inner tube with a piña colada in hand, or take a plunge into the sea via the 45-meter-long jungle slide. Hop on a kayak or stand-up paddleboard to explore the waters around the island, or catch the magical sunset from the pier. Staying at Bambuda Lodge is an experience in itself and a must-do in Panama!
What makes Bambuda Lodge special?
Bambuda Lodge is an eco-friendly lodging that combines the features of a boutique hotel with the warmth of a hostel. It boasts a seaside location in the front and a jungle in the back, allowing you to enjoy all that nature has to offer. The surroundings are stunning, with a variety of flowers, hummingbirds, and occasional sloths or monkeys. In the evening, you can watch the sun sink into the sea from the pool. What more could you ask for?

De locatie van Bambuda Lodge
Bambuda Lodge is located on Isla Solarte, which is a part of the Bocas del Toro archipelago in the northwest of Panama. This Caribbean island is just a five-minute boat ride away from Bocas Town on the main island of Isla Colón. Isla Solarte only has a handful of other lodges and is entirely surrounded by jungle. Bambuda Lodge is situated right on the water, with no roads, only walking paths. It's a fantastic place to explore the jungle or take a dip in the water.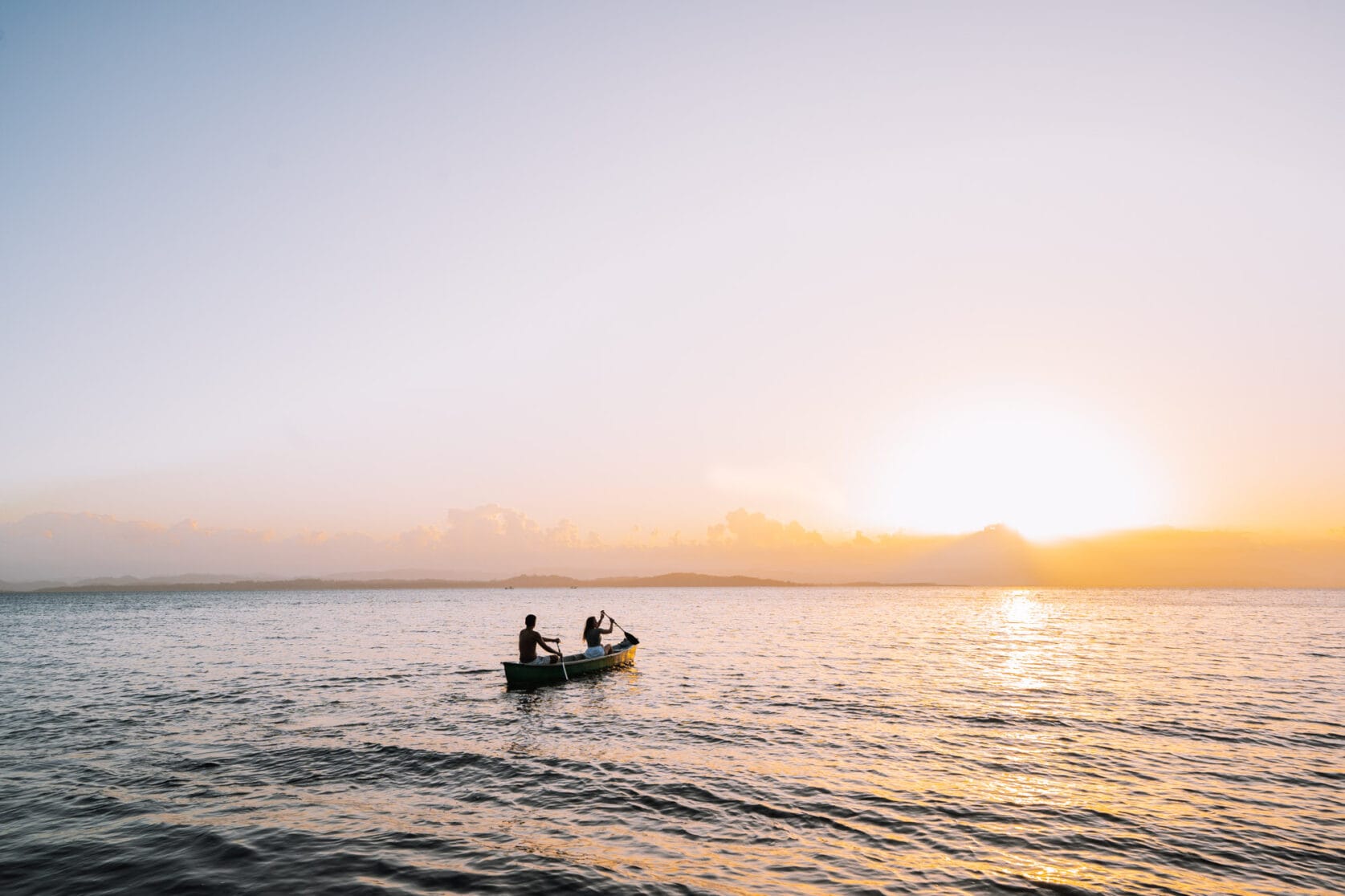 The swimming pool of Bambuda Lodge
The lodge's main attraction is a large pool overlooking the sea, and it's a delightful place to spend your time. You can play volleyball, float on a rubber band, or relax on a lounge chair. For some extra water fun and excitement, you can slide down the unique 45-meter water slide straight from the restaurant into the ocean. You won't be bored here for a moment.
The restaurant of Bambuda Lodge
Staying on an island can make it difficult to find restaurants nearby. Luckily, the restaurant at Bambuda Lodge serves delicious food, including breakfast, lunch, and pool snacks. The staff takes great care of you while you relax by the pool, ensuring you have a great time.
Join the family dinner
During your stay at Bambuda Lodge, you can join the communal dinner every evening. You can choose from several different dishes that always include a meat, fish, and vegetarian option. After the sun sets, everyone eats together on the veranda, which is a great opportunity to mingle with others and share travel stories.
Hike to Hospital Point
At Bambuda Lodge, there's a daily organized jungle hike to Hospital Point. You can wear rubber boots or go barefoot as you make your way through the jungle. You'll see a lot of the jungle and can even spot red poison dart frogs along the way. The trail can be quite muddy, which makes it a fun experience. It feels like a bit of survival. When you reach the other side of the island, you can snorkel a bit before a boat picks you up and takes you back to Bambuda Lodge.
Tip: Bambuda Lodge provides boots, which you really need. Be on time to choose your size because there may not be enough for everyone. Better a size too big than nothing because otherwise, you'll have to walk barefoot.
How to get to Bambuda Lodge?
Bambuda Lodge is located on Isla Solarte island. To get there from Bocas del Toro, you can take a ferry from Almirante to the main island, Isla Colón, which takes about 30 minutes. From there, you can take a taxi boat directly to Isla Solarte for an additional fee. The ride only takes five minutes, and you'll arrive at Bambuda Lodge, where you'll feel like you're in a completely different world. However, keep in mind that you can only visit if you're actually staying there. It's not possible to come for just a day of relaxation.
The different types of rooms at Bambuda Lodge
Bambuda Lodge offers a variety of rooms to suit every budget. If you're on a tight budget, you can choose a dormitory or a private room with a shared or private bathroom. If you have a bit more money to spend, it's fantastic to book a jungle hut or canopy room. You can relax on your own veranda in a hammock and maybe even be joined by a curious monkey. All the rooms at Bambuda Lodge are surrounded by jungle, so you're guaranteed to wake up to the sound of birdsong and a distant howler monkey.
Make sure to book your stay at Bambuda Lodge in advance
Excited about the idea of chilling in the pool here? Make sure to book your stay at Bambuda Lodge in advance, as it's a highly popular spot. If you want to stay in one of the cheaper rooms, booking early is a must.