During a tour of Oman, you will experience authentic Eastern charm wrapped in a modern package, complete with Western comforts. You'll get acquainted with Arabian traditions and cultures while visiting the most remarkable places. You can walk at an elevation of 2000 meters (6561 feet) above the clouds, visit ancient castles, tear through the vast desert, and swim through turquoise waters in wadis. Planning a trip through Oman is incredibly easy to do on your own. Here we share our tips and a travel itinerary that will let you savor the diversity of Oman!


Transportation for this travel itinerary through Oman
Oman is an extremely safe, wealthy, and developed country, making independent travel here a breeze. Public transportation is limited, which is why almost every traveler here rents a car. This gives you all the freedom you need to explore Oman thoroughly. The roads are very well-maintained, the traffic is quite calm, and gas is not that expensive. Before you rent a car, it would be useful to first read our tips for renting and driving a car in Oman.
How many days do you need for this travel itinerary?
Although Oman is quite small, you don't need a lot of time to explore the country. Most attractions are located in the north, and due to the excellent infrastructure, travel is quick. Oman is therefore an ideal destination for a shorter round trip that still immerses you in an entirely different world. You will need about 9 days for our itinerary. The map below indicates the places where you will stay. Further in the text, you'll learn more about these places as well as all the beautiful stops you can make along the way. You will visit many more stunning places en route!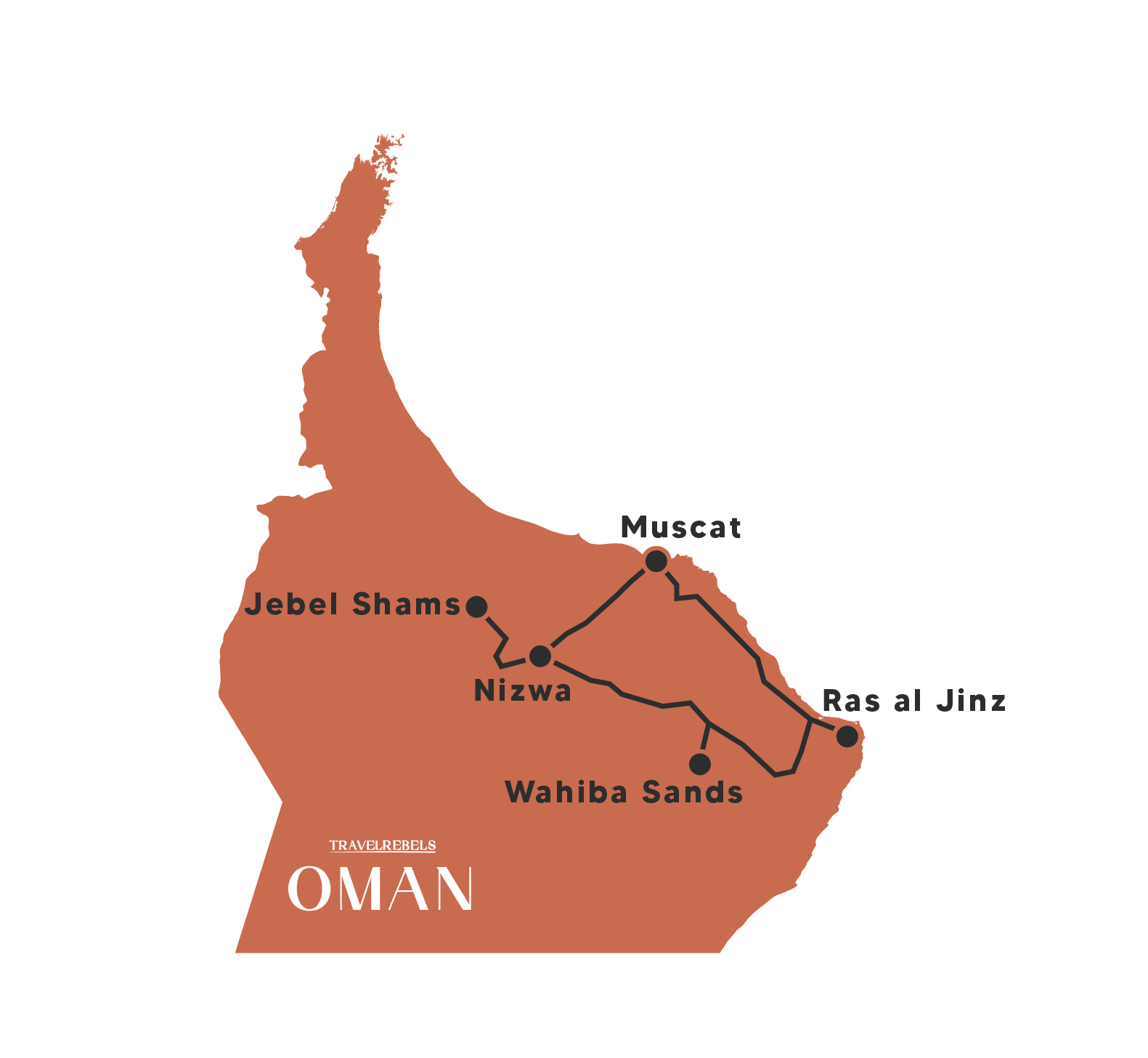 Muscat
Your journey through Oman begins in the capital, Muscat, which is the perfect place to familiarize yourself with the country. Because of the many white buildings, Muscat is also known as the 'white city'. You can leisurely stroll along the boulevard or through the souks, but the absolute highlight is a visit to the Sultan Qaboos Grand Mosque. This massive mosque, which can accommodate 20,000 people praying simultaneously, immediately demonstrates the country's wealth. It took a full six years to build the mosque, and only the finest materials were used, such as marble from Italy, stained glass from France, and a gigantic chandelier made of Swarovski crystal. The mosque also houses one of the largest Persian carpets in the world, measuring 60 by 70 meters (196 by 229 feet). Are you curious about what else there is to do in Muscat? Then check out our tips for Muscat.
Jebel Shams and the Balcony Walk
After you've had a chance to recover from the flight and get a taste of the culture, it's time to move on. Hop in the car and cruise towards Jebel Shams mountain. Here awaits one of Oman's highlights. Along the edge of a 1500 meter (4921 feet) deep canyon, there's a walking path from which you have a view over the entire canyon. The Balcony Walk is particularly stunning during sunrise, when the sun gradually illuminates the canyon, turning the rock formations a bright orange. You can find out how to get there and what you need to know beforehand in our article with tips for the Balcony Walk at Jebel Shams.
Travel time: 3.5 hours drive.


Forts & Nizwa
After this impressive walk, it's time to continue your journey towards Nizwa, where the goat market takes place every Friday morning. On the way, you'll pass Bahla Fort and Jibreen Castle, where you'll step back in time and learn about Oman's history. The next day, you need to rise early for the goat market, which starts at 7:00 am. Buyers and sellers from all over Oman gather here. A goat market might sound amusing, but the atmosphere is incredibly serious, as intense bargaining for the best goat is necessary. It's incredibly chaotic and stimulates all your senses, even so early in the morning. The goat market is something you'll not soon forget and because it only occurs on Fridays, you'll need to keep this in mind when planning your trip. Read our tips for Nizwa for more information about this unique market and what else there is to do.
Travel time: 1.5 hours drive to Bahla Fort and Jibreen Castle, and then another 30 minutes to Nizwa.

Wahiba Sands
Next, it's just a short drive to the enormous orange hills of Wahiba Sands, where you'll spend the night in the desert. During sunset, hop into a 4×4 with an experienced driver for an hour of 'dune bashing'. This involves racing over the huge sand dunes as if you're on a roller coaster. An adrenaline rush is guaranteed! Also, make sure to check out our tips for Wahiba Sands in advance.
Travel time: 2.5 to 3 hours drive, depending on how far into the desert your camp is located.

Wadi Bani Khalid & Ras al Jinz
After the desert, it's time for some cooling down. On the way to the coast, you'll pass Wadi Bani Khalid, a green oasis with clear green water and swaying palm trees. Here, you can spend several hours walking and swimming in the delightful water pools. When you search for Wadi Bani Khalid on Google, you won't get the correct location, so save this location if you want to visit this little paradise.
Next, you continue your journey to the beaches of Ras al Jinz, where 20,000 turtles come to lay their eggs annually. Each turtle digs a hole about 1 meter (3 feet) deep in the sand at night and lays around 100 eggs in it. The best season is the summer months when the turtles come in large numbers, but even in winter, there are always a few laying eggs. It's truly special to witness this, and the guide can tell you everything about these amazing creatures. You can find information on where to stay and which tour is the best in our article with tips for Ras al Jinz.
Travel time: 1 to 1.5 hours drive to Wadi Bani Khalid, and then another 3 hours drive to Ras al Jinz.
Wadi Shab & Bimmah Sinkhole
To wrap up the journey nicely, you'll visit Wadi Shab on the way back. Amidst a gorge of orange rocks, you'll find an oasis with palm trees, turquoise pools, and a unique hidden cave with a waterfall inside. In this wadi too, you can enjoy a delightful swim and seek relief from the heat. Read our tips for Wadi Shab to get the most out of your visit. After this, you have one more stop before you complete the loop and return to Muscat. The Bimmah Sinkhole is a sinkhole filled with green-blue water where you can take a dip. It's a beautiful spot to savor the great weather in Oman for a little longer.
Travel time: 1.5 hours drive to Wadi Shab, then 20 minutes drive to Bimmah Sinkhole, and finally another 1.5 hours drive to Muscat.


Example day-to-day itinerary
Day 1: Fly to Oman.
Day 2: Explore Muscat.
Day 3: Visit the Sultan Qaboos Grand Mosque in the morning, then drive to Jebel Shams.
Day 4: Start with the Balcony Walk at sunrise, then drive to Nizwa, making stops at Bahla Fort and Jibreen Castle.
Day 5: Visit the goat market and Nizwa souks in the morning. Then drive to your desert camp, where you'll go dune bashing at sunset.
Day 6: Head to Wadi Bani Khalid and then continue to Raz al Jinz. You might take a turtle tour in the evening.
Day 7: Morning turtle tour, then move on to Wadi Shab and Bimmah Sinkhole. After that, drive back to Muscat.
Day 8: Spend another relaxing day in Muscat, perhaps at a hotel with a pool or beach, such as the Muscat Hills Resort.
Day 9: Fly back.
Our favorite places to Stay in Oman
Accommodations in Oman can be quite expensive, and finding good hotels at an affordable price can sometimes be challenging. That's why we've searched for the best accommodations where you get the most value for your money. We've compiled all our favorite spots in Oman for you.