Granada is the oldest city in Nicaragua, beloved by many for its well-preserved colonial architecture, vibrant culture, and cozy atmosphere. It's also known as the 'painting city,' and when you stroll through its cobbled streets, you'll immediately understand why it earned this nickname. The city is composed of buildings in all the colors of the rainbow, and everywhere you go, you can enjoy charming restaurants, cafes, and bars. In addition to its cultural attractions, Granada is also a gateway to some of Nicaragua's most beautiful landscapes, including nearby volcanoes and the islands of Isletas de Granada. In this article, you'll find information on how to get there, tips for the best restaurants, and the most enjoyable things to do in Granada.
How to Get to Granada?
Since Granada is centrally located in Nicaragua, we'll describe how to get there from Leon, Isla de Ometepe, San Juan del Sur, and Managua. There are tourist buses on each route, but they are more expensive, so we recommend traveling by local bus, especially since the distances are short.
From Terminal de buses, take the bus to Managua, where you'll then transfer to the bus heading to Granada. The entire journey takes about 4 hours.
From Isla de Ometepe to Granada
From Isla de Ometepe, take the boat to San Jorge. This boat departs nearly every hour and takes about an hour in total. You can purchase boat tickets on-site. Upon arrival, take a taxi to the bus station in Rivas. This is about a 10-minute ride, and negotiating the price is expected. From Rivas, board the bus, and in about 1 hour, you'll arrive in Granada.
From San Juan del Sur to Granada
In San Juan del Sur, catch the bus to Rivas and transfer to the bus bound for Granada. It's likely that many taxi drivers will approach you and tell you various lies to persuade you to take a private taxi with them. Buses depart regularly, so you can ignore the taxi drivers. The bus ride takes approximately 3 hours in total.
What to Do in Granada?
There's a lot to see and experience in Granada, from wandering through the city to exciting excursions in the surrounding area and dancing into the late hours. Below, you'll find information on the most beautiful sights and the most enjoyable activities in Granada.
Witness Lava at Masaya Volcano
Nicaragua has many volcanoes, seven of which are active. One of them is the Masaya Volcano, and you can get so close that you can see the lava bubbling in the crater. You can only visit with a tour, and you must choose between a daytime or evening visit. The evening tour is the most popular because you can see the lava best in the dark. You'll arrive at the volcano around sunset, where they park the car about 30 meters (98 feet) from the crater's edge. Then, you have about 15 minutes to view the lava because it's not safe to stay longer due to sulfur gases. That might sound short, but after 5 minutes, you'll start coughing, your throat will hurt, and your eyes will sting. So, 15 minutes is more than enough time to see it and take beautiful photos. You can book tours anywhere in Granada.
Tip: Bring a bandana or scarf to cover your mouth.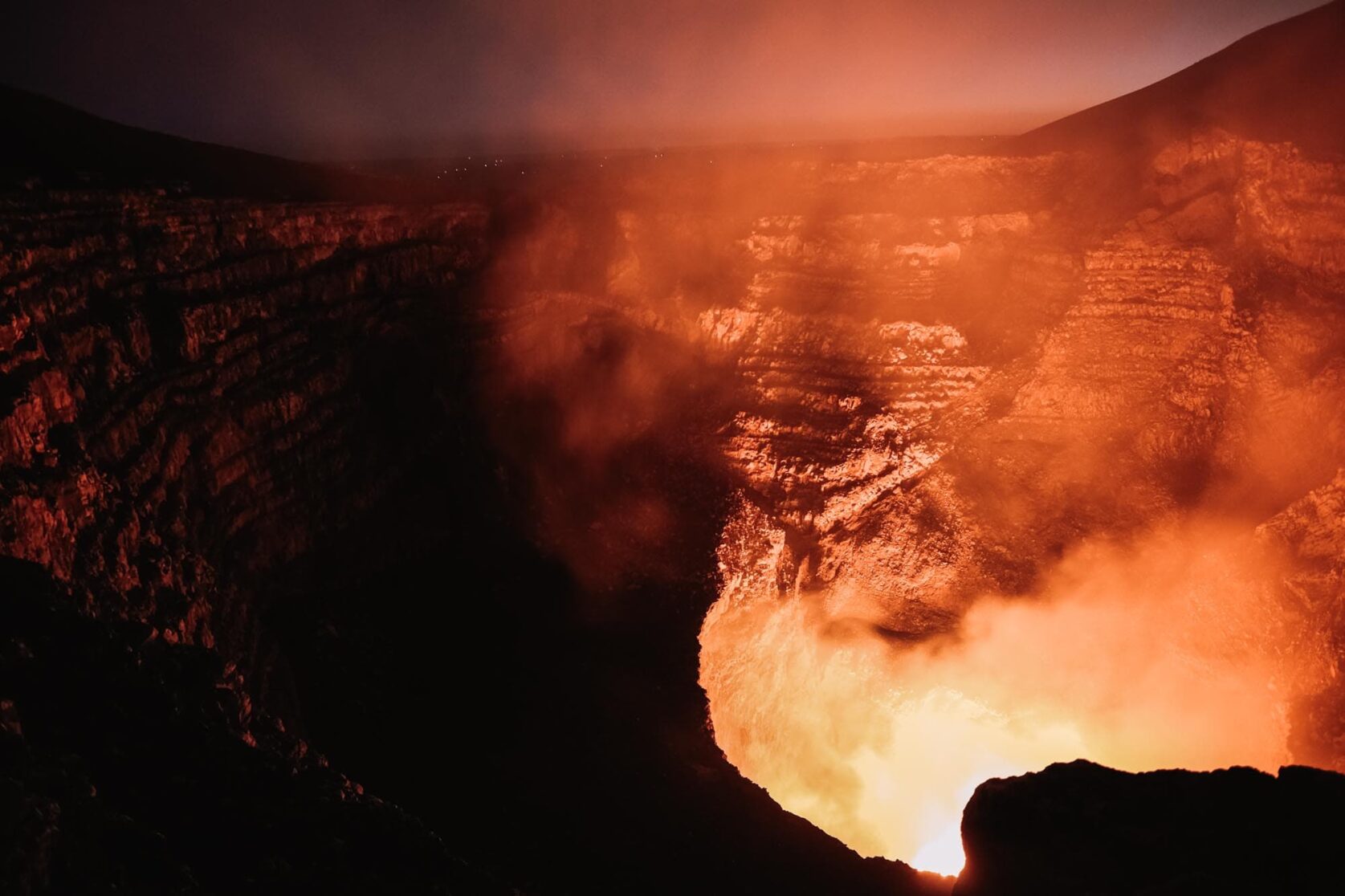 Explore Colonial Granada
Granada is a great city to explore on foot. The center is quite compact, making it easy to wander through the colonial center for a few hours and admire the many old colorful buildings. As you stroll through the streets, you'll naturally pass by many hotspots and attractions such as the central park and the churches. You'll learn more about them in the following points.
Enjoy the View from Iglesia La Merced
Iglesia La Merced is a beautiful old church located in the center of Granada. The church is known for its baroque architecture, which contrasts nicely with the colonial buildings around it. For one dollar, you can climb the narrow stairs to the bell tower of this church. From here, you can enjoy a stunning 360-degree view of Granada and the countryside beyond. This view is particularly beautiful at sunset.
Fun Fact: You might notice there's very little high-rise construction in Granada. This is because there are many volcanoes in the area that frequently cause earthquakes. Tall buildings are less resilient and can collapse.
Stroll by the Catedral de Granada
Cathedral de Granada was built in the 16th century and is an iconic landmark for the city. The church is one of the oldest and most important attractions in town. It is located at Parque Central and, with its distinctive yellow color, you won't easily overlook the cathedral.
Tip: There's also a viewpoint at the top of this church, but in my opinion, the view from Iglesia la Merced is slightly better.
People-Watch at Parque Central de Granada
Parque Central de Granada is a pleasant place to take a break from exploring the colonial center. There are many benches where you can sit under the trees and people-watch, or you can grab a refreshing drink, ice cream, or snack from one of the stalls. In the evening, it's often lively with music and dancing.
Experience the Vibrancy of Calle La Calzada
If you walk from the central park past Catedral de Granada, you'll arrive at one of Granada's most famous streets. Calle La Calzada is a lively and bustling street in the heart of the city. It consists of colorful colonial buildings, mainly housing restaurants and bars. During the day, you can admire the colored facades and beautiful mosaic artworks on the street, but it's usually too hot to linger. It's when the sun sets that the street comes to life with both locals and tourists gathering for a night out in the city. From live music to salsa dancing, there's always something happening on Calle La Calzada.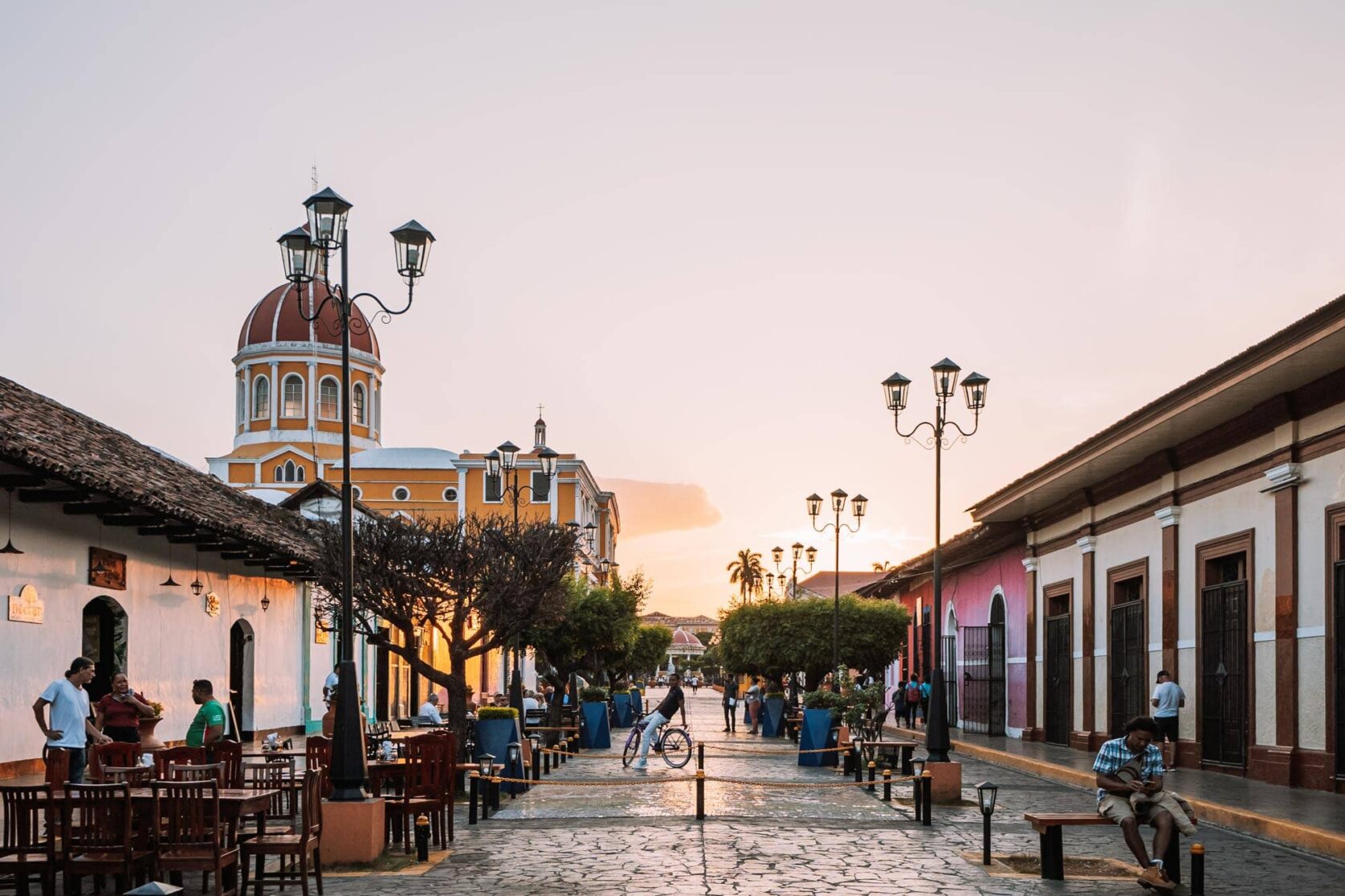 Visit the local market Mercado Municipal
The bustling Mercado Municipal market is a must-visit for anyone looking to experience the local culture and cuisine. Located in the heart of Granada, the market is the lively hub where people do their shopping.
Originally, this market was situated in a covered building, but it has since expanded, sprawling through a maze of lanes and streets in all directions. Even if you don't need anything, it's enjoyable to wander through this tangle of stalls and strike up conversations with the market vendors. The market is open every day from 5:00 AM to 5:00 PM and is best visited in the morning, especially for fresh food.
Kayaking at Isletas de Granada
If you feel the need to escape the city's hustle and explore more of Granada's surroundings, kayaking on the largest lake in Central America is a great choice. During the Isletas de Granada kayak tour, you'll spend 2.5 hours exploring the beautiful Isletas de Granada. These groups of small islands were formed long ago by an eruption of the Mombacho volcano, resulting in over 350 small islands scattered across the lake. The waters are filled with floating greenery and blooming water lilies, making this place look like a fairytale scene. The song of the Indian Water Lilies from Efteling played in my head throughout the entire tour. While kayaking, you'll encounter many animals like monkeys, turtles, and tropical birds. Want to learn more about this tour? Read my experience + tips on kayaking at Isletas de Granada.
Dance at Treehouse Jungle Rave
If you want to experience Nicaragua's nightlife at its best, you must dance at Treehouse Jungle Rave. Every Friday, a great party is organized here, which many travelers consider legendary. The Treehouse is located at the foot of the Mombacho volcano, right in the middle of the jungle, about half an hour from Granada. From the treehouse, you have a view of the jungle, and there's nothing but nature around you. If you take the early shuttle to The Treehouse at the end of the afternoon, you can watch the fantastic sunset, have some drinks, and maybe even dance a bit. Later in the evening, the real dance party begins, and you can dance into the late hours at this unique location. It's guaranteed to be an evening you won't soon forget.
You can order your tickets online starting a week in advance. Free shuttles depart from Granada to take you to and from The Treehouse, and you can book them together with your entrance ticket. Don't wait too long to buy your tickets because the party is usually sold out, especially during the high season.
Swim in Laguna de Apoyo
The massive crater lake, Laguna de Apoyo, is the ultimate spot for a relaxing afternoon. The water in this lake is at the perfect temperature and crystal clear. The nature surrounding the lake is stunning, as the volcanic eruption has made the area very fertile. You can visit Laguna de Apoyo as a day trip or stay for one or more nights. It's nice to stay at Paradiso Hostel, but you can also buy a day pass if you have less time. Paradiso Hostel is a cozy place located in a beautiful lakeside location. There are plenty of lounge chairs, and you can play ping-pong, pool, rent kayaks, and there's a large raft. In the restaurant, you can order snacks and drinks.
Best Restaurants in Granada
La Frontera – A popular and reasonably priced international restaurant where you can enjoy burgers, sandwiches, and burritos, among other dishes.
Pita Pita – Delicious Middle Eastern dishes.
The Garden Cafe – You can visit this place all day for great coffee, bowls, sandwiches, and dinner.
Boca Baco – This tapas bar & grill restaurant offers delicious seafood and meat dishes, sushi, and cocktails. It's a slightly more upscale place, so prices reflect that.
Verde – A trendy restaurant with many vegetarian options, offering paninis, wraps, salads, and delicious smoothies.
Restaurante El Garaje – You can order dishes from all around the world here. The menu is full of international cuisines, including Sri Lankan, Mexican, Vietnamese, Italian, Greek, you name it!
Tostometro Granada Nicaragua – This menu has only one thing: banana burgers! Okay, admittedly, it might not sound very appetizing, but it is! The buns here are made from bananas. You can choose from meat, chicken, or a vegetarian burger. It's a tiny restaurant with an open kitchen, and the staff are incredibly friendly.
Monna Lisa – The best pizza in town!
Our Favorite Places to Stay in Granada
If you're looking for a cozy hostel, you should check out Hostel De Boca en Boca. This is an incredibly social hostel located in a prime spot in the city. It boasts a beautiful garden with plenty of plants, hammocks, and other seating areas. There's even a pool table, and the hostel organizes a variety of fun activities. While it's not a party hostel, you can certainly have a wonderfully enjoyable time here.
Situated on the most beautiful square in Granada, you'll find Selina Granada. Here, you can indulge in a lovely swimming pool and a more central location couldn't be asked for. They also arrange many activities, including yoga classes. Keep in mind that Selina frequently hosts parties, so it's a better choice if you're in the mood for that kind of atmosphere.
If you prefer a smaller-scale hotel experience, Boutique Hotel Secret Garden has you covered. You'll lack for nothing at this establishment. You can completely unwind in the exquisite inner courtyard filled with tropical plants, a delightful swimming pool, and comfortable seating areas. Your stay includes a beautifully decorated and luxurious room equipped with air conditioning, a warm rain shower, a comfortable bed, and a pleasant balcony.
| | | |
| --- | --- | --- |
| Hostel De Boca en Boca | Selina Granada | Boutique Hotel Secret Garden |