Creating a travel itinerary for Colombia can secretly be quite challenging due to the abundance of choices in terms of destinations and attractions. Moreover, you probably don't want to spend 5 full days of your trip on a bus. That's why we've put together the perfect travel itinerary for Colombia with all our tips, where you'll visit the most diverse destinations without spending too much time on travel. In 3 to 4 weeks, you'll explore the lush coffee region, vibrant cities, beautiful palm tree-filled beaches, rugged jungle, and immerse yourself in the rich culture and history of Colombia!
How many weeks do you need for Colombia?
Since most people have around 3 weeks of time, this travel itinerary is perfectly tailored to that duration. It's a great period to visit the most beautiful places and attractions in Colombia without rushing. Of course, there are more amazing places in Colombia that we haven't included in our itinerary. Sometimes it's because they are simply too far off the route or because they are often similar to destinations already included. Colombia is so vast that if you want to see everything, you would need at least 8 weeks.
Also important: All destinations on our itinerary are located in safe areas.


The ideal travel itinerary for Colombia in approximately 3 weeks
Below you'll find the map of Colombia with the recommended travel itinerary we suggest to everyone. To get an idea of the destinations, you can read more about these places and their attractions further down. If you want to know exactly what to do and get a better impression of a destination, you can click through to the respective article. For each destination on this itinerary, we have written a separate article with our best tips for attractions, activities, good restaurants, and our favorite hostels and hotels. This way, you'll know exactly what to do and then decide for yourself how many days you want to stay there.
Tip: Domestic flights are super cheap in Colombia. The flights you see on this travel itinerary can usually be booked with LATAM or Easyfly if you book in advance.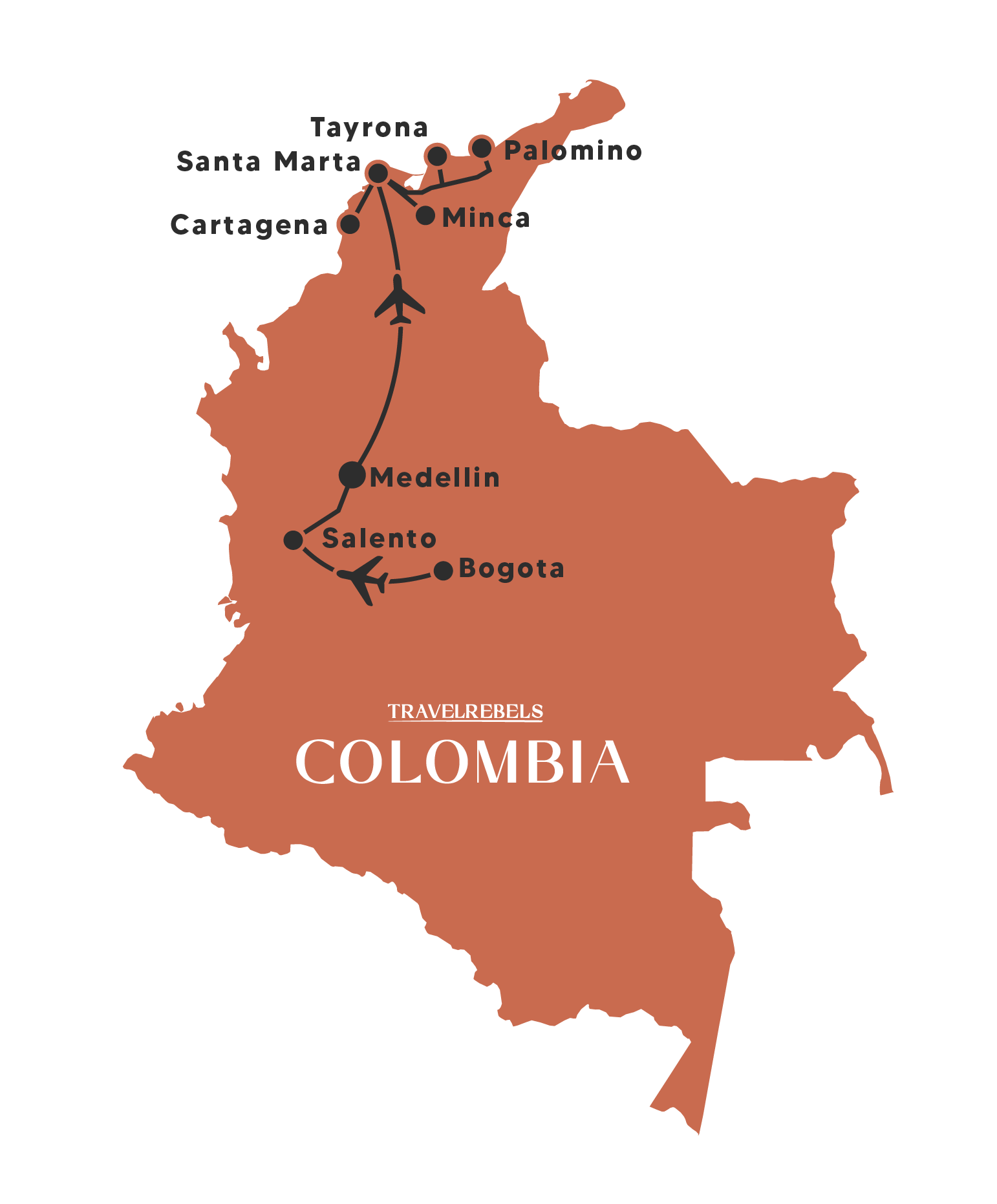 Bogota
Your journey through Colombia will likely start in the capital city of Bogota because it's a budget-friendly place to fly into. Bogota is a great city to recover from your flight and get acquainted with Colombia. You'll immediately experience the South American atmosphere, and since Bogota is located at an altitude of 2,640 meters (1.64 miles), it's not as hot as many other destinations. It's the perfect place to start your trip! To find out what to do in Bogota and which tours we recommend, check out our article with tips for Bogota.
Starting your trip right: The best tip we can give you for Bogota is to stay at Selina Bogota. They have beautiful double rooms as well as cozy dormitories and simpler double rooms. The design and atmosphere are incredibly cool! There are cozy spots where you can easily meet other travelers, and sometimes there's live music. Just remember to bring earplugs because the old building can be a bit noisy. Selina is located in one of the safest and most beautiful parts of Bogota. It's a very popular hotel, so it's recommended to book your stay after booking your flight tickets. If you're also flying back from Bogota, it's advisable to spend a night there before your flight. When you book here, you can cancel free of charge up to 3 days in advance. Convenient, right?
Salento & Valle de Cocora
The second destination on the travel itinerary will make you fall in love with Colombia right away. From the charming village of Salento, you'll visit Valle de Cocora, a valley with hundreds of wax palms that can grow up to 60 meters tall. They are the tallest palm trees in the world! Here, you can embark on an incredibly beautiful hike through the valley, passing viewpoints and traversing a rainforest. Salento is a typical Colombian village in the coffee region, offering plenty of enjoyable activities. Before your visit, check out our tips for the Valle de Cocora hike and what to do in Salento.
Travel time from Bogota to Salento: 7 hours by bus or a short 1-hour flight to Pereira or Armenia. From Pereira or Armenia, it's another hour by taxi or bus to Salento.

Medellín & Guatapé
In Medellín, it's always spring with temperatures around 25 degrees Celsius. Once the #1 murder capital of the world, Medellín has undergone a remarkable transformation since the death of Pablo Escobar. For many travelers, it's their favorite major city in Colombia. The atmosphere is delightful, the nightlife is vibrant, and there are plenty of fun things to do. You can try paragliding or take an interesting city tour to learn about the history and transformation of the city. Just a two-hour drive from Medellín is Guatapé, the most colorful village in Colombia, which is definitely worth a visit. Guatapé makes for a great day trip from Medellín, but you can also spend a night there if you have more time. If you want to know more about these places, check out our articles on Medellín and Guatapé.
Travel time from Salento to Medellín: 7 to 8 hours by bus or a 1-hour flight from Pereira or Armenia.


Santa Marta (only for flying purposes)
After Medellín, it's time to explore the northern part of Colombia. This is a route where flying is a must since traveling overland would simply take too long. From Medellín, you can take a cheap flight to Santa Marta. It serves as the gateway to some awesome destinations on the Caribbean coast. The city itself is not very interesting, so we recommend not staying there and continuing your journey right away.
Travel time from Medellín to Santa Marta: 1 hour and 15 minutes by flight.


Minca
From Santa Marta, you can immediately take a bus or taxi to Minca. It's one of our favorite spots in Colombia. The nature here is incredibly beautiful, and you'll find some of the most beautiful accommodations in Colombia. It's the perfect place to go for a beautiful hike, swim in a waterfall, and enjoy the jungle sounds from your bungalow with amazing views. Read about what to do in Minca or discover the most beautiful hotels and hostels in Minca.
Travel time from Santa Marta to Minca: 45 minutes by bus or taxi.

Tayrona National Park
Time for some beach time! Tayrona is the most famous national park in Colombia and is rich in unique flora and fauna. The combination of hiking through the jungle and enjoying a refreshing swim in the sea is perfect. Since it's a relatively large national park, most people spend one or two nights here. A visit to Tayrona requires some preparation as there are various ways to approach it. So, take a look at these tips for Tayrona beforehand.
Travel time from Minca to Tayrona: First, take the bus or taxi back to Santa Marta. From Santa Marta, take the bus to Tayrona, which takes about one hour.


Palomino
What a lovely place to be if you just want to relax and do nothing. Enjoy some beach time, play volleyball, or go tubing. The laid-back atmosphere and great restaurants will make you never want to leave. You can also go tubing down the river on a tractor inner tube while catching a glimpse of the snow-capped peaks of the Sierra Nevada mountain range in the distance. In our opinion, you shouldn't miss Palomino during your trip through Colombia.
Travel time from Tayrona to Palomino: Around one hour by bus.
Cartagena
It's scorching hot, but the beauty of Cartagena will amaze you regardless. Within the walls of the historic district, it's like one big open-air museum. The colonial buildings are all beautiful and create a labyrinth of streets and alleyways that you'll want to explore. Behind every corner, there's a new surprise, from charming coffee shops to plazas filled with salsa dancers. Cartagena has an international airport, making it convenient for your return flight.
Travel time from Palomino to Cartagena: First, take the bus to Santa Marta, which takes about 2 hours. From Santa Marta, take the bus to Cartagena, which takes about 4 hours but can take longer depending on traffic.


Our Favorite Places to Stay in Colombia
During our travels, we're always on the lookout for the best places to stay. Whether it's a beautiful boutique hotel or the most cozy hostels, we always manage to find something special. We've visited Colombia twice and have discovered many exceptional accommodations there. Of course, we love sharing these gems, so you'll find an overview of them in the article "Our Favorite Hostels & Hotels in Colombia."